Wednesday 15th November 2017 by Vane Núñez in Accessories, Apple.
The iPhone X is a gorgeous phone and a triumphant re-imagining of the classic design.
But while this evolution has brought a new design and features, it's also resulted in a few noticeable weaknesses. Thankfully, there are plenty of iPhone X accessories that can make your phone as strong and capable as it can be. Here are ten of our favourites, from essential upgrades to fun novelties that'll still elevate your iPhone X experience. Let's get into it!
Each Olixar ExoShield case is made from reinforced bonded thermopolyurethane and high quality polycabornate materials, which makes it flexible enough to absorb punishment but hard enough to resist potential damage. The selected materials used have a non-slip coating that provides you with extra grip for your phone, which minimises the chance of dropping your device – meaning this case is professional enough for work and sporty enough for play .
Taking the classic snap-on shell design and adding reinforcement where you need it most, the ExoShield provides better protection than any other case of that type. The vulnerable corners of your phone are the most exposed area should you ever happen to drop it, so the added peace of mind the reinforced corners provide is priceless – especially for the slight increase in size.
This case has a raised bezel that prevents your iPhone X's screen from coming into contact with any flat surface when you place the phone face down.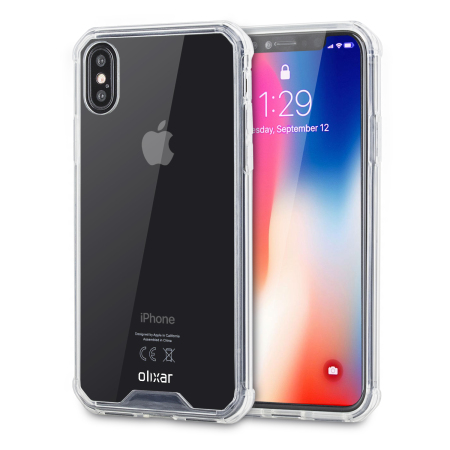 The iPhone X's screen is its biggest strength, but also its biggest weakness. With screen replacements costing a lot and accidental damage not covered under the warranty, you really ought to invest in a screen protector. This one from Olixar is case-compatible, so you can use it with basically any case on the market.
The Olixar screen protector is made from a reinforced tempered glass that maintains perfect image clarity while protecting your phone's screen from scratches and external shock with its 9H hardness factor. The glass is only 0.3mm thick. This means it only adds an almost imperceptible amount of extra thickness to your phone, so you can be sure it is safe from harm while looking as good as new
This screen protector also allow you to use 3D touch as you would normally but regular touchscreen accuracy is also unaffected. So not only can you enjoy superb protection, you can use your iPhone as you would without the screen protector fitted too. Besides, the Oleopobic coating on offer here features an oil-resistance to prevent smudges resulting from oil, cosmetics and other contaminants with no rainbow effect.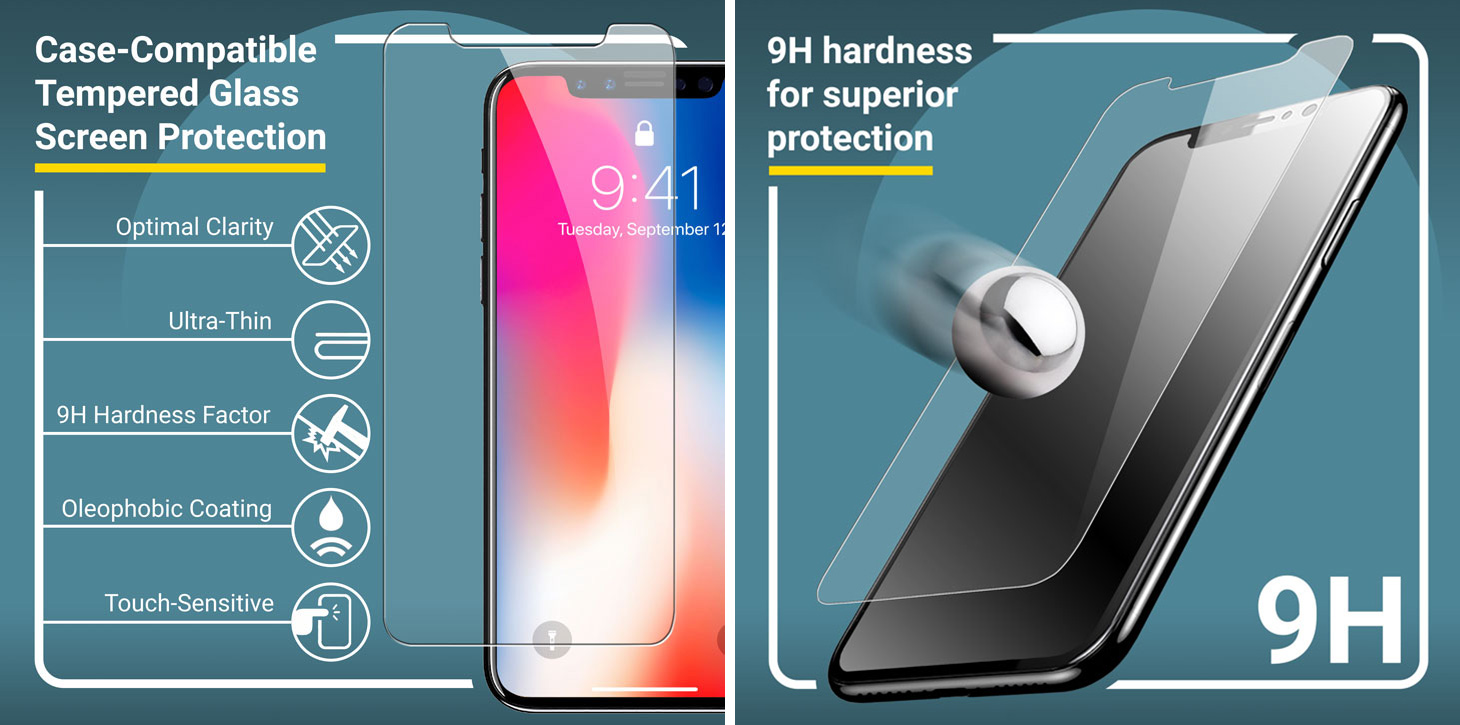 Apple's official Lightning dock is one of the most stylish options on the market for elevating your iPhone X to its rightful position in the air. This makes it easy to see notifications as they come in, make video calls or even watch a video. The dock has a gorgeous metallic finish, a stable and secure mounting system and a built-in 3.5mm for your headphones too!
The dock is designed to be used with or without a case, so you can leave your case on the phone on when you wish to charge your device without the need to remove it.
It is small and portable and as it is an official Apple product , you can be sure of the highest quality and it is 100% compatible.

Thursday 24th August 2017 by Vane Núñez in Android, Note 8, Samsung.
The Samsung Galaxy Note 8 was officially launched yesterday at the firm's Samsung Unpacked event in New York. It has been one of the most eagerly anticipated smartphones of the year. The Samsung Galaxy Note 8 will be released on 15 September, just after Apple unveils its newest batch of iPhones, but it's available to pre-order right now.
FULL SPECIFICATIONS:
– 6.3in 1440×2160 Super AMOLED curved Infinity Display with 18.5:9 ratio.  It's the largest ever screen on a Samsung Galaxy Note device and it still fits easily in your hand.
– S Pen support. Use the S Pen to express yourself in ways that make a difference. Draw your own emojis to show how you feel or write a message on a photo and send it as a handwritten note. Do things that matter with the S Pen.
– 12MP dual rear-facing camera, 8MP front-facing camera. he Galaxy Note8's dual camera has a wide-angle camera that comes with the great low-light capabilities that you've come to expect from Galaxy phones, while the telephoto camera gives you up to 2x optical zoom for you to capture the near and far. Both have optical image stabilization so you can get steady shots even when zoomed in.
– 163mmx75mmx8.6mm
– Iris scanner/fingerprint scanner
– Built-in 'Bixby' AI assistant
– Samsung Exynos 8895 CPU, 6GB RAM
– USB-C connectivity, 3.5mm headphone jack
– Android 7.0 Nougat
– IP68 certification
– 64GB built-in storage, microSD expansion
– 3,300mAh battery.
– Fast charging, wireless charging support
– Midnight Black, Maple Gold, Orchid Grey and Deep Sea Blue colour options
-Many Samsung and non-official Note 8 accessories available  right now
Friday 18th August 2017 by Vane Núñez in Accessories, Android, Nokia.
Nokia 6 sales begin next week. The Android-based Nokia 6 smartphone will be an Amazon exclusive handset at $229.99.
Nokia 6 features a 5.5-inch (1920 x 1080) brilliant 5.5" 2.5D full HD display and a Smart Amplifier with 7.2W peak output and Dolby Atmos, powered by Qualcomm Snapdragon 430 SoC, coupled with 3GB RAM and 32GB storat age, which can further be expanded via microSD card, a 16MP rear camera and an 8MP front camera. The phone will come packed with a 3000mAh battery and will operate on Android Nougat OS. Built-in fingerprint sensor grants you exclusive access to your device and unlocked for freedom to choose your carrier. Compatible with AT&T and T-Mobile networks
The Nokia 6 is crafted from a single block of aluminum, and the result is a phone which feels far more premium than its budget price tag. This model is being manufactured in Matte Black, Silver, Copper and Tempered Blue.
The brand has also announced another Android-device named Nokia 8 and touted as a 'bothie not selfie' smartphone because it can shoot from both rear and front-facing cameras simultaneously. The model is expected to due to ship in early September globally.
-Check our Nokia 6 Accessories and Cases
-Check our Nokia 8 Accessories and Cases
Wednesday 16th August 2017 by Vane Núñez in Mobile Accessories.
We're happy to show off the very first Galaxy Note 8 cases here at Mobile Fun. These cases come courtesy of Olixar, who have produced the designs with insider knowledge of the Note 8. Let's take a look and see what we can glean from the designs, and take a closer look at the cases themselves!
Two Galaxy Note 8 cases
The FlexiShield Gel Case shown above is one of the most popular cases we stock, and we expect no difference for the Galaxy Note 8. The case is made from a flexible gel material (go figure) that is easy to install and remove, while also adding minimal bulk to the Note 8. The case is available in a range of colours, from the blue shown above to purple, solid black and a 100% clear variant.
The press photo shown above is only one of two designs that Olixar have announced for the Galaxy S8 thus far. The other is the Olixar X-Duo, a more protective case that combines a carbon fibre rear cover with a metallic bumper. This case hits a higher price point, but delivers more style and improved armour. The X-Duo case will be available for the Note 8 in gold, jet black, metallic grey and silver.
Thursday 27th July 2017 by Vane Núñez in Mobile Accessories.
The Samsung Galaxy Note 8 launch date has been confirmed to be August 23, and and it's expected to go on sale in the US and other first-round markets in early September.
The event will be held at the Park Avenue Armoury in New York City, with proceedings expected to begin at 11am EST (4pm BST). This means Samsung probably won't be announcing the new Galaxy Note phone at Berlin's IFA tradeshow, as was previously expected.
The phone is rumored to feature a large 6.3-inch Super AMOLED display, more RAM than the Galaxy S8, and a larger battery . It's highly likely that the Galaxy Note 8 will retain the same processors used in the Galaxy S8. That means we'll either get Samsung's custom-built Exynos 8995 chipset, or Qualcomm's similarly powerful Snapdragon 835 chip. Expected Software will be Android 7.0 Nougat, with Samsung's Bixby digital assistant
Note 7 had a scanner and an S-Pen stylus to boot, so we'd expect much the same from the Galaxy Note 8. Other features like NFC , fingerprint scanner and waterproofing expected too.
The bad news is the price –  Samsung is probably going to charge a significant amount of cash for the Galaxy Note 8.
Rumour has it that, much like the iPhone 8, the Galaxy Note 8 could be Samsung's first smartphone to break the $1,000 (around £920) barrier.
At MobileFun we have already some Note 8 cases online that will be in stock as soon as the model is confirmed. Please have a look at them and order in advance.
Tuesday 18th July 2017 by Vane Núñez in Accessories, Huawei, Mobile Accessories.
The Honor 9 is the phone that the OnePlus 5 should have been: a budget take on a flagship phone. This phone looks gorgeous, performs well and even comes with a few features that the flagships don't have.
If you're picking one up, then you'll want to keep it protected. Its shiny back panel is eye-catching no doubt, but it also makes this phone quite vulnerable to scratches and knocks. Keep it safe with one of our recommended cases for the new Honor 9.
1. Olixar Rotating Leather-Style Case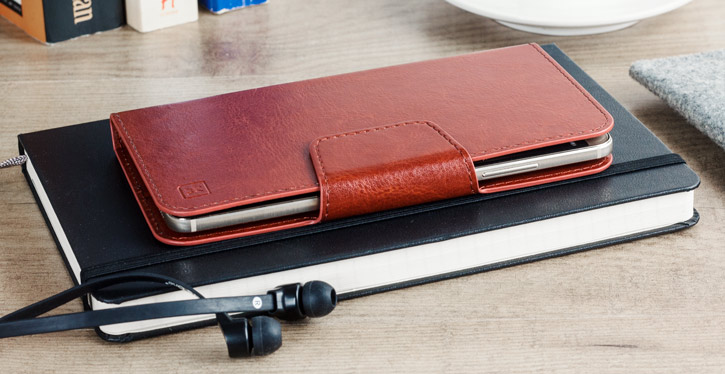 We conclude with the Olixar Rotating Leather-Style Case. This sophisticated case has the classic appearance of leather, without the ecological impact or high cost. The case looks and smells great, and is available in multiple colours: brown, black and red. The case uses an adhesive gel pad to keep your phone in place, while also adding credit card slots and a clever rotating stand for ease of use. Of all the Honor 9 cases on our site, this one is definitely our favourite.
2.  Floveme Sports Armband Case
This sports armband is designed to keep your Honor 9 firmly in position on your forearm, making it easy to use while you're jogging, biking or working out in the gym. The position ensures you can easily see incoming notifications, skip songs on your playlist or take a call. No matter what's happening, your Honor 9 remains securely fastened to your arm, protected from rain, sweat and dirt by the armband case. Despite this, you can still use the phone by pressing on the clear plastic covering, allowing you to use the phone as normal.
3. Ghostek Belt Clip Holster Case
This belt clip holster is the easiest way to keep your Honor 9 at your side. Just place your phone into the slot provided, then slide the clip into your belt or bag strap. From here, you can quickly and easily get to your phone without putting it in harm's way. Awesome!
As it is a new phone, new products will come soon, so check our site from time to time to discover them.
Friday 23rd June 2017 by Vane Núñez in Accessories, Android, OnePlus.
The next flagship smartphone from OnePlus, the OnePlus 5, was released in a limited "early drop" sale on 20th and made available more widely on June 27th. Everyone watching  keynote should have heard a special code that can be entered at the company's website for the early run batch of phones.
So if you have already bought it or if you are thinking in getting one soon, please have a look at our top 5 accessories selection.
5. Official OnePlus 5 Dash Charge Cable -1 m
This cable allows you to connect your OnePlus 5 smartphone to a compatible dash charging mains charger or power bank for super fast charging speeds. Can also transfer data between your phone and computer.
Supporting USB 2.0, the USB-C cable supports fast transfer speeds so you can copy photos, videos, documents and other files quickly and easily.
This is an official OnePlus accessory, you can be sure of the very best quality – designed specifically for your OnePlus 5.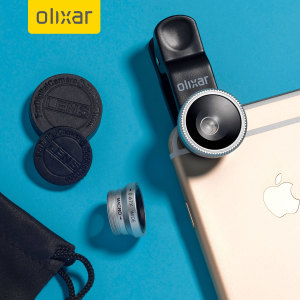 4. Olixar 3-in-1 Clip Camera Lens Kit
Ever wanted to do macro, fisheye or wide-angle shots on your smartphone? With this clip-on lens kit, you can. Choose from three lenses to suit your situation, then clip it onto the front or back camera. This works excellently for group selfies on the newly upgraded front-facing camera, particularly with the wide-angle lens — get everyone in the shot!
With the included universal clip, you can attach the camera lens of your choice to either your smartphone or tablet for stunning photography simply not possible with the device's built-in hardware.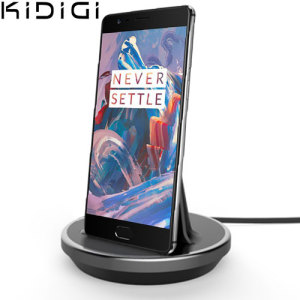 3. Kidigi OnePlus 5 Charging Dock
I find it really difficult to actually look at my phone if it's lying on my desk — messages and notifications will arrive without me noticing. After a few too many missed messages, I picked up a dock like this one for my phone. Now I can see notifications as they come in, and my phone is at 100% when I leave my desk — pretty darn useful.
This dock has an adjustable USB-C (USB Type-C) connector that shifts from front to back, allowing you to fit your OnePlus 5 perfectly.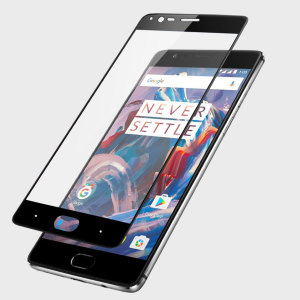 2. Olixar OnePlus 5 Full Cover Tempered Glass Screen Protector – 2 Pack
This twin pack of ultra-thin full cover tempered glass screen protectors for the OnePlus 5 from Olixar offers toughness, high visibility and sensitivity all in one package. Features complete edge to edge screen protection for black phones.
As this is a tempered glass screen protector and not a film it does not bubble at all on application. In addition, the coating allows for easy removal should the protector get damaged.
Designed specifically for the OnePlus 5, the Olixar Tempered Glass Screen Protector offers a perfect fit for your device.
1. Olixar Leather-Style OnePlus 5 Wallet Stand Case
The Olixar leather-style OnePlus 5 Wallet Case in black attaches to the back of your phone to provide superb enclosed protection and can also be used to hold your credit cards. So you can leave your other wallet home as this case has it all covered.
The back cover of the Olixar Wallet Case is designed to allow the OnePlus 5 to fold onto itself horizontally. This creates the perfect viewing stand for watching movies, listening to music or even web browsing.
Looking for more OnePlus 5 cases? Check here. More models and colors coming soon.
Friday 23rd June 2017 by Vane Núñez in Accessories, Apple, Leaks, News.
The Apple iPhone 8 is still months away from announcement, never mind release, but thanks to sources in China we've been able to announce the one of the first accessories for the iPhone X: the Olixar Full Cover Tempered Glass Screen Protector.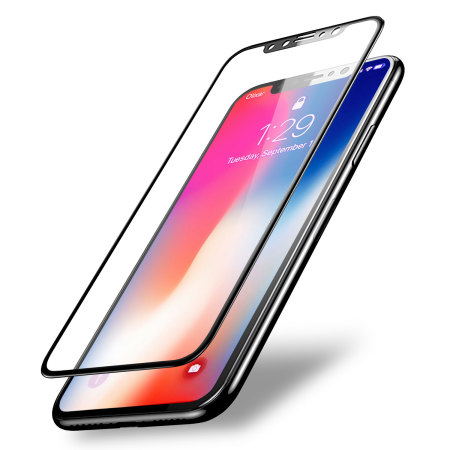 This iPhone X screen protector is uniquely suited to the new shape of Apple's tenth anniversary model, with a specially-designed section at the top of the phone which provides protection (and the necessary cutouts) for elements above the AMOLED screen, including three apertures for the phone's innovative 3D-sensing and facial recognition system.
The Olixar Full Cover screen protector will adhere closely to the curved edges of the 2.5D screen, ensuring full protection of the entire surface of the iPhone 8. There is a lot to cover here, even more than on the Samsung Galaxy S8, requiring a bespoke design.
As with other tempered glass screen protectors, the Olixar Full Cover will be easy to install, and it will last a long time thanks to its high-tension construction and shatterproof design. The screen protector is an ideal choice for protecting the vulnerable screen of the iPhone 8, which is at greater risk of damage due to its greater size and the minimal bezels on all four sides.
The Olixar Full Cover Tempered Glass Screen Protector is available for pre-order now at Mobile Fun for £24.99. If you're interested in picking it up, you can also receive an email notification once stock has arrived.
Thanks for checking out the article, and be sure to let us know what you think of this essential iPhone X accessory in the comments below!
Monday 5th June 2017 by Vane Núñez in HTC.
Tomorrow, on Tuesday, June 6, at Coin-Op Game Room in San Francisco, California  HTC has organized a party and the worldwide release of their new flagship.
HTC USA has planned a Facebook open even for people to join:
"HTC is hosting a party for our fans, celebrating our newest flagship, the HTC U11. Come by and grab a drink, hang with HTC fans, and get a first look at the U11 before it's available to the public!"
WHAT: HTC Meet U Meetup – San Francisco
WHERE: 508 4th St, San Francisco, California 94107
WHEN: 6-9 PM PT
So if you are nearby you can go there and enjoy the event and be one of the fitst ones to enjoy the HTC U 11.
And in a few more days  (June 20th) we will also have to attend the presentation of the new OnePlus 5 so you can compare both terminals and decide which is best.
Friday 31st March 2017 by Vane Núñez in Accessories, Samsung.
It's finally time! Announcements have been made, switches have been flipped, and our full launch range of 100+ Galaxy S8 cases and covers has finally gone live! As you're pressed for time, here are ten of our absolute favourite Galaxy S8 cases.
The UAG Metropolis is our first entry, and it's a beauty. This rugged case looks like a typical tough case from the back, but on the other side you'll find a screen-protecting flip cover that conceals a credit card slot. The case is even water-resistant, thanks to its unique FrogSkin exterior. This combination of protection and practicality makes this one of the best Galaxy S8 cases on the market, and it's available in 'magma' or 'black' colourways.
9.Official Samsung Galaxy S8 Keyboard Cover
This case is all about the keyboard it adds to your phone. If you're a fan of classic hardware keyboards, like you'd find on an old BlackBerry phone, then this is an awesome choice. It works in a really clever way too, literally tapping on the software keyboard on the screen below, so it never needs pairing or recharging. Awesome.
This stylish case adds modern carbon fibre to your Galaxy S8, while leaving the camera, fingerprint reader and other features readily accessible. It fits the phone perfectly, cloaking it in a lightweight protective barrier that prevents accidental damage without adding significant bulk to your phone.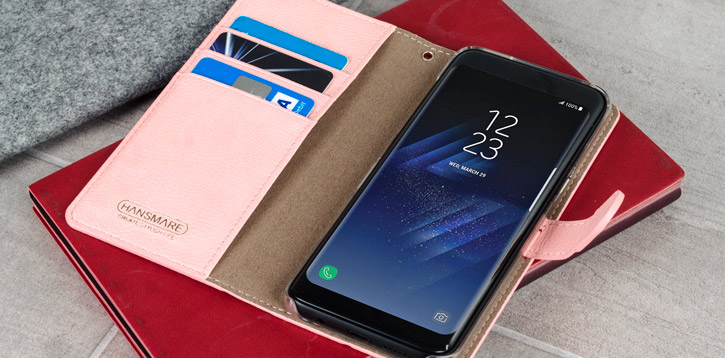 This calf-skin wallet is one of the nicest available for the Galaxy S8, and is a perfect choice for anyone looking for the classic look, feel and smell of real leather. The case includes a stand so you can watch videos or keep an eye on incoming messages, plus credit card slots that ensure you don't need to bring your wallet with you whenever you go out. All in all, it's a practical and good-looking case for a fair price.
This official case from Samsung is a great protective option available in some truly great colours — six in all. The case has a slim yet stylish design, and is fully Qi wireless charging compatible. The case is an official Samsung production, so as you can expect it fits the phone like a dream
The Crystal Bumper from VRS Design is a great choice if you want to fully show off your Galaxy S8 without subjecting it to scratches or dents. This bumper adds good protection to the sides of your phone, while a clear back panel prevents damage there too. The case is one of the lighter options on the market, and is a strong all-around choice
This Spigen case is one of the most popular on the market, and it's easy to see why. The case has well-considered protective properties, including a 2mm lip around the screen and advanced shock absorption technology that make it one hard nut to crack. I also love the integrated kick stand on the back of the case, which is perfect for watching videos on the plane, train or bus
Love Mei produce some excellent bumper cases, which are constructed from aircraft-grade aluminium to provide top-notch protection against drops and knocks. The case is actually screwed on around your phone, ensuring it stays in place until you want it off again, resulting in a tight fit and minimal added bulk. The case also seals the audio and charging ports until they're in use, preventing dust and grime from building up inside. Best of all, these cases look and feel the absolute business; they're a great premium option for the Galaxy S8.

This snap-on case provides moderate protection while adding minimal weight and bulk. The case is also transparent, allowing you to easily show off your new phone without risking damage by going naked. The phone is made from robust plastics for long-lasting protection, with design elements like reinforced corners and raised bezels to keep your phone safe. Given its price and size, this is a great value proposition.
Samsung always produce some top-notch cases for their phones, but their new Alcantara line is superlative. The case has a unique textured design that looks great and makes your phone fit easily into your hand, while different colour schemes allow you to show your style and personality. The case is an official product, so it will fit your S8 perfectly and it'll be available very soon too. If you are looking for a colourful slim case that doesn't get in the way, this is a strong option.
And if you prefer a phablet, you just have to wait for Note 8 and its accessories, who is suposed to be reveiled in late August. A new Note in the Samsung family that it is said to be the most expensive smartphone Samsung has ever released.