Thursday 16th February 2017 by Vane Núñez in Mobile Accessories.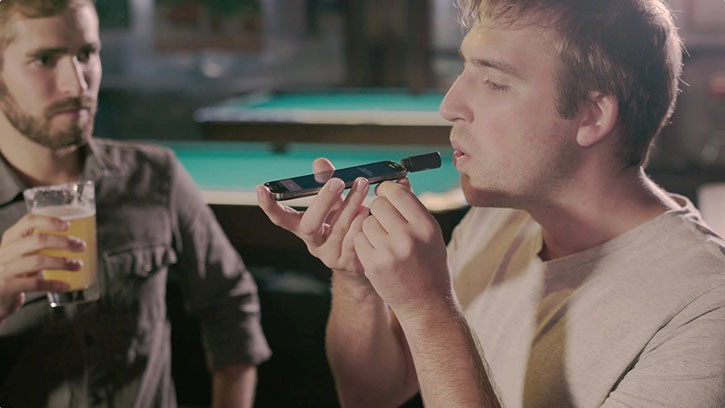 At Mobile Fun we believe in simplicity and convenience and we think the DrinkMate Portable iPhone Breathalyser is a brilliant bit of miniaturized tech. When you plug the DrinkMate in your iPhone or Android device the app will launch (or prompt you to download) and then you simple blow into the end.
Your Blood Alcohol Content (BAC) will be displayed right on your screen. Quick, easy, and shareable. A small investment in DrinkMate yields big results in personal health and safety. Drinkmate uses an advanced semiconductor-based sensor along with an air inlet which flows perfectly over the sensor, ensuring readings are accurate and repeatable.
What is BAC? Why is it important?…Blood/Breath Alcohol Concentration (BAC) is the amount of alcohol in the bloodstream or on one's breath. BAC is expressed as the weight of ethanol, in grams, in 100 milliliters of blood, or 210 liters of breath. BAC can be measured by breath, blood, or urine tests.
For purposes of law enforcement, blood alcohol content is used to define and provide a rough measure of intoxication. Though enforcement varies widely between and within individual states, it is illegal in all jurisdictions within the US to drive a motor vehicle while impaired or with a breath or blood alcohol concentration of 0.08% or greater.
If you have been out for a drink this device will let you know if it is legal for you to get behind the wheel. The DrinkMate is small and portable so you can always take it with you to test yourself or a friend who is determined to drive.
As DrinkMate runs off your phone's battery it remains a light and compact gadget. The power consumption is so low you won't even notice a difference (30mAh for steady state and up to 90mA during a 7-second warm-up), so you'll always be able to run it, even after a long night.
Tuesday 14th February 2017 by Vane Núñez in Android, Mobile Accessories.
The Samsung Galaxy S8 has a beautiful display with curved glass on both sides of the screen. The screen of any smartphone is the most important and fragile part so it is necessary to protect it, especially if it is like the S8, a very expensive one. Below you can find 2 upcoming screen protectors that will be available on our website that will help you protect the screen of your Galaxy S8.
InvisibleShield Original
The proprietary film is a clear, urethane plastic that is invisible and offers great protection. The film has its origins in the U.S. military, where it was used to protect the leading edges of helicopter blades from wear and tear while travelling hundreds of miles per hour. This screen protector doesn't interfere with your phone's screen.
InvisibleShield HD
InvisibleShield HD is the full-coverage version of the original; essentially a screen protector for the entire body of your phone. This full body screen protector comes in two parts, a protector for your Galaxy S8's screen and one for the back. The InvisibleShield is easy to install in minimal time and with minimal fuss.
Thursday 2nd February 2017 by Vane Núñez in Mobile Accessories.
DuraForce is an attractively priced ruggedized phone that offers performance and features that match typical midrange Android smartphones.
The Android Marshmallow handset is powered by a 1.5GHz eight-core Snapdragon processor and a non-removable 3,240mAh battery . It has 32GB of internal storage (with the option to expand up to 256GB with a microSD card) and 2GB of RAM.
The Kyocera Duraforce Pro is a chunky, rubbery affair, measuring in at 5.39 by 2.78 by 0.55 inches (HWD) and 7.06 ounces.
The phone is shockproof, drop-proof, and dustproof, with certifications to IP68 (waterproof up to 30 minutes, to a depth of 2 meters) and Military Standard 810G for protection against dust, shock, vibration, temperature extremes, blowing rain, low pressure, solar radiation, salt fog, humidity, immersion, temperature shock and icing/freezing rain
Loud, dual front facing speakers allow you to hear clearly in noisy situations and facilitate listening to music and watching videos.
It has three cameras. In addition to the front-facing shooter, the back has a 13- and 5-megapixel camera. And while the former features a standard lens, the 5-megapixel rear camera is an "action camera," which has a wider 135-degree lens and can record 1,920×1,080-pixel video.
It is also secured with a biometric fingerprint sensor to help make sure what is yours stays that way.
The DuraForce Pro became available at AT&T on the 31st of August and recently became available at Verizon as well. You can have a DuraForce Pro for $408 which seems a little expensive when taking its predecessor into account. However, interested buyers can make use of Verizon's financing scheme, which allows you to pay $17 per month for two years.
Tuesday 31st January 2017 by Vane Núñez in Accessories, Samsung.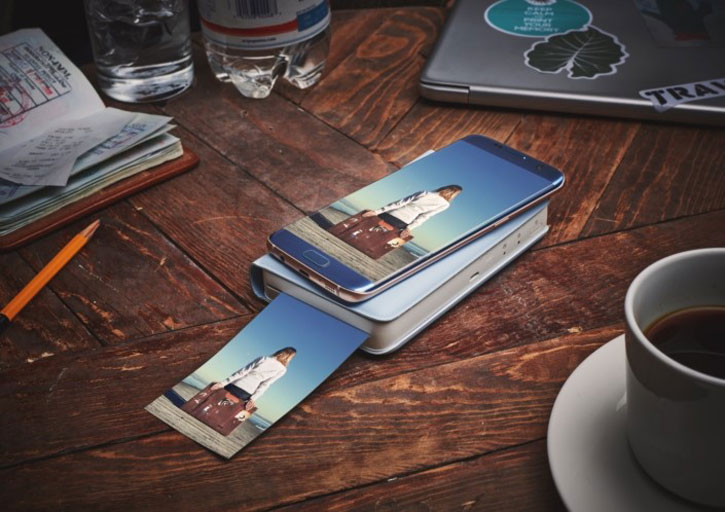 Samsung Electronics unveiled another round of memorable innovations at CES 2017 and one of our favorites was the Image Stamp mobile printer. We think it will be the must-have Galaxy S8 accessory this season.
The Samsung Image Stamp is extremely simple to use. An NFC tag allows you to pair it to your phone with one tap, where you'll be prompted to install the Image Stamp app. The free app guides you through every step of the process, ensuring that users can easily enjoy this unique service.
Once installed, simply select a photo and place your phone on top of the device, and the photo will be printed instantly via a fast WiFi connection.  This printer allows users to print photos exactly as they're depicted on their smartphone's screen – no cropping required.
Users also have the option to print QR codes with their photos that link those who scan them to relevant information, such as when the photo was taken.  Printing with sticker paper allows users to create decorative stickers with their photos.
Not only can the Image Stamp be used for pictures, it can also be used to print Business cards, customized bookmarks and many other original things.
The Image Stamp portable printer is light, compact and portable, it is the same size as an S8 but twice as thick, though still very easy to slip into your pocket or bag.
The Samsung Image Stamp is expected in stock by early February. To check the latest prices and availability click the links below:
Thursday 26th January 2017 by Vane Núñez in Mobile Accessories.
The Samsung Galaxy S8  will be announced in late March, and will go on sale around 21 April but we're currently witnessing a massive deluge of reports and leaks from accessory makers and manufacturing partners.
We received these heretofore unseen renders  from an unnamed case maker in China and made a video to show you all what we can deduce from it about size, ports, S-Pen etc.
There are other rumors that can not be confirmed by a case, such as whether the S8 will see an iris scanner – the biometric technology launched in the ill-fated Samsung Galaxy Note 7, which allowed users to unlock their phone and authenticate purchases with their eyes.
It is also thought that Galaxy S8 will have a new processor,  Snapdragon 835, which is being built using Samsung's new 10nm processes.
We will know for sure in 2 months which features will come with the latest Samsung flagship but in the meantime we will gather as much info as possible and prepare our accessories section.
Wednesday 18th January 2017 by Vane Núñez in Accessories, Apple.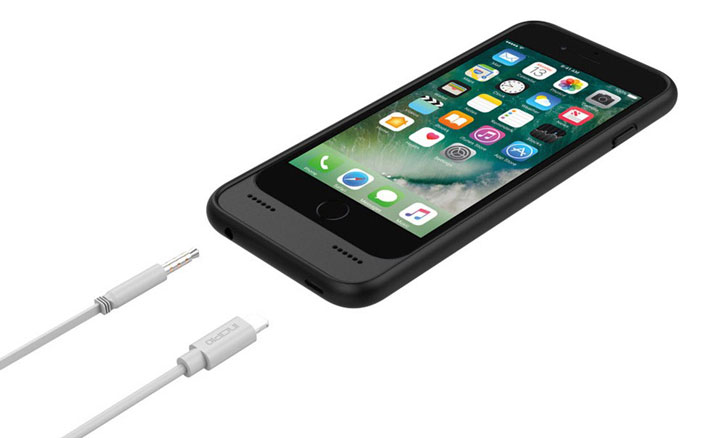 Incipio, one of the biggest case manufacturers in the world has found the solution to the iPhone 7 and 7 Plus missing headphone jack. This brilliant company founded in Southern California in 1999 is known for their commitment to their customers and a passion for amazing products.
So, during this year's CES they have introduced their new OX case, which brings back the ability to listen to music and charge your phone at the same time. The OX case looks similar to most hard shell iPhone 7 cases, but an added protrusion on the bottom similar to Apple's official battery pack provides space for the extra ports. The OX offers a 3.5mm jack for music, along with a Lightning port for charging.
Apart from this added functionality, this case has been designed to provide exceptional lightweight protection  against accidental bumps and drops.
If features 'Made for iPhone' certification, so you can be certain the Incipio OX Case is fully compatible with your device while also following strict Apple guidelines. As the case meets all of Apple's performance standards you are ensured the very best quality.
The Incipio OX is coming to the US soon at just $60.49. More info and images can be found below:
Friday 13th January 2017 by Vane Núñez in Leaks, LG.
It is likely that LG will confirm the LG G6 at the MWC 2017. But no information on when it will arrive is available at the moment so that remains to be seen. It is said it will cost around $650 and it seems it will have a more premium look and quality than we've seen on previous phones.
LG G6 could come running on Qualcomm's unannounced Snapdragon 830 processor, with a battery of 4200 mAh, a 24 Megapixels rear camera and a 5.7" 4K display with a 4096 x 2160 screen resolution.
The LG G5 modular design has failed to entice as many people as the company had hoped for. Rumors are rife that LG might drop the modular design in the LG G6 this is still uncertain at the moment.
The most reliable hints can be found in this video on LG's YouTube channel entitled "Wish list for the ideal smartphone" which ends with the words "Imagine how your wishes will all come true" followed by "February 2017".
Whether LG is going to be able to achieve this checklist is yet to be seen, but it won't be long until we hear word as Mobile Congress just a month away.
Monday 9th January 2017 by Vane Núñez in Accessories, Android, Apple, Mobile Accessories.
Set New Year's resolutions is a tradition, most common in the Western Hemisphere done after Christmas. Start a new year is a good chance to sit down, meditate and prepare a list of important lifestyle changes you want to make.
Popular goals are eat better, drink less alcohol, quit smoking, stop biting nails, save money, learn something new (such as a foreign language), read more books….
But without any doubt the most common one is "Get in shape": Losing weight is the top resolution for Americans, and combined with "exercise more" and "stay fit and healthy" it is something that over a third of the population wishes to achieve.
At MobileFun we want to help you so we have prepared a short list of fitness accessories to make you reach your objetives.
Carry your smartphone securely while you're exercising using the Universal Armband for Large-Sized Smartphones in black. This comfortable armband is adjustable and made out of a lightweight and breathable material. It is suitable for arm sizes of 10″ to 15″ and has been designed to fit phones with dimensions no larger than 152 x 80 x 10 mm. The screen cover is made from a plastic material that allows you to operate your devices touchscreen. It has a slot pocket for keys.
This is the fitness tracker that looks like jewellery. Pair it with your iOS or Android device and monitor your fitness, breathing, sleep and menstrual cycle. Crafted from recyclable American Ashwood and stainless steel, the Leaf Fitness and Sleep Monitor from Bellabeat is one of the most unique and fashionable trackers available.
You can track your movement including number of steps taken and the time you've been active. In addition to this, you can also track the number of calories burned and set goals. With Leaf you'll be able to keep your stress levels. Besides, using the app, gain a detailed overview of your cycle, ovulation alerts as well as pill reminders.

The stylish and durable EarBlades from Ghostek are perfect for when you're in the gym, going for the run or just relaxing. They are rated IP66 water resistant so no worry about rain or sweet.
The Ghostek EarBlades also feature Multi-point technology, meaning you can connect up to two Bluetooth devices simultaneously and switch between them. Their Playback time is up to 6 hours and in standby up to 100 hours.
Use your existing DiCAPac Action Waterproof case and secure it safely to your bike handlebars with this companion accessory for a convenient and more importantly viewable position. Designed to work in conjunction with your DiCAPac Action Waterproof Case, the DiCAPac Action Bike Mount will ensure your device is within easy view when attached to your bike's handlebars.
The KitSound Sport Band is a universal fitting, lightweight, sweat-proof and water-resistant sports band that features built-in headphones that can be connected to any 3.5mm supported portable music player for rich audio sound quality. It is made out of Terylene and Spandex so it is resistant to sweat and water.
Tuesday 27th December 2016 by Vane Núñez in Accessories.
What if you could get everything you need to protect your phone, all in one box? That's the idea behind our new Total Protection Packs from Olixar. Featuring an ultra-thin protective gel case and an ultra-responsive glass screen protector, this pack provides the ultimate in lightweight protection.
The case is made from a gel material that is 100% clear, so you can protect your phone from scratches and drops but still show of the beautiful design of your smartphone.
The tempered glass screen protector is much easier to install than a plastic screen protector, and it'll last much longer. With a thickness of only 0.26mm it is hardly noticeable. It maintains perfect image clarity while protecting your phone's screen from scratches and external shocks.
The great thing about buying these bundles is that you get a significant discount versus buying the two accessories separately. The Olixar Total Protection Pack is available for most flagship phones. Check here to find yours.
Sunday 25th December 2016 by Vane Núñez in BlackBerry, Mobile Accessories.
DTEK60 is BlackBerry's third smartphone powered by Android. Fully equipped with Android Marshmallow 6.0.1, the DTEK60 combines BlackBerry's unique security, privacy and productivity with the full Android experience in an all-touch design, at a price point that's accessible for consumers.
Like the DTEK50, the BlackBerry DTEK60 is an all-touch device, rather than a portrait slider hiding a physical keyboard underneath. Physically, the DTEK60 looks very similar to the Alcatel Idol 4S.
It features a large 5.5-inch AMOLED display with Quad HD resolution, that means an impressive pixel density of around 534ppi. The DTEK60 has a 21-megapixel sensor in its rear camera with 4K video capture and a six element f/2.0 lens. The front camera has an 8-megapixel sensor and full HD video.
For the processor, the Qualcomm Snapdragon 820 has been chosen, which is accompanied by an Adreno 530 GPU, 4GB of RAM and 32GB of internal storage. This is expandable with a microSD that can have up to 2TB of capacity.
The terminal offers LTE connectivity, WiFi, Bluetooth 4.2, GPS with GLONASS and a fingerprint reader along with an NFC chip. It also offers a 3,000 mAh battery with Quick Charge 3.0 built-in in a body of 153.9 x 75.4 x 6.99 millimeters and weighing 165 grams.