Thursday 13th February 2014 by Keisha Salmon in Accessories.
Valentine's Day does not always have to involve hearts, candy, flowers or the color pink. Instead, consider an iPhone 5S charger, a Samsung Galaxy S4 case, or the Nexus 7 desk stand. For this special day, get the tech lover in your life the gift that really shows that you care (and pay attention). We've pulled together a great list of accessories to finish off that new iPad Air he's guarded with his life or the fancy new Samsung Galaxy S4 smartphone that she ignores you with. Here is Mobile Fun's list of the best Valentine's Day gifts to impress your tech sweetheart.
Keep your mobile devices fully charged and in one convenient location with this stylish, space saving Converge USB docking station by Quirky. Perfect for use at home or in the office, the Quirky Converge is a USB charging station which can charge up to four devices simultaneously.
The Desk Genie is the only holder you will ever need. It is universal charger, a USB hub and a 8-1 card reader – all this and it holds any phone.
Magically amplify your tunes with just a touch of your phone to this boom box by thumbsUp! to impress your friends.
The Ultra-Thin Wireless Sliding Keyboard Case for iPhone 5S / 5 is the latest innovation for iPhone. By combining a tough snap on case with a full QWERTY keyboard, you can turn your iPhone 5S / 5 into a mobile office and multimedia powerhouse, all while protecting it from scratches and minor impacts.
Seamlessly connect your iPhone 5S / 5 or iPad Air / 4 to various digital devices using the Kit 4 in 1 Connection Kit, allowing connection to standard USB, Micro USB, SD & Micro SD cards via your devices lightning connector.
Control your Apple or Android functions from your wrist with the Pebble SmartWatch in Jet Black, which features Bluetooth v4.0 for easy pairing and a high visibility E-paper display. The waterproof design ensures long-lasting use.
Let us know in the comments any tech gifts that you are hoping to receive this Valentine's Day. Enjoy!
Friday 17th January 2014 by Matthew Clough in Accessories, Android.
The Samsung Galaxy Note 3 has proved to be the runaway success of the Christmas season, more than holding its own against the latest offerings from Apple and becoming probably the most successful phablet thus far.
Naturally, if you've parted with your hard earned dollars, you'll want to keep the Note 3 protected and looking good. Well, with the Official Samsung Galaxy Note 3 S-View Wireless Charging Cover you can do that – as well as an awful lot more.
As the case is an official Samsung product, you can be certain that it'll be a precise, flush fit to your phone, not so tight that it risks scratching or otherwise damaging your phone whilst also ensuring that it will stay on should you drop the phone (here's hoping that that eventuality never gets tested!). The case replaces the existing battery cover on the Note 3, meaning it's much less obtrusive than more conventional designs and adds virtually no bulk. The folio style means that the S-View protects not just the back, but the screen as well.
For those looking for a premium quality case, the S-View seems to be a natural choice – yet that's nowhere near all it has to offer. Firstly, it features the same sleep-wake function found in the regular Official Samsung Galaxy Note 3 Flip Wallet Cover, meaning that your phone will know when to turn the screen on and off depending on whether the case is open or closed, a very handy time-saver and something that will also help aid battery life.
The most noticeable feature of the case is the window occupying the top half of the screen cover. This ingenious feature allows you to view various pieces of information in the pane without needing to open the cover and access them: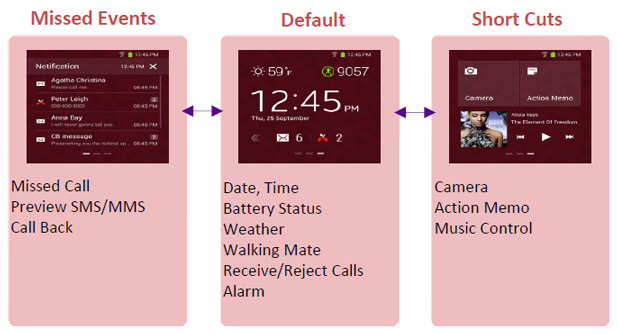 Finally, last but certainly not least, is the wireless charging aspect. The Note 3 isn't able to charge via wireless chargers by default, but with this case attached it becomes Qi enabled device, capable of using any wireless charger that utilises Qi technology.
This superb case really does it all, and is available in both black and white. If you want to check out other official Samsung Galaxy Note 3 cases, Mobile Fun has the best available selection!
Friday 3rd January 2014 by Matthew Clough in Uncategorized.
The Nokia CR-200 has consistently been one of our best sellers for months – and with good reason. As well as being a highly durable, reassuringly sturdy car holder, capable of holding a range of devices in both portrait and landscape orientations, the CR-200 has a hidden (literally) feature that belies its sleek, unobtrusive design.
As the name suggests, the CR-200 will wirelessly charge any Qi enabled device as you drive, and the fact that it's adjustable means that it also works for many devices that require a case to be attached in order to wirelessly charge, making this the perfect accessory for the Samsung Galaxy Note 3 or the Nokia Lumia 1520. You can read more about the CR-200 here.
We already had an incredibly low price for this fantastic device, but now we're also offering a further $10 off with the voucher code USCR200, meaning you can get it for just $71.99. Happy shopping!
Friday 15th November 2013 by Matthew Clough in Accessories, Apple, HTC, Samsung.
In general, screen resolution and quality is one of the less tricky facets of modern phone specifications to digest; broadly speaking, the higher the numbers, the better the screen. However, with mobile technology becoming ever more advanced, it's more and more challenging to read through even the most basic features of a phone without needing Google – and possibly a dictionary – in order to cut through the jargon and understand just what is exactly going into your phone, and how it fares against competitors. One major hurdle that can catch people out when it comes to screens is the difference between an LCD screen and an AMOLED equivalent.
 AMOLED
Very much the new kid on the block in terms of screen technology, AMOLED (or Active Matrix
Organic Light Emitting Diode, if you want to be fancy about it) consists of an electrically charged layer of polymers capable of interpreting different signals and lighting up in the corresponding colour.
Currently favoured by Samsung, AMOLED screens hold the advantage over their longer-serving rival in both the contrast and the battery life departments. The fact that the diodes are lit by electrical currents removes the need for a backlight, meaning when the phone is attempting to create black pixels, it simply turns them off altogether, leaving no residual light and also cutting back on the amount of power used. You may be wondering just how much power you could possibly save by simply removing a few pixels from the equation, but screens are still one of the biggest drains on battery life, particularly as unlike power-hungry apps, using them can't exactly be avoided. Every little helps.
The fact that the screen turns off for black pixels also means it can produce deeper, more resonant  tones than LCD counterparts, and thus not only presents a truer representation of colour when watching predominantly dark films and videos, but also help enhance the contrast and the vivacity of brighter colours. The electrical aspect also gives AMOLED the edge in terms of response times, although the motion blur that used to afflict fast-moving objects on LCD displays is increasingly a thing of the past.
LCD
The heavyweight of the screen world, LCD has been knocking about for decades in various forms, and still holds the title of champion in several areas. LCD is still the choice of, among others, Apple and HTC, demonstrative of the fact that despite the technology's age, it can still more than hold its own.
Firstly, the colours are generally less garish and more realistic than those found on an AMOLED screen, although which is better is a matter of personal preference. That being said, these more realistic colours come at a cost. Unlike AMOLED, which uses electrical impulses to light pixels, LCD screens use a good old fashioned backlight, meaning that even when a pixel is intended to be black, it'll never quite be as deep as an AMOLED equivalent, and this in turn reduces the contrast between blacks and the other colours on the screen. In short, if you like your display to be as bright and bold as possible, AMOLED wins this battle. That being said, whilst AMOLED technology may save battery when displaying blacks, when using the entire display for colours it can consume up to three times the power of an LCD, so once again it's a balancing act, and comes down to what you see yourself using your phone for.
However, it's not all blues with the backlight; by removing the emphasis from the pixels themselves,
LCD technology is able to utilise smaller ones, meaning that the image is sharper and more precise compared to AMOLED, which can sometimes appear murky and blurred, particularly with small text. The backlight also helps combat glare and generally improves readability when using a phone in bright sunlight. That being said, AMOLED screens generally boast a superior range of viewing angles.
Verdict
Ultimately, the choice comes down to personal taste. Whether you prefer the vibrant displays found on Samsung and Nokia devices (AMOLED's oversaturated hues certainly suit the style of the Windows 8 operating system) or the unrivalled definition and clarity found on iPhones and HTCs is entirely subjective. Furthermore, the fact that in this day and age there are still two major technologies in use, even with competition so fierce that manufacturers are willing to step over their own mothers to gain an edge, suggests that in real terms, the difference is pretty negligible. What's more, as screen technology advances ever further, that gap will only continue to shrink.
Currently, you'd do well to find a better LCD screen than that of the HTC One, and AMOLED is currently strutting its stuff on the Galaxy Note 3.
Friday 15th November 2013 by Matthew Clough in Accessories, Google, Nexus.
The Nexus 5 has been knocking about for a few weeks now, and we're starting to see the first wave of smart cases coming through. Of all the ones that we've test so far, we're big big fans of these three superb leather cases from PDair.
There are three variations on a largely similar design that means however you like your flip case orientated, we've got it covered. The first variation is a conventional flip case, with the front cover folding vertically upwards towards a hinge at the top of the phone.
The second is the same flip case, but flipped – if that makes sense. If you'd rather flip the cover down than up toward a hinge at the bottom, then you can with this variation. Check it out here.
The third and final iteration is a bit of a twist – literally. This one takes more of a folio form and lets you flip the cover to the left.
Once you've picked which case suits your style best, you're good to go. These cases are made from 100% real leather, which is most smooth to handle and yet reassuringly padded and robust for withstanding impacts. The magnetic clasps are sturdy so you don't need to worry about the case flapping open every five minutes, and the workmanship on the stitching and the overall quality of the leather means the hinge will withstand repeated use with ease.
Finally, the smart aspect of the case – all three cases boast a highly responsive sleep/ wake function. We've put all three cases through their paces and have found the function works virtually every time.
For more great Nexus 5 cases like these, keep checking Mobile Fun!
Thursday 14th November 2013 by Matthew Clough in Accessories, Google, Nexus.
We're huge fans of the Nexus 5 here at Mobile Fun, and several of us have spent the best part of a week fiddling with settings and tweaking apps in order to squeeze every ounce of performance and battery life from Google's latest budget masterpiece. Here's some of our best tips so far.
Be reunited with Google Now
The Nexus 5 and Android KitKat was released on Halloween, and you certainly could be forgiven for considering enlisting the services of a witch doctor in order to resurrect Google Now if you turned down the option to include it to the left of your home screen in the initial set up. However, many users (myself included) found themselves unable to set up the app anywhere else on the phone having done this. To solve it, long press on an empty gap on your home screen in order to bring up the widget menu, hit settings and turn on Google Now. Now you will be able to set it up and turn the option off again should you not want it accessible by a left swipe.
Activate developer tools
The Nexus 5 has an almost intimidating number of adjustable options, but if being almost intimidating just isn't enough for you, you can enable developer settings and blow the proverbial case wide open. Just go to Settings, About phone, and tap "Build number" seven times (no more, no less) to activate the new option, accessible in the main Settings menu. What does this let you do? Well…
Switch from Dalvik to ART
Much of the Developer options menu can be intimidatingly jargony, but some of these options are mercifully simplified. One of those is the runtime option, which is set to default to Dalvik, but has the alternate option of ART. Without wanting to get bogged down in technicalities (and risk embarrassing myself when it becomes apparent that I'm somewhat out of my depth), with ART, apps are prepped and raring to go rather than waiting until called upon with Dalvik. This means that they take up marginally more room, but depending on the app, can hit the ground running with considerably more speed.
However, consider this a public service announcement: while most apps see their performances increase, some (WhatsApp being the one we've noticed so far) can't function with ART.
Change animation speeds
Another high octane fuel injection method, also only accessible via Developer options, are animation speeds. These are set to 1x by default (naturally), but you can turn them off or down to .5x in order to speed them up. There are three different options; Window animation, transition animation, and animator duration. Personally, I've left Transition animation as default, purely down to my own preferences, but that doesn't stop it having a noticeable difference to speed, particularly when multitasking.
KitKat logo
After all this invaluable advice, here's something that is completely redundant and will do absolutely nothing to further your ability to make the most of your phone but it's there so why not? Go to Settings, About phone, and then triple tap "Android version", you will be met by a hypnotically spinning K, which eventually dissolves to reveal an amalgam of the KitKat and Android logos to celebrate the latest version of Google's OS. You can thank us later.
That's all our tips for now, but be sure to stay tuned for more. If these had you sighing and saying "well, duh!", our UK site have a superb guide on rooting, unlocking and recovering the Nexus 5. And of course, if you've gone through all of this to make your handset purr, you'll want to keep it safe with one of our many Nexus 5 cases.
Wednesday 13th November 2013 by Matthew Clough in Accessories, Nokia.
Steve Ballmer may be on his way out as Microsoft CEO, but that hasn't stopped him leaving a potentially seismic stamp on the company in the final few months of his tenure by overseeing the purchase of Nokia. Once an untouchable colossus of the mobile world, Nokia have seen their stock gradually fall as they've been overtaken by Apple, Samsung, and a plethora of other manufacturers, so it makes sense that Microsoft, themselves lagging behind in the mobile market, would want to join forces and bid to revitalise both companies' fortunes in the sector.
In terms of real, immediate impact, there won't be any major changes; Nokia are already nearly exclusively using Microsoft's ailing Windows Phone operating system, and although the Swedish firm have seen their once-mammoth market share drop to a paltry 14% in the last year, the brand recognition remains strong enough that Microsoft won't simply absorb the company. However, the Nokia name may prove something of a double-edged sword, with many consumers now equating it with the pre-smartphone era, something that Microsoft will need to address in order to restore the firm to anywhere near its former glory.
 It isn't just the Nokia name that Microsoft are paying a cool £4.46bn for; far from it, under the terms of the deal, Nokia could theoretically be producing devices independent of Microsoft in a little over two years. The deal also includes a 10-year license for Nokia's highly lucrative patents, which range from the cloud-based mapping service Here to more basic components which have been the basis of suits by Nokia against Android-based manufacturers. They're also buying into a market that many would not think of when imaging cutting-edge technology; Africa's mobile economy is booming, and it is here where Nokia's reputation for cheap, reliable handsets is actually working in their favour. Phones that have long been the butt of Apple and Samsung owners' jokes in the West, such as the 1100 and 3310 are considerably more desirable than their fragile, high-tech counterparts in other parts of the world.
 Business aside, it's hard not to look at the nostalgic implications of the deal. Nokia represented for many both their first foray into the mobile world just  a few, low-resolution years ago, and a shining beacon of technological innovation that can no longer found in a market revolving around often minimal, tit-for-tat upgrades. The undeniable end of an era.
If you're looking at getting Nokia's flagship 1520, why not take a look at our Lumia 1520 cases?
Friday 8th November 2013 by Matthew Clough in Uncategorized.
Mobile technology may have morphed and evolved to an almost unrecognisable extent from just a few years ago, but there's been one constant, crossing over from the "dumb" phone era to the touchscreen, smartphone era. Manufacturers may come and go, but screen protectors are still (largely) the same.
I say largely, as while the technology has basically stayed the same, there have been improvements. Air bubbles and troublesome applications are now largely a thing of the past, as are flimsy plastic shields, with the best value for money now being found in slightly more expensive, but extremely durable tempered glass protectors.
Now with the latest generation of screen protectors appearing for devices such as the iPad Air and the Nexus 5, the technology has stepped up again. The Moshi iVisor for the Air is a prime example of this. Designed specifically for the Air, meaning there's no portion of the screen left uncovered, the Moshi is unusual in that rather than just aiming to cover the screen, which can cause issues when trying to line up a protector with edges, the iVisor incorporates a bezel covering as well, making accurate application extremely easy.
Of course, even without these borders, the iVisor would still be a dream to apply to your Air, thanks to its highly developed rigid polymer construction, which eliminates the possibility of bubbles appearing, and its unique adhesive properties, which can withstand numerous applications without complaint.
The Air boasts a scintillating capacitive Retina display, and you'll want to keep it looking as crystalline as possible. Unlike many screen protectors that bear the brunt of their battle to keep your device free from scratches, the iVisor not only protects from scratches, it resists them itself, so your screen won't be obscured. You needn't worry about any loss of touch capability either, as the iVisor is constructed using MicroGrid technology which ensures optimal touch sensitivity.
For the iVisor, and other fantastic iPad Air screen protectors, Mobile Fun is your one stop shop!
Tuesday 5th November 2013 by Matthew Clough in Uncategorized.
After some years in the techie wilderness, it appears that Swedish mobile phone giants Nokia, galvanised by a pending takeover from software heavyweights Microsoft, are ready for a comeback. Having seen their once formidable market presence eroded by the likes of Apple, Samsung, and HTC, the latter portions of 2013 have been relatively kind to Nokia, who can now look forward to 2014 as the year that sees them remerge like a phoenix from the ashes.
One of the devices that Nokia will be hoping can stoke the coals for their fiery rebirth is their Lumia 2520 tablet, which features the updated Windows 8.1 operating system and the increasingly popular Lumia range name. The tablet – available in red (which is Nokia's flagship color for the device), sky blue, white and black – boasts some extremely impressive specs, and some commentators have speculated that it, along with its contemporaries such as the iPad Air and the Nexus 7 2013, could signal the end for not only the Notebook, but for lower-powered Laptops as well.
Clearly, there are many tasks that are extremely difficult to complete without a keyboard, making laptop extinction somewhat unlikely for the time being, but Nokia is clearly thinking ahead with their Power Keyboard Case.
Tablet keyboard cases have been around for a while now, but official ones are often scarce, which is what makes the Nokia case so exciting. The 2520 features auto-pairing for keyboard, so attaching it and typing away is as simple as that. The keyboard itself is one of the best we've seen incorporated into a case, with keys ergonomically spaced apart to allow for a comprehensive typing experience and a highly responsive touchpad.
However, style and comfort are in no way compromised by the presence of the keyboard. The case is still remarkably slim, and functions both to protect your 2520 and as a stand to create an optimum angle from which to type.
As if the case hasn't already sold itself, it provides an extra 2 USB ports for your device, so if you're more of a mouse person than a trackpad lover, you can attach one without needing to worry about having to sacrifice something else.
And that's still not all; the case also features an external battery element, which will give you up to an extra 50% charge, meaning that if you're burning the midnight oil to hammer out a last minute business proposal, you don't need to worry about your battery failing you.
The Nokia Power Keyboard Case and other fantastic Lumia 2520 cases, stick with Mobile Fun!
Monday 4th November 2013 by Matthew Clough in Accessories, Google.
The Nexus 5 is already making a big splash, having sold out across various territories and delivery estimates for new orders already stretching into Christmas time. If you're one of the lucky ones who's got their hands on Google's latest and greatest, you'll no doubt want to get it kitted out with some top notch accessories, and there's no better place to start than the Cover-Mate Case Compatible Charging Dock.
One of the Nexus 5's major selling points is its extremely impressive screen, which is perfect for everything from watching videos to reading emails, so why not make the most of it? This superb Nexus 5 dock from Cover-Mate holds your phone at the optimum viewing angle on your desk, making it the perfect companion to your laptop or desktop.
This USB-powered dock both charges your phone and syncs it to your computer, allowing you to transfer data between the two (perfect for queuing up the latest episode of your favourite TV show to then watch while docked).
Form fitted to the Nexus 5, it provides strong, sturdy support for your device, and is also case compatible unlike many similar docks, meaning if you've got a case measuring less than 1.6mm, you needn't take it off when docking your device.
Check out other Nexus 5 accessories here!