Wednesday 18th January 2017 by Vane Núñez in Accessories, Apple.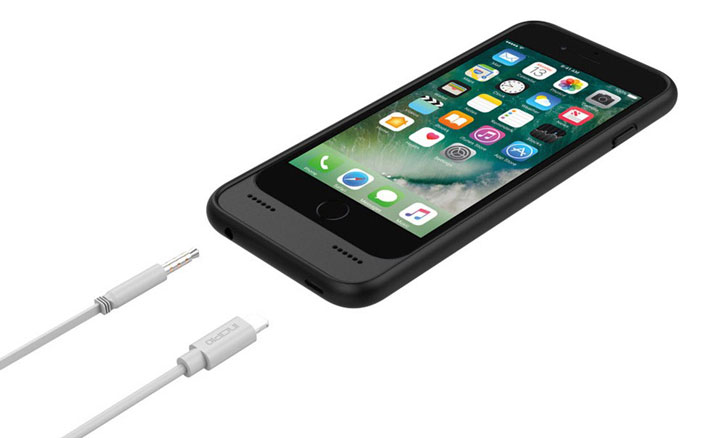 Incipio, one of the biggest case manufacturers in the world has found the solution to the iPhone 7 and 7 Plus missing headphone jack. This brilliant company founded in Southern California in 1999 is known for their commitment to their customers and a passion for amazing products.
So, during this year's CES they have introduced their new OX case, which brings back the ability to listen to music and charge your phone at the same time. The OX case looks similar to most hard shell iPhone 7 cases, but an added protrusion on the bottom similar to Apple's official battery pack provides space for the extra ports. The OX offers a 3.5mm jack for music, along with a Lightning port for charging.
Apart from this added functionality, this case has been designed to provide exceptional lightweight protection  against accidental bumps and drops.
If features 'Made for iPhone' certification, so you can be certain the Incipio OX Case is fully compatible with your device while also following strict Apple guidelines. As the case meets all of Apple's performance standards you are ensured the very best quality.
The Incipio OX is coming to the US soon at just $60.49. More info and images can be found below:
Friday 13th January 2017 by Vane Núñez in Leaks, LG.
It is likely that LG will confirm the LG G6 at the MWC 2017. But no information on when it will arrive is available at the moment so that remains to be seen. It is said it will cost around $650 and it seems it will have a more premium look and quality than we've seen on previous phones.
LG G6 could come running on Qualcomm's unannounced Snapdragon 830 processor, with a battery of 4200 mAh, a 24 Megapixels rear camera and a 5.7" 4K display with a 4096 x 2160 screen resolution.
The LG G5 modular design has failed to entice as many people as the company had hoped for. Rumors are rife that LG might drop the modular design in the LG G6 this is still uncertain at the moment.
The most reliable hints can be found in this video on LG's YouTube channel entitled "Wish list for the ideal smartphone" which ends with the words "Imagine how your wishes will all come true" followed by "February 2017".
Whether LG is going to be able to achieve this checklist is yet to be seen, but it won't be long until we hear word as Mobile Congress just a month away.
Monday 9th January 2017 by Vane Núñez in Accessories, Android, Apple, Mobile Accessories.
Set New Year's resolutions is a tradition, most common in the Western Hemisphere done after Christmas. Start a new year is a good chance to sit down, meditate and prepare a list of important lifestyle changes you want to make.
Popular goals are eat better, drink less alcohol, quit smoking, stop biting nails, save money, learn something new (such as a foreign language), read more books….
But without any doubt the most common one is "Get in shape": Losing weight is the top resolution for Americans, and combined with "exercise more" and "stay fit and healthy" it is something that over a third of the population wishes to achieve.
At MobileFun we want to help you so we have prepared a short list of fitness accessories to make you reach your objetives.
Carry your smartphone securely while you're exercising using the Universal Armband for Large-Sized Smartphones in black. This comfortable armband is adjustable and made out of a lightweight and breathable material. It is suitable for arm sizes of 10″ to 15″ and has been designed to fit phones with dimensions no larger than 152 x 80 x 10 mm. The screen cover is made from a plastic material that allows you to operate your devices touchscreen. It has a slot pocket for keys.
This is the fitness tracker that looks like jewellery. Pair it with your iOS or Android device and monitor your fitness, breathing, sleep and menstrual cycle. Crafted from recyclable American Ashwood and stainless steel, the Leaf Fitness and Sleep Monitor from Bellabeat is one of the most unique and fashionable trackers available.
You can track your movement including number of steps taken and the time you've been active. In addition to this, you can also track the number of calories burned and set goals. With Leaf you'll be able to keep your stress levels. Besides, using the app, gain a detailed overview of your cycle, ovulation alerts as well as pill reminders.

The stylish and durable EarBlades from Ghostek are perfect for when you're in the gym, going for the run or just relaxing. They are rated IP66 water resistant so no worry about rain or sweet.
The Ghostek EarBlades also feature Multi-point technology, meaning you can connect up to two Bluetooth devices simultaneously and switch between them. Their Playback time is up to 6 hours and in standby up to 100 hours.
Use your existing DiCAPac Action Waterproof case and secure it safely to your bike handlebars with this companion accessory for a convenient and more importantly viewable position. Designed to work in conjunction with your DiCAPac Action Waterproof Case, the DiCAPac Action Bike Mount will ensure your device is within easy view when attached to your bike's handlebars.
The KitSound Sport Band is a universal fitting, lightweight, sweat-proof and water-resistant sports band that features built-in headphones that can be connected to any 3.5mm supported portable music player for rich audio sound quality. It is made out of Terylene and Spandex so it is resistant to sweat and water.
Tuesday 27th December 2016 by Vane Núñez in Accessories.
What if you could get everything you need to protect your phone, all in one box? That's the idea behind our new Total Protection Packs from Olixar. Featuring an ultra-thin protective gel case and an ultra-responsive glass screen protector, this pack provides the ultimate in lightweight protection.
The case is made from a gel material that is 100% clear, so you can protect your phone from scratches and drops but still show of the beautiful design of your smartphone.
The tempered glass screen protector is much easier to install than a plastic screen protector, and it'll last much longer. With a thickness of only 0.26mm it is hardly noticeable. It maintains perfect image clarity while protecting your phone's screen from scratches and external shocks.
The great thing about buying these bundles is that you get a significant discount versus buying the two accessories separately. The Olixar Total Protection Pack is available for most flagship phones. Check here to find yours.
Sunday 25th December 2016 by Vane Núñez in BlackBerry, Mobile Accessories.
DTEK60 is BlackBerry's third smartphone powered by Android. Fully equipped with Android Marshmallow 6.0.1, the DTEK60 combines BlackBerry's unique security, privacy and productivity with the full Android experience in an all-touch design, at a price point that's accessible for consumers.
Like the DTEK50, the BlackBerry DTEK60 is an all-touch device, rather than a portrait slider hiding a physical keyboard underneath. Physically, the DTEK60 looks very similar to the Alcatel Idol 4S.
It features a large 5.5-inch AMOLED display with Quad HD resolution, that means an impressive pixel density of around 534ppi. The DTEK60 has a 21-megapixel sensor in its rear camera with 4K video capture and a six element f/2.0 lens. The front camera has an 8-megapixel sensor and full HD video.
For the processor, the Qualcomm Snapdragon 820 has been chosen, which is accompanied by an Adreno 530 GPU, 4GB of RAM and 32GB of internal storage. This is expandable with a microSD that can have up to 2TB of capacity.
The terminal offers LTE connectivity, WiFi, Bluetooth 4.2, GPS with GLONASS and a fingerprint reader along with an NFC chip. It also offers a 3,000 mAh battery with Quick Charge 3.0 built-in in a body of 153.9 x 75.4 x 6.99 millimeters and weighing 165 grams.
Thursday 22nd December 2016 by Vane Núñez in Accessories.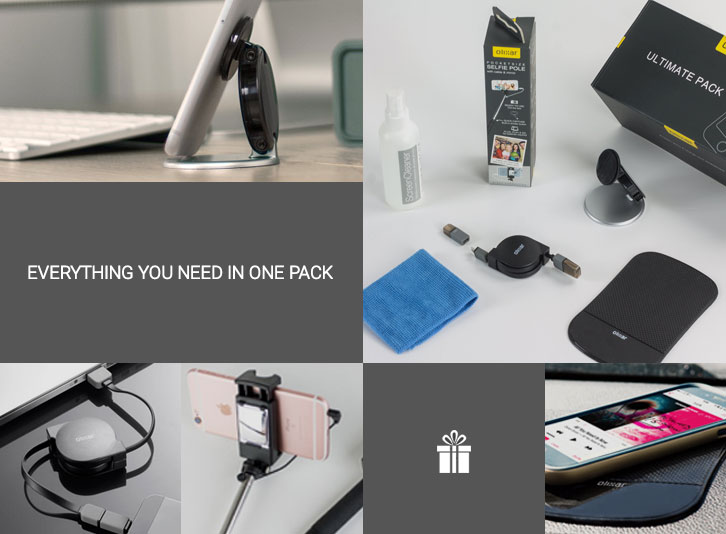 We are happy to introduce one of our newest accessory packs that is not just a great gift suggestion for Christmas or Secret Santa but is suitable for any gifting occasion!
The Olixar Ultimate Gift Pack contains all the essential accessories any smartphone user simply must own. This pack offers five incredibly useful, neatly presented items to enrich your smartphone experience.
Pocketsize selfie stick: This selfie stick features an ingenious built-in mirror on the rear of the holder, so you can line up your shot and snap your picture using your phone's far superior high-definition rear-facing camera
Universal desk stand:  The StandFast can be transformed effortlessly from its flat, portable form to a handy smartphone stand in seconds. The stand's strong, effective adhesive ensures your phone is secure while mounted
Ultra-grip dashboard pad: The Olixar Tree Frog is a flexible gel-like pad that easily fits to the contours of curved dashboards, providing a firm grip when placing even large devices, and the special silicone won't leave any sticky residue.
Advanced screen cleaner: Simply spray a small amount of screen cleaning solution onto the microfiber cloth (not directly onto your screen), then wipe in a circular motion until clean and dry. Perfect for smartphones, as well as tablets, laptops and anything with a screen
Dual Micro USB / Lightning retractable cable:  Capable of charging both Apple Lightning devices and Micro USB-compatible smartphones or tablets.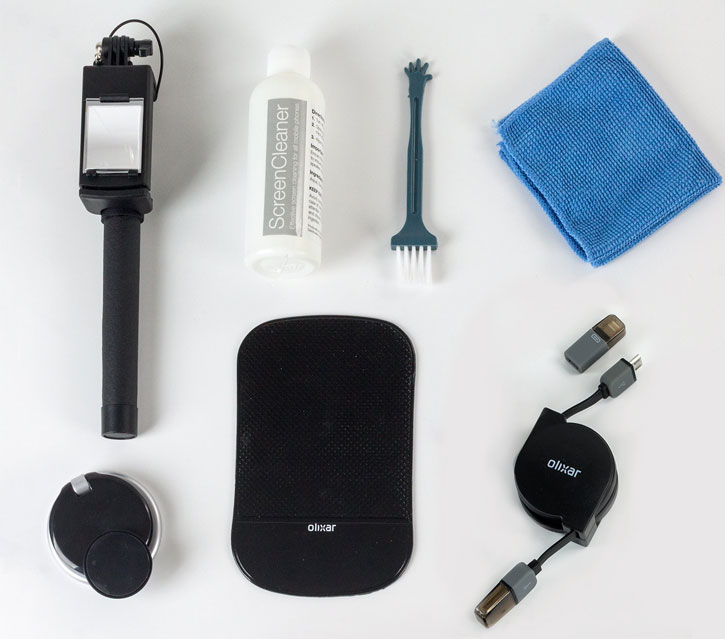 Friday 2nd December 2016 by Vane Núñez in Accessories.
Christmas is just around the corner and, of course, Mobile Fun is ready to face it as we know best, distributing the coolest accessories and gadgets.
Here is a summary of some novelties we hope will serve you as ideas for your Christmas gifts suggestion articles.
Enjoy an immersive listening experience with crystal clear audio and rich bass. Olixar X2 Pro Bluetooth Stereo Headphones feature wireless Bluetooth 4.0 connectivity, microphone for hands-free calling and NFC for super simple pairing.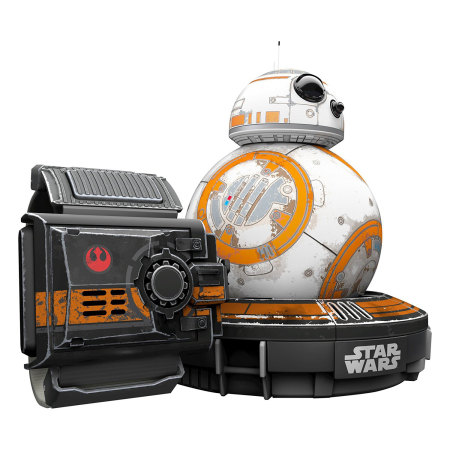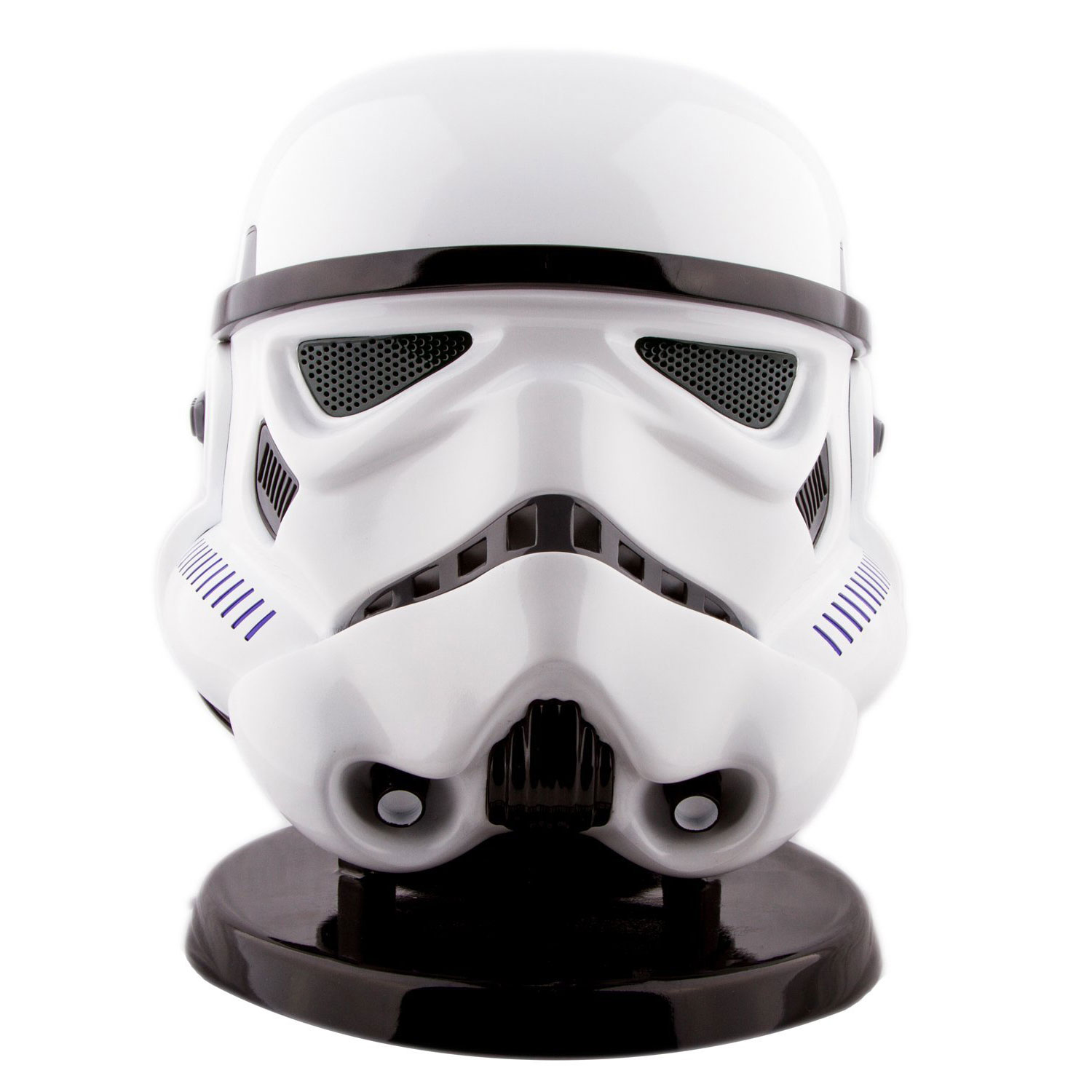 2016 has been the year of Star Wars once again. Fans of the saga will be able to enjoy the Bluetooth speakers of iconic figures from the Star Wars universe and kids (big and small) will love to have their own BB-8 to roll around the Christmas tree.
With a pocket selfie stick, a brilliant and highly acclaimed multiple lens kit and a sturdy lightweight folding tripod with spring action mount, you now have all you'll ever need to go snapping with your smartphone, no matter what the requirements. Take some selfies in front of the Chistmas tree or post a macro shot of your hot chocolate on Instagram.
The Playbrush toothbrush adapter, available in pink or blue, will encourage the little ones in the house to actually want to brush their teeth. It attaches to all hand brushes, connects wirelessly to our Android / iOS phone or tablet and brushing your teeth will be one more way to play and have fun.Available in Pink and Blue.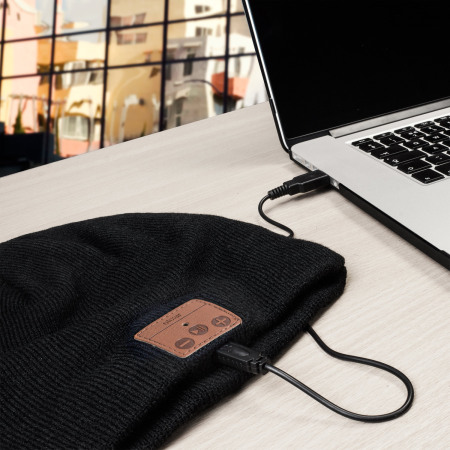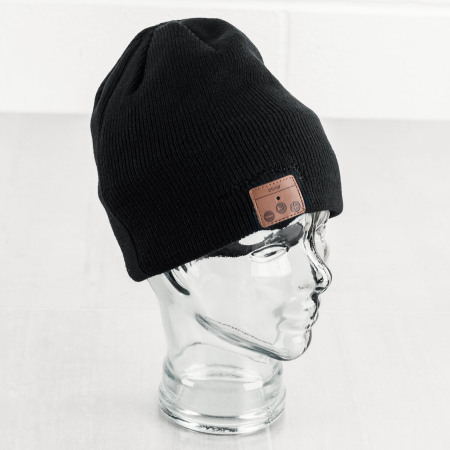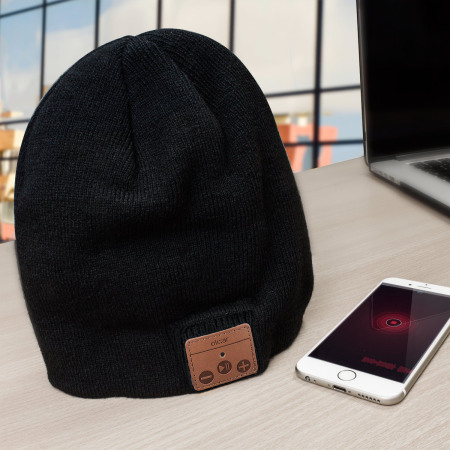 After Christmas there is still two long wintery months ahead of us so give the gift of a warm head and ears and maybe ass some built-in headphones that allow you to listen to your favorite music when out and about. The Olixar Bluetooth Woolly Hat is wireless for completely tangle free listening.
Thursday 24th November 2016 by Vane Núñez in Black Friday, News, Sale.

 Parrot Airborne Cargo Travis Quadcopter Drone
This funky mini drone is a ton of fun and it's easy to get started quickly. Pilot it from your iOS or Android smartphone or tablet, and if you're good you can reach its top speed of 18 kph.
The quadcopter includes an on-board camera to capture impressive vistas, and can be controlled up to 20m away. It works both indoors and out, and comes with replaceable components in the event of a nasty crash.
Was

$82.49

 -Now $41.49
While Stock last!
Tuesday 22nd November 2016 by Vane Núñez in Mobile Accessories, OnePlus.
The OnePlus 3T is a faster and longer-lasting version of the OnePlus 3. The Snapdragon 820 processor has been replaced with a Snapdragon 821, the same bleeding-edge chip that powers Google's Pixel phones.
The battery has also become slightly larger, with a capacity of 3,400mAh compared to the 3,000mAh unit of the original OP3. That should give it about 15% longer battery life. The front-facing camera has also been upgraded, and now sports a frighteningly high-resolution 16-megapixel sensor — it was 8-megapixel before. The rear camera's glass has also been upgraded to sapphire, which should make it more scratch-resistant. Read more
Wednesday 16th November 2016 by Vane Núñez in Android, HTC.
Last  Friday, the HTC Bolt was officially introduced by the manufacturer. HTC Bolt is a Sprint exclusive that sells for $600 or for $25/month on a two year contract. By the moment, this model is only sold in USA. It is said a  global version of the phone, called HTC 10 evo might be launched in the future but nothing officially confirmed.
The HTC Bolt is powered by octa-core Qualcomm Snapdragon 810 processor and it comes with 3GB of RAM.it comes with Android 7.0 Nougat and it has an IP57 certification rating to protect it from rain, spills and an accidental submersion to no more than 3.2 feet for up to 30 minutes.
It has a 5.5-inch Super LCD3 screen with Quad HD resolution. It includes a 16-megapixel rear camera with optical image stabilization, an 8-megapixel front camera . It has a 3200mAh battery.
As a novelty we can see it does not have a 3.5mm headphone jack so a pair of USB-C headphones are included in the pack. Be sure to check out Mobile Fun's range of HTC Bolt accessories.