Friday 2nd December 2016 by Vane Núñez in Accessories.
Christmas is just around the corner and, of course, Mobile Fun is ready to face it as we know best, distributing the coolest accessories and gadgets.
Here is a summary of some novelties we hope will serve you as ideas for your Christmas gifts suggestion articles.
Disney Official Star Wars Gadgets $13.49 – $165.99

2016 has been the year of Star Wars once again. Fans of the saga will be able to enjoy the Bluetooth speakers of iconic figures from the Star Wars universe and kids (big and small) will love to have their own BB-8 to roll around the Christmas tree.
Olixar Universal Smartphone Photography – Was $51.99 NOW $20.99

With a pocket selfie stick, a brilliant and highly acclaimed multiple lens kit and a sturdy lightweight folding tripod with spring action mount, you now have all you'll ever need to go snapping with your smartphone, no matter what the requirements. Take some selfies in front of the Chistmas tree or post a macro shot of your hot chocolate on Instagram.
Playbrush, brushing your teeth will be more – $41.49

The Playbrush toothbrush adapter, available in pink or blue, will encourage the little ones in the house to actually want to brush their teeth. It attaches to all hand brushes, connects wirelessly to our Android / iOS phone or tablet and brushing your teeth will be one more way to play and have fun.Available in Pink and Blue.
Olixar Bluetooth Wireless Woolly Hat – Was $25.99 NOW $15.99
After Christmas there is still two long wintery months ahead of us so give the gift of a warm head and ears and maybe ass some built-in headphones that allow you to listen to your favorite music when out and about. The Olixar Bluetooth Woolly Hat is wireless for completely tangle free listening.
Thursday 24th November 2016 by Vane Núñez in Black Friday, News, Sale.

 Parrot Airborne Cargo Travis Quadcopter Drone
This funky mini drone is a ton of fun and it's easy to get started quickly. Pilot it from your iOS or Android smartphone or tablet, and if you're good you can reach its top speed of 18 kph.
The quadcopter includes an on-board camera to capture impressive vistas, and can be controlled up to 20m away. It works both indoors and out, and comes with replaceable components in the event of a nasty crash.
Was

$82.49

 -Now $41.49
While Stock last!
Tuesday 22nd November 2016 by Vane Núñez in Mobile Accessories, OnePlus.
The OnePlus 3T is a faster and longer-lasting version of the OnePlus 3. The Snapdragon 820 processor has been replaced with a Snapdragon 821, the same bleeding-edge chip that powers Google's Pixel phones.
The battery has also become slightly larger, with a capacity of 3,400mAh compared to the 3,000mAh unit of the original OP3. That should give it about 15% longer battery life. The front-facing camera has also been upgraded, and now sports a frighteningly high-resolution 16-megapixel sensor — it was 8-megapixel before. The rear camera's glass has also been upgraded to sapphire, which should make it more scratch-resistant. Read more
Wednesday 16th November 2016 by Vane Núñez in Android, HTC.
Last  Friday, the HTC Bolt was officially introduced by the manufacturer. HTC Bolt is a Sprint exclusive that sells for $600 or for $25/month on a two year contract. By the moment, this model is only sold in USA. It is said a  global version of the phone, called HTC 10 evo might be launched in the future but nothing officially confirmed.
The HTC Bolt is powered by octa-core Qualcomm Snapdragon 810 processor and it comes with 3GB of RAM.it comes with Android 7.0 Nougat and it has an IP57 certification rating to protect it from rain, spills and an accidental submersion to no more than 3.2 feet for up to 30 minutes.
It has a 5.5-inch Super LCD3 screen with Quad HD resolution. It includes a 16-megapixel rear camera with optical image stabilization, an 8-megapixel front camera . It has a 3200mAh battery.
As a novelty we can see it does not have a 3.5mm headphone jack so a pair of USB-C headphones are included in the pack. Be sure to check out Mobile Fun's range of HTC Bolt accessories.
Wednesday 16th November 2016 by Vane Núñez in Mobile Accessories, Star Wars.
Shortly, in December we could enjoy again a new Star Wars movie "Rouge one". This is the first of the three new spin-offs of the Star Wars franchise, which takes place between Episodes III and IV of the saga. If you are a total fan and you won´t miss it , we are sure you will love our Star Wars accessories. All of them 100% genuine licensed merchandise from Disney.
A detailed and almost life-sized head of the iconic Imperial Stormtrooper. It features surpsingly powerful drivers and sub woofer. It also includes a built-in microphone for calls hands-free. Upon pairing the speaker will utter an iconic phrase 'Move along' and your character's eyes glow blue whilst paired.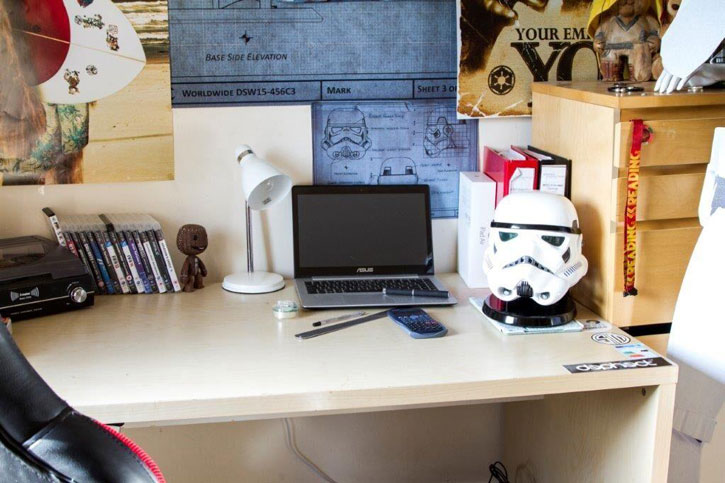 Again an almost life-sized head of everybody's favourite protocol droid, C-3PO. Enjoy great sound and great times with the Star Wars C-3PO Bluetooth speaker. With light up eyes and awesome sound.
The internal microphone is compatible with Bluetooth enabled phones, Facetime, Skype and other applications, perfect item for office conference calling or family Skype chats. Includes a 2200mAh lithium battery which will last you around 5 hours.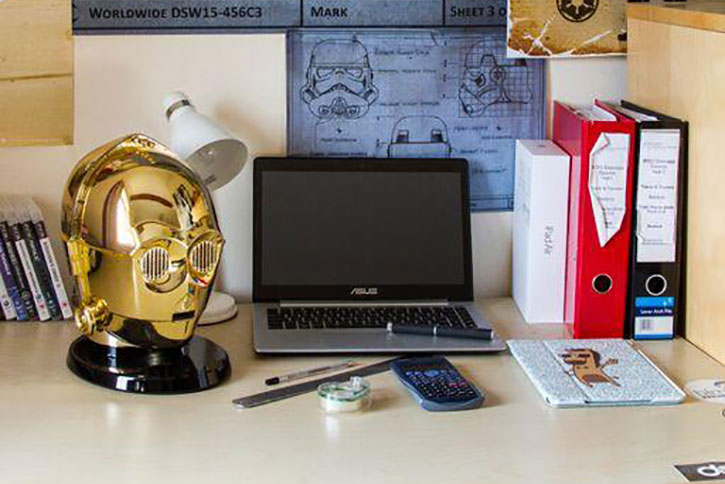 The BB-8 from Sphero is an intelligent droid that listens, responds and features an adaptive personality to provide the most authentic Star Wars experience in the galaxy. He's wirelessly recharged by sitting on a base, and lasts a surprisingly long time.
Not just a remote controlled droid, the BB-8 Star Wars smartphone controlled robotic ball can also send and receive virtual holographic video messages through the dedicated app, just like his predecessor R2D2.

These 2 models all include built-in Bluetooth speakers and microphones, making them perfect for listening to music or taking phone calls. There's also a 3.5mm port for pre-Bluetooth audio devices. Each lights up when in operation, and will be a proud addition to the desk of any Star Wars fan..
The Star Wars R2D2 8GB USB Flash Drive is the perfect companion to keep all your data with you all of the time – especially on your keyring. When you need access to your USB drive, just remove R2D2's head. This is how you gain access to your USB drive. Now at a special price, saving 36%.

She's the fastest hunk o' junk in the galaxy and now the coolest radio alarm clock too! Don't miss a trick with the Star Wars Episode VII Millennium Falcon Night Glow Alarm Clock – with special sound effects! The whole thing runs on three AAA batteries and one CR2032 watch battery, all of which are included.
Wednesday 16th November 2016 by Vane Núñez in Apple, Mobile Accessories.
There is no doubt that covers have become an almost indispensable element to prevent damage to our smartphone and as devices are becoming more and more expensive, it is worthy to keep them properly protected.
However mobile accessories world has gone much further and nowadays cases are not only a product for protection. Manufacturers are adding innovative design and many new features.. We can get cases with battery included, flip covers with pockets to be used as wallets…
Today, I want to introduce you a funny one from VRS Design. The VRS Design Cue Stick iPhone 7 Selfie case that is a fantastic option for selfie lovers. Featuring a hardshell construction to protect your phone from scratches and knocks, this special case includes a pocket friendly cue sticks on the back.
We all know that selfie sticks are the best option to get good pictures but we often do not have them at hand when needed as they might be heavy and uncomfortable. As this is included in the case, it will be always for you with a simple pull and rotate. With a simple telescopic motion, the Cue Stick can extend to 330mm or 1 foot.
Besides, that the pole arm can be used as a kickstand so watching videos is much easier and confortable no matther where you are. The Cue Stick features cut-outs for all of the ports, such as the charging connector and camera. This also means you can leave the phone in the case and enjoy all of its features. We have them at Mobile Fun in two amazing colors to choose from: Snow Pink and Night Blue.
Wednesday 2nd November 2016 by Vane Núñez in Apple, MacBook Pro, Mobile Accessories, News.
Tim Cook revealed some days ago a brand new MacBook Pro at the company's headquarters in Cupertino. It's been four long years since the company issued the last major overhaul to its high-end laptop line. Four years of waiting for some big announcement from  Apple. Read more
Wednesday 2nd November 2016 by Vane Núñez in Mobile Accessories.
The LG V20 has hit US stores this Friday 28 October, although it was already available in pre-order on several providers.
The LG V20 is the successor to the LG V10, this time with a main IPS 5.7-inch screen QHD resolution that adds a secondary screen above for notifications and shortcuts. Read more
Thursday 27th October 2016 by Vane Núñez in Galaxy S7, Galaxy S7 Edge, Note 8, Samsung.
It seems there will be a Note 8 late summer next year. Samsung says that it will offer substantial discounts to those who want to buy a Galaxy S8 or Galaxy Note 8. The deal is only available to those who exchanged the Note 7 for a Galaxy S7 or S7 edge, as was the most common trade-in.
They have also started an "Upgrade program" offering a Galaxy S8 or Note 8 for free when available to those people who have exchanged their Note 7 for an S7 or S7 edge. They have to sign a two-year contract and pay monthly installments on their current device. The program is now live in South Korea, and more details should be forthcoming shortly but we consider it could be extended to other countries. Read more
Thursday 27th October 2016 by Vane Núñez in Google, Mobile Accessories, Pixel, Pixel XL.
Google's new smartphones; Pixel and Pixel XL were presented in society on October 4th. Both terminals could be booked from that day on but they have not reached stores until October 20, so it is now when people are really having them in their hands and starting using them.
That is why Mobile Fun wants to introduce you our best case selection for both models. It is time to protect your new Google phone in style with many different options to choose. Read more