Wednesday 24th September 2014 by Julien Guiguet in BlackBerry.
BlackBerry revealed the Passport smartphone today. With a 4.5 inch screen and a touch keyboard, the Passport sets itself apart from the current smartphones on the market. In preparation for today's launch we have been setting up our BlackBerry Passport accessories for availability once the first phones ship..
BlackBerry is no longer trying to primarily focus on acquiring new users to their smartphone, but to win back their core business customers. The Passport's large square face is aimed at business customers who need to read and manage documents straight from their smartphones. With the BlackBerry Passport, you can see a full desktop web page on the screen. Pages load quickly and render exceptionally, making web pages easier to read.
The BlackBerry Passport comes with the familiar touch keyboard. The physical keyboard gives more typing accuracy and leaves more screen space for viewing. It is also responsive to touch so you can scroll web pages, flick to type or slide along the keys to move the cursor. Not sure if the physical keyboard will be as necessary as it was when BlackBerry first introduced it to market.
The battery life on the Passport is quite impressive with 3450 mAh battery and up to 30 hours of battery life.
BlackBerry also introduced a new application, BlackBerry Blend, to help professionals work more efficiently by connecting a BlackBerry smartphone with the person's computer or tablet.
Visit our site to stock up on accessories for your BlackBerry Passport, from cases, memory cards, to chargers and data cables.
Wednesday 24th September 2014 by Julien Guiguet in Samsung.
Get familiar with the Galaxy Alpha smartphone. Samsung has prepared an infographic to show off the style and features of the Samsung Galaxy Alpha. If you're still deciding on your next smartphone, take a look at this infographic for more clarity on the new Galaxy Alpha. If you decide to go with the Alpha, we offer a wide range of Galaxy Alpha accessories to outfit your new smartphone.
Tuesday 23rd September 2014 by Julien Guiguet in Android, Mobile Accessories, Samsung.
The Samsung Galaxy Note 4 comes out on the heel of the iPhone 6 and iPhone 6 Plus release. We are all prepared with our huge selection of Galaxy Note 4 cases and Note 4 accessories. Here are our top choices for Note 4 covers for September.

Protect the front of your Samsung Galaxy Note 4 from scratches, scrapes and front-on impacts with the official S View cover. This case replaces the original back cover of your Note 4, clipping on to the back of your device without adding any bulk and then folds over the front when not in use. This means that the most important part of the phone, the screen, is protected from harm without the added thickness and weight normally associated with flip cases.
Also available:
The Tough Armor is the new leader in protective cases providing better impact absorption than any other boxy case, providing superior protection for your Galaxy Note 4. Available in Gunmetal, Metal Slate, Satin Silver, and Red.
Also available:
Protect your Galaxy Note 4 from bumps and scrapes with the ArmourDillo case. Comprised of an inner TPU case and an outer impact-resistant exoskeleton, the Armourdillo not only offers sturdy and robust protection, but also a sleek modern styling.
Also available:
Wrap your 5.5 inch screen phone in luxurious, sophisticated protection with the black Encase Leather-Style Stand Case. This universal case has credit card slots and can transform into a convenient viewing stand which rotates between portrait and landscape.
Also available:
Protect your Samsung Galaxy Note 4 screen from harm and keep up to date with your notifications through the intuitive LED display with the official LED cover from Samsung.
Also available:
Monday 22nd September 2014 by Julien Guiguet in Apple, iPhone.
Using superior technology to create sturdy cases, Tech21, become a favorite among smartphone users. With the use of their 'impactology',  which is their process of creating impressive and protective smartphone gear, Tech21 has established it's cases as go to options to protect your smartphone investment. The core of this technology is D30, a non-Euclidean substance which is normally soft, but instantly hardens when it receives the force of an impact. iPhone 6 owners now have the opportunity to protect their devices using Tech21 cases now available at Mobile Fun. Which Tech21 iPhone 6 case fits your priorities?
Protect your iPhone 6 from bumps and drops with this highly protective smokey black TPU case with built-in impactology technology.
Also available:
This slimline Tech21 Classic Shell Impact Mesh case has been designed specifically for the iPhone 6, meaning it has cut-outs for the various ports and features of the phone such as the rear camera and the volume controls on the side, meaning the phone is fully usable while inside the case. Just because the case is highly protective, it does not mean it will be thick – in fact, the case features a slim design, making it easily pocket-able.
The impact absorbing D30 technology inside the Tech21 Classic Trio Band Bumper Case in white provides exceptional protection for the iPhone 6, whilst preserving it's sleek and elegant styling.
Also available:
Tuesday 16th September 2014 by Julien Guiguet in Mobile Accessories.
With the recent announcement of the new iPhones, Spigen has compiled their best range of accessories for the iPhone 6 and the iPhone 6 Plus. Take a moment and review your preferred Spigen iPhone 6 cases and the Spigen iPhone 6 Plus cases.
Available colors for iPhone 6:
Available colors for iPhone 6:
Available colors for iPhone 6:
Available colors for iPhone 6:
Available colors for iPhone 6:
Monday 15th September 2014 by Julien Guiguet in Nokia.
Share your mobile content on the big screen witht he Microsoft HD-10 Screen Sharing hub for Lumia smartphones. The screen sharing device from Microsoft comes with the portable NFC disc that allows you tot connect and share your Lumia smartphone content straight to any HDMI-enabled screen comfortably from your chair.
The screen sharing hub is small, compact and discreet. Designed to sit descreetly by your HDMI-enabled screen and to blend into today's modern surroundings. Easy setup on any HDMI-enabled TV. It features the Miracast standard, allowing you to wirelessly stream audio and video to your HDMI enabled device from your mobile phone or tablet.
The HD-10 screen sharing shows exactly what's on your phone in real-time. It is a seamless screen sharing setup for your Nokia Lumia smartphone and your HD television. You are not limited to they type of content that can be shared. From videos, PowerPoint presentations, games or any other content, the Microsoft Screen sharing hub mirrors your content direct to your television. No longer will you need huddle around your mobile screen, now you can project your screen on your television so all can see.
Also available:
Thursday 11th September 2014 by Julien Guiguet in Apple, iPhone.
Planning on getting the new iPhone 6? We suggest you also plan to get this ultimate accessory pack for the iPhone 6. It comes packed with a number of lightweight, portable and extremely useful accessories. We take the guess work out of what accessories are essential to protecting and extending the life of your new phone.  We have selected the perfect started kit with all the essential accessories for the iPhone 6.
The Ultimate iPhone 6 Accessory Pack features six super useful items which will improve its protection, charge the device within a vehicle and provides a selection of phone mounts whether you are at home, in the office or in the car.
The 'Ultimate' pack includes:
Polycarbonate Case (RRP 9.99)
5x MFX Screen Protectors (RRP 9.99)
Car Charger (RRP 9.99)
Car Holder (RRP 9.99)
Desk Holder (RRP 9.99)
Mini Portable Desk Stand and Stylus (RRP 4.99)
The Ultimate iPhone 6 Accessory Pack
The Ultimate Pack for the iPhone 6 consists of fantastic must have accessories designed specifically for your device. It is currently availabe for pre-order at MobileFun.com.
Tuesday 9th September 2014 by Julien Guiguet in Samsung, Smartwatch.
Samsung Gear S designed with an elegant curved Super AMOLED display for a comfortable fit. Customize screen clock faces and changeable straps helps to express your own style. Enjoy rich views with a beautiful and easy-to-use user interface which allows access to relevant information and notification at ease. With it's own SIM card the Gear S can work independently without your smartphone.
Delve further into the features of the Gear S smartwatch with this infographic from Samsung.
Samsung Galaxy Gear S Smartwatch
We'll have them in both colors. Register your interest and sign up for availability notifications via our product pages below:
Tuesday 9th September 2014 by Julien Guiguet in Apple, iPhone.
Today Apple unveiled their new iPhone 6. As rumors proved, two models debuted, first the iPhone 6, measures 4.7 inches, while the other spans a phablet-sized 5.5 inches known as the iPhone 6 Plus. The new iPhones include a faster processor, contactless NFC payments, an improved camera and many other upgrades.
Design
The most notable difference between the iPhone 5S and the iPhone 6 is undoubtedly that of size. The display of the iPhone 5S measured just four inches across the diagonal, but the iPhone 6 is available with a 4.7-inch or 5.5-inch screen. That's a massive jump for Apple, who just two years ago were shipping a flagship phone with a 3.5-inch screen.
Apple are including a one-handed mode to alleviate some of the ergonomic downsides of these larger displays. The larger height and length of the iPhone has also allowed Apple to shrink the width of the iPhone to just 7mm, while maintaining the same weight.
Size isn't the only difference between the iPhone 6 and iPhone 5. The new phones also include a noticeably thicker border between the caps on top and bottom and the main rear panel. These are intended to improve reception, giving signals a place to escape the metal body. Other details include a lock button on the right hand side instead of the top, a circular flash and a camera lens that protrudes from the chassis.
Specifications
The iPhone 6 will include a higher resolution 960 x 1704 pixel IPS display, which as mentioned earlier will measure 4.7 or 5.5 inches. Inside, you'll find a new Apple A8 64-bit processor, 1 GB of RAM and at least 16GB of internal storage (up to 128GB). The whole thing is powered with a 1810mAh battery – small by Android standards, but enough for Apple to claim the same battery life as ever. There's an upgraded 8-megapixel camera on the rear, and a 2-megapixel camera up front for all your selfie needs.
Features
One of the biggest new features of the iPhone 6 is contactless payments. Like some bank cards in the UK, the NFC chip built into the phone allow you to pay for purchase in stores with a tap onto a point-of-sale terminal. The feature is safeguarded through the TouchID fingerprint sensor. Apple have partnered with Visa, MasterCard and American Express for contactless payments, which appears in a upgraded Passbook iOS app.
The iPhone 6 launches with iOS 8, with includes a lot of new features that bridge the feature gap between iOS and Android. Messages now includes multimedia content, third-party keyboards are now possible, and Apple have built a fitness app called Health which interfaces with iPhone sensors and the Apple Watch. More Android-like features include improved notifications (which can now be actioned directly from their dropdown menu or the lock screen) and widgets (in the notification center).
Accessories
The iPhone has always enjoyed a wide range of third-party accessories, and the iPhone 6 is no different. We've already begun to add both iPhone 6 and iPhone 6 Plus accessories to our virtual shelves, and we'll add dozens if not hundreds of additional accessories over the next few weeks. These range from cases and covers to chargers, in-car accessories like car chargers and car holders, battery packs, desk stands and screen protectors.
Most people will pick up at least one iPhone 6 case for their new phone, and we'll be well covered here. The iPhone 6 cases section of our shop already includes nearly 100 items, and will only grow from there. There are slightly fewer iPhone 6 Plus cases available, but these too will grow in number. Expect cases from all the biggest names, including OtterBox, LifeProof, Spigen, Moshi, Zenus, Belkin and many more.
Tuesday 9th September 2014 by Julien Guiguet in Mobile Accessories, Samsung.
The Samsung Gear VR is a Note 4 exclusive accessory based on Oculus Rift's hardware. Gear VR is specifically designed to be a peripheral device that works with your Note 4. Your Note 4 actually acts as the visual interface of the Gear VR, as you need to put it in front of the goggle-like accessory.
The Gear VR works exclusively with the dedicated VR player in the Galaxy Note 4 and is engineered to work perfectly with this software. To engage in virtual reality with the Gear VR, you insert the Note 4 into the mask and once docked, the phone automatically enters VR mode. The Gear VR uses the 5.7 inch Quad HD Super AMOLED display of the Galaxy Note 4 providing stunning and engaging visuals for full-immersion games and movies.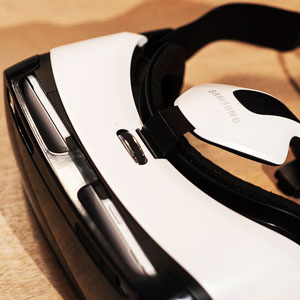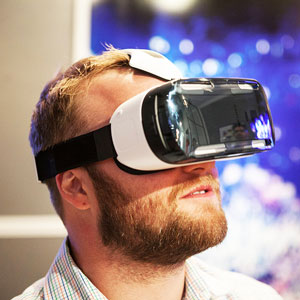 For content, Samsung has inked a partnership with Oculus that will make games and movies downloadable for the Gear VR setup through the Oculus Store. Not all Oculus content will be immediately compatible with the Note 4/Gear VR; games and videos will need to be optimized for mobile in order to work.
The Gear VR will be available this fall, and is already available for pre-order at Mobile Fun.