Most useful customer reviews
Daniel
Denver
Samsung galaxy s8 plus
20 May 2017
Amazing quality, and great protection.
I've had lots of phones and of course lots of cases. This case is the best case I've ever seen. The materials have a high quality feeling. Also this case is very resilient and very durable. As it has protected my galaxy s8 plus. The only bad thing is that the kick stand in the back of the case starts tok get loose over time. But all in all this is a great case and I recently would and have recommended it to other people. So if you have a galaxy s8 plus and are looking for a great case t hen I suggest that you purchase this case.
Imre Gorocs
Ormskirk
Galaxy S8+
4 May 2017
Purpose built with added bonus
The case fits the device perfectly without making it impossible to handle. My 8 months old daughter grabbed and dropped the phone from about a meter high and there is no damage thanks to the case. Wireless charging works with the case on which is great. The added bonus is that you can easily turn the device into a horizontal standing screen using the flip on the back of the case. I would recommend it to others and would definitely buy it again for other devices in the future.
5 Reviews
|
Write a review
---
Additional information
Two layered case protects from bumps, scrapes and drops
This tough protective case has been designed for those with an active lifestyle. It provides great shock and impact absorption thanks to its lightweight TPU polymer with a precisely positioned hard skeleton for added protection. The design of the exoskeleton extends out to protect vulnerable parts of your Samsung Galaxy S8 Plus such as the corners and sides.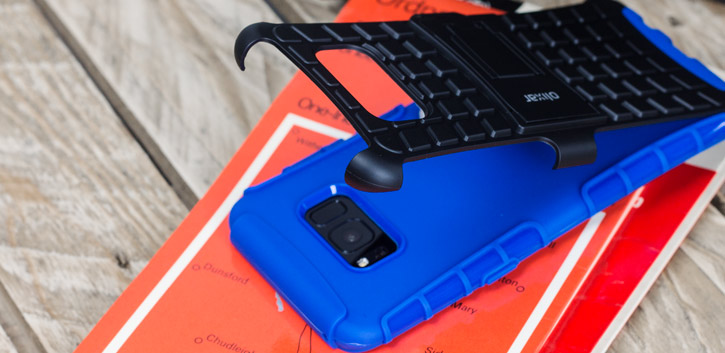 Features an impact-resistant polycarbonate exoskeleton
The Olixar ArmourDillo Protective Case features a tough exoskeleton, which covers the back and vulnerable corners of your phone from damage. They are made from an impact-resistant, polycarbonate plastic shell protecting your Samsung Galaxy S8 Plus from accidental damage - keeping it looking as good as it did when you bought it.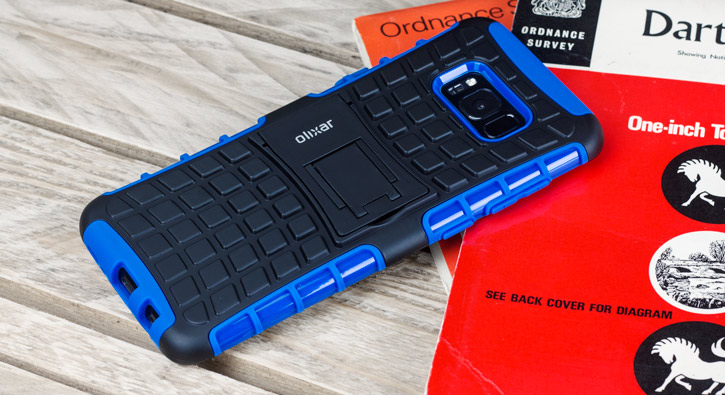 Textured grid finishing improves grip and comfort
Complementing the protective properties of the polycarbonate shell is a textured finish, which not only helps to improve grip when holding the handset, but also makes it more comfortable in the palm of your hand.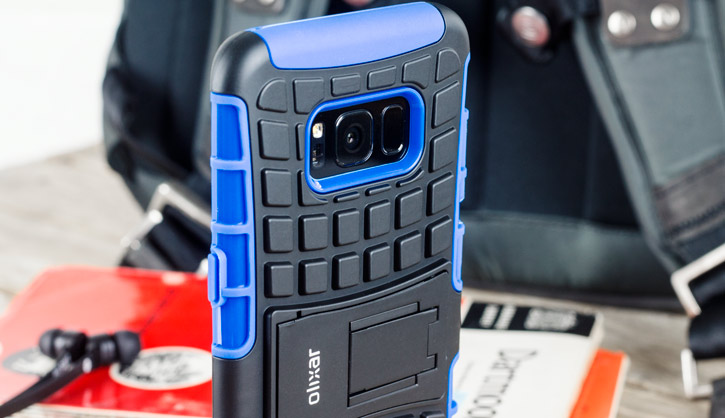 Portable flip-out stand for landscape viewing
The Olixar Armourdillo's hard attachable exoskeleton doesn't just add strength to the silicone shell, but features an ergonomically designed stand that pulls out to give the perfect viewing angle for watching media, web browsing and reading. The stand then simply clicks back into place and lays completely flat so there is zero extra bulk added to the case.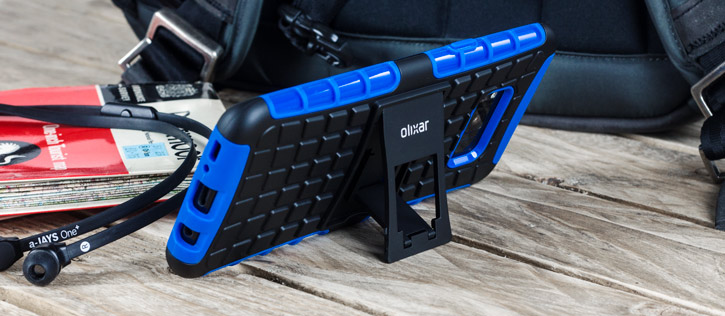 Cut-outs for the main ports and features of the phone
This tough protective case has been designed specifically for the Samsung Galaxy S8 Plus and has cut-outs for the main ports and features of the smartphone such as the camera with flash. The power and volume buttons are covered, but remain functional while encased to give unbeatable protection.