Official Samsung Galaxy S8 Screen Protector - Twin Pack
Product part number: ET-FG950CTEGWW
Product reference: 63091
Keep your Samsung Galaxy S8 screen in fantastic condition with the official Samsung scratch resistant screen protector. This twin pack represents amazing value and twice the protection.
"Good screen protectors, preserves the look of the phone"
"Good screen protector"
"Great fit, easy to apply"
Most useful customer reviews
W Young
North West England
Samsung Galaxy S8
21 May 2017
Good screen protectors, preserves the look of the phone
While the plastic film screen protectors don't offer the same level of protection as the tempered glass ones, they fit and blend into the phone much better. I've had sand damage to my old S6 screen and so I wanted something that would offer some protection from this which these will provide. You get two screen protectors in the pack and if you take your time you can get a good fit and get any air bubbles out using the squeegee provided. I find the phone to be just as responsive and easy to use with these protectors on.
Mick S
Derbyshire
Samsung Galaxy S8
19 May 2017
Good screen protector
I didn't want to pay a fortune for a screen protector as I have the Samsung LED case, but wanted "extra" screen protection. Looking at previous reviews, it wasn't an out and out winner, but I thought it was worth a go. Easy enough to put on, which I thought might be difficult with the curved edges. Still looks great with no evidence of peeling at the edges as some have noted, although it's all very new, (about 2 weeks). Time will tell, but for the money I reckon you can't go wrong.
Turist
Lombard
Samsung s8
17 May 2017
Great fit, easy to apply
It is a cool set, perfect fit (fully covering curved edges) when used with samsung protective, silicone and alcantara cases.. easy to install and it is nice that you get two protectors and a squeegee lined with non-scratching cloth.. Overall, very happy with it.
22 Reviews
|
Write a review
---
Additional information
Twin pack offers twice the protection
With this pack of two screen protectors, enjoy peace of mind for even longer. In the extremely unlikely event that one of your screen protectors becomes damaged or scratched, or you replace your phone with another Galaxy S8 - no problem. This twin pack of screen protectors really does ensure the safety and integrity of your display beyond the lifetime of your device.
Protects your smartphone screen from scuffs and scratches
Manufactured by Samsung, these specialised screen protectors for the Samsung Galaxy S8 help to keep your phone in top condition by protecting the display from scuffs and scratch damage.
The tough film layer creates a durable and hard-wearing barrier that will resist the rigours of everyday use.
Easy to apply and leaves no sticky residue when removed
The Samsung screen protector is incredibly easy to apply, especially as it is custom cut for each specific handset. Simply give the screen a thorough wipe, line up the screen protector with your phone and gently place down from one side to the other - using the application card to smooth out any bubbles. After application, you will notice that the screen protector is virtually invisible.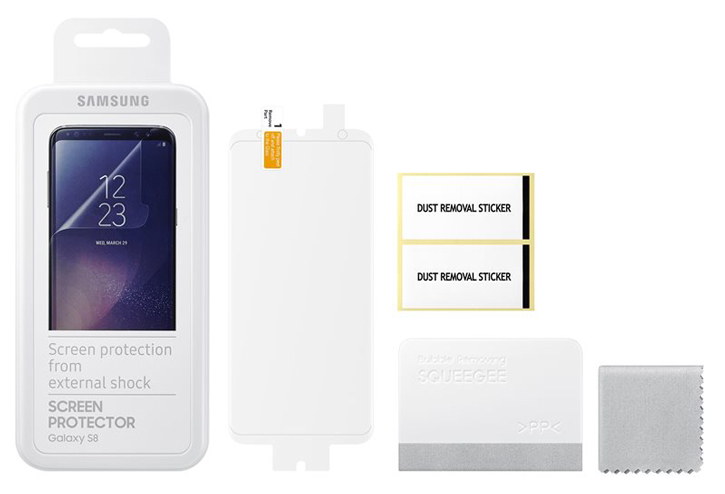 Provides invisible protection while maintaining screen clarity and sensitivity
While it's important to protect your screen, it's also vital that the screen protector doesn't hinder your smartphone use by clouding or decreasing the sensitivity of the touchscreen. Samsung screen protectors are specially designed to provide optimal clarity when used in conjunction with your Samsung handset, while also thin enough to keep your touchscreen in perfect working order.
Once applied, you won't even notice the Samsung screen protector is there!