Most useful customer reviews
John
Fareham
AGL Wireless 6 LED PIR Motion Sensor Strip Light
24 March 2017
Great light
Needed something to go in a cupboard. Looked at this light and thought it would work well. It has worked a lot better than I thought it would. Great light at a great price.
17 March 2017
In a word "Brilliant"
Purchased two of these for some very dark wardrobes, in a word "Brilliant". Very simple to fix and use and they work perfectly.
Leo Smith
essex
AGL Wireless 6led pir motion strip
13 March 2017
my night aid
Bought the twin pack, to light up the bedroom ,access to bath room , does the job perfectly avoids stubbed toes, the 20 second light is the perfect time, as fit does not awake my dear wife great little piece of tech'
21 Reviews
|
Write a review
---
Additional information
Localised, motion-sensitive light for any dark area
Need to give some light to a dark area, but don't want to wake the entire family with your dazzling room lighting? Simply install one of these in any drawer, wardrobe, cupboard or even dark corner of a room. Built-in PIR motion sensor technology ensures that the light will activate each time you move near, so you won't even need to press a single switch.
Passive infrared sensor constantly and efficiently detects movement
Now you'll never need to worry about whether you forgot to switch off the light. The Motion Sensor Strip from AGL features a passive infrared sensor, which is constantly scanning for movement. When motion is detected, the light will instantly switch on and stay on for 20 seconds, then blink off as soon as that time period elapses.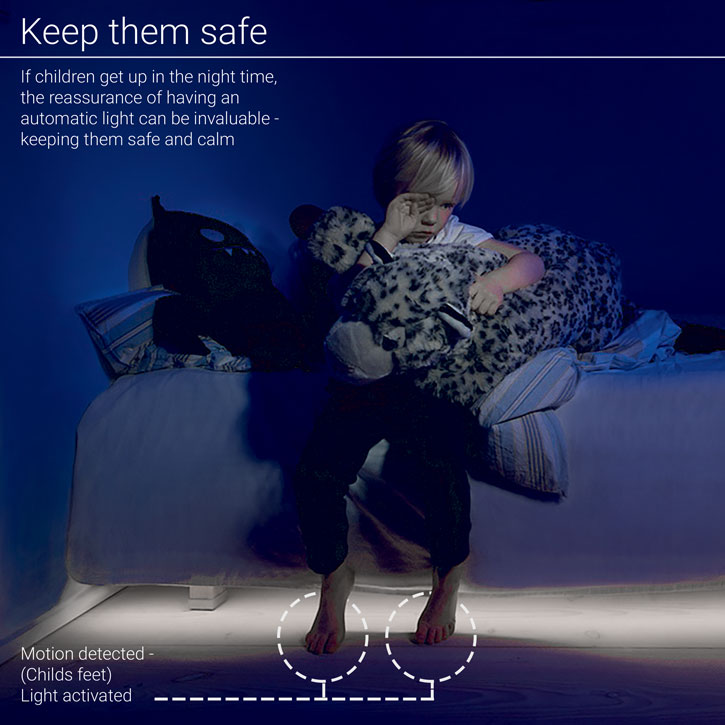 The motion sensor hardly uses any battery power, though - this is an efficient and convenient lighting solution.
Versatile and handy for countless potential applications
There are so many situations where this light could come in handy. Need to find a lost shirt at the back of a dark and crowded drawer? Lost your car keys under the bed? Car boot light on the blink and need a compact, convenient solution? Adding the finishing touches to your hair or outfit in front of a mirror before you head out? All of these are situations where the Motion Sensor Strip Light could be a lifesaver, and you don't even need to touch a button.
Completely wireless with no trailing cables
The Motion Sensor Light from AGL is totally reliant on batteries, so there's no need to find a spare mains socket or run an annoying extension cable to your preferred spot. Just go where the light is installed and the ingenious sensor technology will do the rest.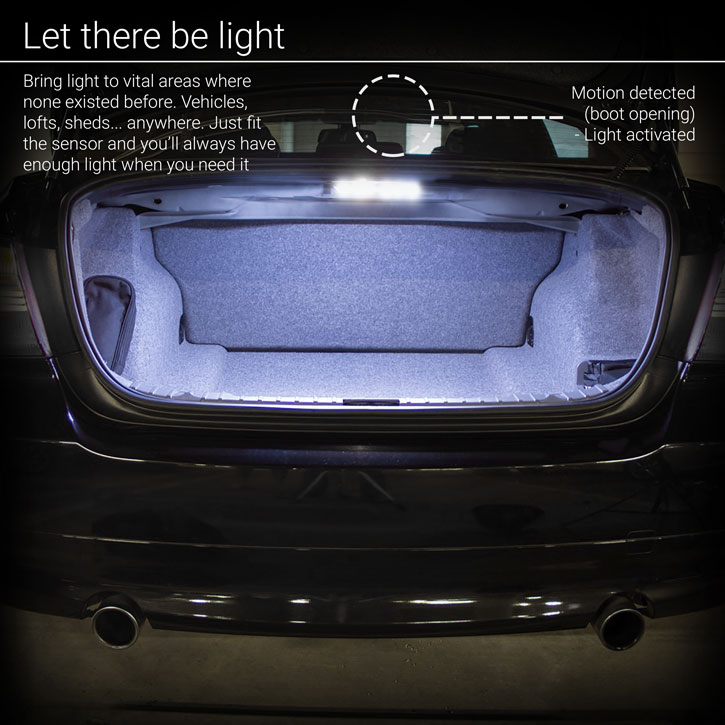 20,000 activations from one set of batteries
Using just 5 AAA batteries, you can activate this light strip a staggering 20,000 times - giving you a significant amount of time before you need to replace the power source. When you do, though, all you need to do is insert 5 more AAA batteries and you'll start fresh from the beginning of another 20,000 cycles. Each cycle lasts 20 seconds - more than enough time to find what you need or grab that elusive item of clothing or charger.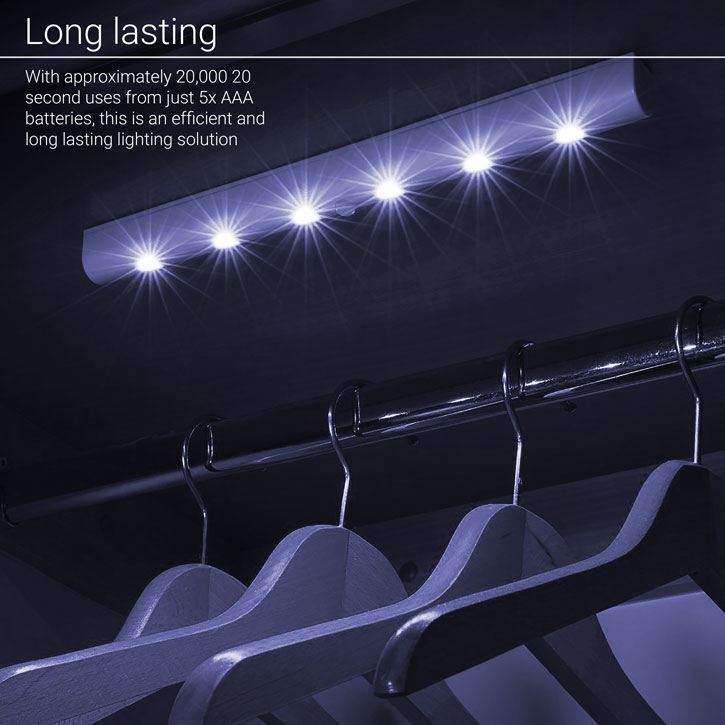 Multiple mounting options for anywhere in your home or workplace
With the 6-LED Motion Sensor Light from AGL, you can choose exactly where you want more illumination thanks to two different mounting solutions - a grippy adhesive back or a screw fixture. Even the most awkward nooks and crannies will be perfectly served by this light.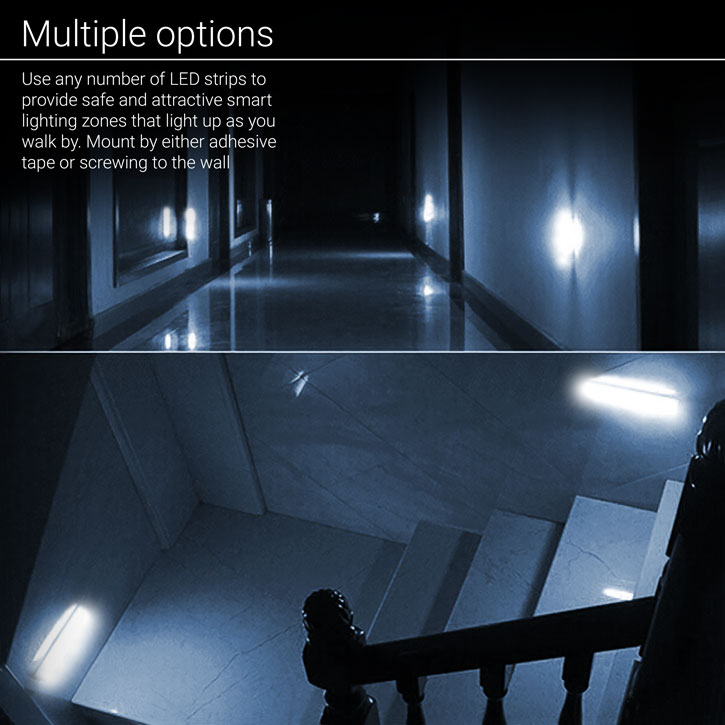 Compact, lightweight design with an unobtrusive build
This handy light has been built with convenience in mind. An ultra-compact 28 x 3 x 2cm size complements a slimline, unobtrusive construction to ensure that wherever your strip light ends up, you'll barely even notice - you'll be free to do what you need to do and your Motion Sensor Strip won't get in the way.
Please note: batteries not included.
Technical specifications
Colour Temperature: Cool White
Kelvin: 6000
Lifetime (Hours): 20,000
Energy Rating: A++
Dimensions: 280 x 30 x 20mm
Please note: If the adhesive's protective layer is removed, this item can only be returned if faulty.