Most useful customer reviews
13 June 2017
Awesome slim case
I ordered a slim transparent case for my new samsung s8. I was looking for a slim case and found it. I love the 3 individual holes for the camera, flash and sensor. Price was great and delivery as well.
Kathryn Chauhan
Preston
Samsung Galaxy S8 case
9 June 2017
Olixar phone case for a galaxy S8
This case is fantastic if you want something that almost looks like it isn't there! All the cut outs are in the right place and it is so slim and unobtrusive but gives good hold to an otherwise slippery phone. I didn't want to hide my beautiful phone and this case is perfect. Can also charge wirelessly without having to remove the case.Thank you mobile fun delivery was quicker than expected so very pleased.
Susan McKenna
Belfast
SAMSUNG Galaxy s8
16 May 2017
GREAT CASE!
The case was incredibly good value compared to those commonly available on the high street and is practically invisible. Very well made. Makes it easier to hold the otherwise slippery phone too. Excellent all-round.
13 Reviews
|
Write a review
---
Additional information
Made from a strong, durable material for long lasting protection
Each Ultra-Thin case by Olixar is made from a special strong and durable gel material, which makes it flexible like silicone and tougher than a crystal case providing you with long lasting protection for your Samsung Galaxy S8.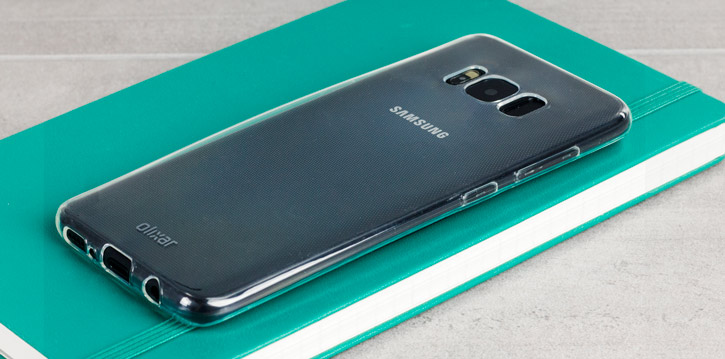 The material used gives a non-slip coating to the case for extra grip
The unique gel material used has a non-slip coating that provides you with extra grip for your phone, which minimises the chance of dropping your device - meaning this case is professional enough for work and sporty enough for play.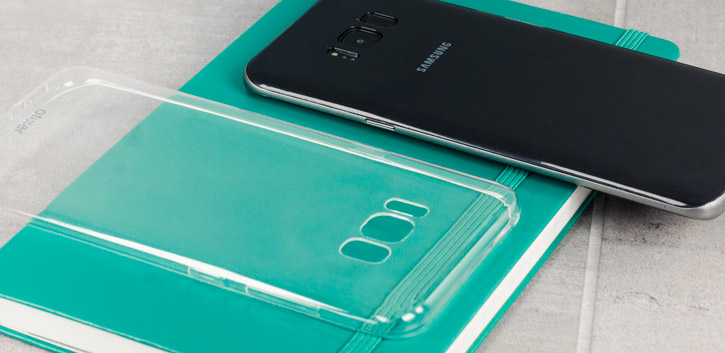 Cut-out shape offers easy, risk-free access to the fingerprint sensor
As the fingerprint sensor on the Samsung Galaxy S8 is right next to the rear camera, without a case you risk brushing the camera when you're going for the sensor - perhaps causing smudging, scuff marks or even damage. The Olixar Ultra-Thin case offers bespoke cutouts for the rear camera and the fingerprint sensor - allowing you to "feel" your way to the sensor without even going anywhere near your rear camera.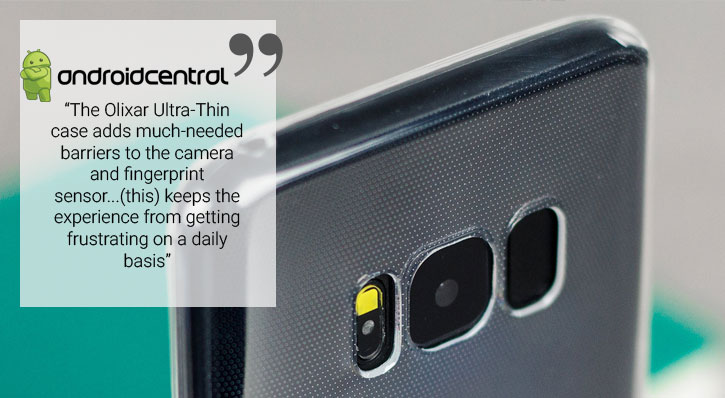 Ultra-thin design adds no extra bulk and fits perfectly in your pocket
The Olixar Ultra-Thin case is designed to be slim, lightweight and strong, but this ultra-thin version takes that to new levels. Significantly slim, this case keeps the extra bulk to an absolute minimum so it is almost like holding your phone without a case on. So you can be assured that this case will add virtually no extra size and weight to your phone and will fit in your pocket with ease.
Cut-outs for all the Samsung Galaxy S8's features and ports so you'll never need to take the case off
Each Ultra-Thin has been designed specifically for the Samsung Galaxy S8 and features cut-outs for the various ports and features such as the rear facing camera.