Most useful customer reviews
anthony
Weston
Plantronics E10
31 March 2017
Just as described- Sounds great in vonversation and listening to music. Battery lasts for the 11 hours they say listening& talking.
I had a Plantronics E 50 a few years ago. This item has the same functionality as well as noise reduction. It sounds great listening to streaming music or internet radio while I work and the battery lasts all day! - 11 hours to be accurate. I just bought a second one from these guys who delivered it on time at a very reasonable cost. The price of the headset is the best I could find online.
GARY SMITH
ESSEX
PLANTRONICS EXPLORER 10
30 March 2017
VERY CLEAR
HAVE IN THE PAST BOUGHT MORE EXPENSIVE CANT TEL THE DIFFERANCE
Kris Gruber
Hemel Hempstead
Plantronics Explorer 10 Bluetooth Headset
30 January 2017
Does everything you'd want it to!
I bought this, not just to be able to answer my mobile whilst driving, but also to be able to answer and have a conversation whilst I'm working - I'm a PAT tester and often I'm working in an environment where I can't quickly get at a phone and so miss calls. This earpiece is light and comfortable to wear, stays in place and makes it so easy to carry on with what I'm doing and still take to the next potential customer. As a bonus, I now also get the satnav directions fed straight into my ear - no more missed turnings! Great product, great price - I recommend it.
34 Reviews
|
Write a review
---
Additional information
Noise reduction technology
Designed to reduce background noise, the Explorer 10 Bluetooth Headset delivers high quality sound in even the loudest of environments.
Stream music or GPS directions
Not just for calls, the Explorer 10 can even stream music from your smartphone or tablet, allowing you to listen to your favourite podcasts or albums while you're out and about. Additionally you can receive GPS directions, ensuring you'll never miss that next turn.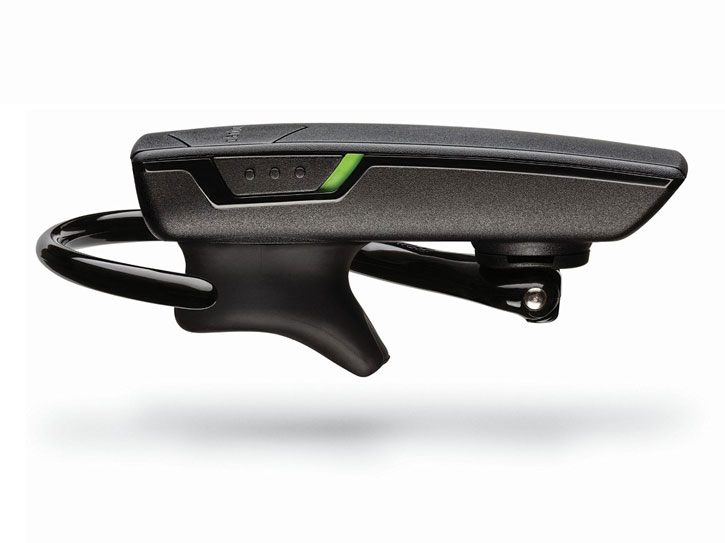 Lightweight and compact
The stylish, lightweight and discrete design aids comfort and looks fantastic. Weighing only 10 grams, this Bluetooth headset has been designed to fit securely into either ear without compromising on audio.
Battery status voice alerts
The Plantronics Explorer 10 provides status alerts indicating battery low and when to recharge the battery, ensuring you are never left with a Bluetooth headset which doesn't turn on,
Easy to use
Featuring dedicated buttons, you can easily answer / end calls, adjust the volume and activate mute. In addition, this Bluetooth headset even features a redial feature and voice dialing.
Note: Voice dialing will only work with smartphones which feature voice-enabled assitance
Makes driving safe
Matching safety while driving and calls is of utmost importance at Samsung. The Explorer 10 Bluetooth Headset provides true hands-free convenience and exceptional ease-of-use, so that you can drive safely, keeping in touch and making your calls without wires and with both hands on the wheel.
Universal Compatibility
No matter which Bluetooth capable phone you happen to have, this headset is sure to be compatible with it. That includes iPhones, Samsung Galaxies, Sony Xperias, HTCs, Nokia/Microsoft Lumias, LGs etc. You name it, this product is ideal for it.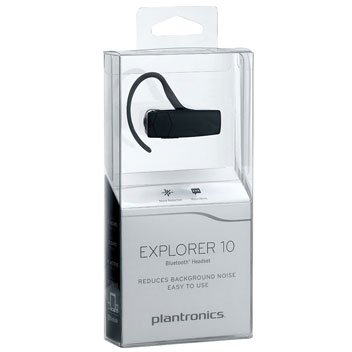 Technical Specifications:
Talk/standby time: Up to 11 hours/12 days
Weight: 10 grams
Noise reduction: Single-mic Digital Signal Processing (DSP)
Multipoint technology: Pair two phones and answer calls from either one
Status alerts (in English): Whispered alerts for power on/off, phone connected, battery low, recharge battery, volume minimum/maximum
Bluetooth version: Bluetooth v3.0 with A2DP for music and audio streaming, HandsFree (HFP) Profile 1.6 and Headset (HSP) Profile 1.1
Charge connector: Micro USB
Battery type: Rechargeable non-replaceable lithium ion polymer
Charge time (maximum): 120 minutes for full charge
Service and support: 2-year limited warranty