Most useful customer reviews
Penny
Swansea
Galaxy s7 edge
23 April 2017
Excellent case
I bought this case as my phone got smashed up when I dropped it using a cheap case. This one feels like a quality case and fits my phone perfectly. Already dropped my phone several times and the case and phone are both fine :-) When it arrived I thought it wouldn't close properly with cards in the slots but within a day it had softened and closes firmly now. Great product. Phone well protected. Looks smart.
Ward
Reading
Samsung s7 edge
31 March 2017
Excellent
Good product, great service! Again.
Steve Blethyn
Wokingham
Samsung Galaxy S7 Edge
2 March 2017
Wife successfully converted
The wife has been an iphone freak for ages. But she finally saw the error of her ways and got a Samsung. She loves it, but she missed her leather cover that she used to keep her cards in (mostly for her student discount) After spending a while on mobilefun (about 30 seconds) I found an almost identical cover that fits her new phone. Happy wife, I have some 'good boy' credits so happy days.
62 Reviews
|
Write a review
---
Additional information
This genuine leather wallet case keeps your Samsung Galaxy S7 Edge secure and enclosed, thanks to a secure magnetic clasp which seamlessly holds your phone in place. This is a premium quality case with an executive style, leaving no doubt as to its quality.
Sophisticated protection for the Samsung Galaxy S7 Edge
The case has been specifically designed for the Samsung Galaxy S7 Edge, so you are given the best possible fit. Underneath the sturdy and stylish genuine leather casing is a strong plastic frame that will keep your handset safe and protected. Just pop your phone into the frame and it will snap into place with a perfect hold.
Crafted from genuine leather
Featuring 100% genuine leather, this lightweight yet sturdy case keeps your Galaxy S7 Edge safe and secure with a look that is designed to impress.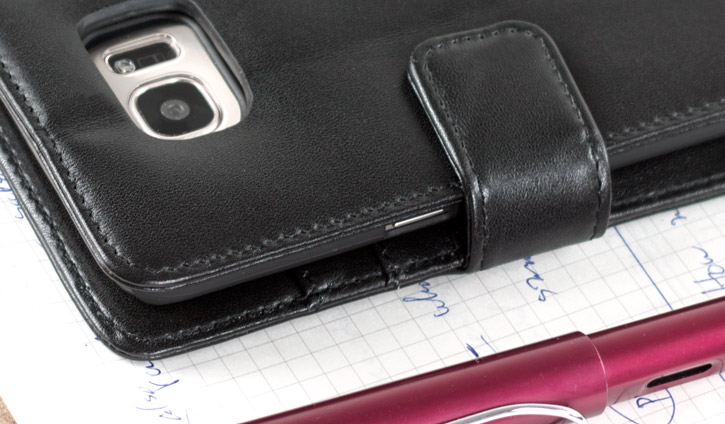 Slots for your cards
This thoughtful design has it covered with 3 inner pouches specially designed to hold credit cards, cash, store cards, driving licence or anything else of similar size. It also features a document pocket for anything larger. So you can leave your old wallet at home as this case has it all covered.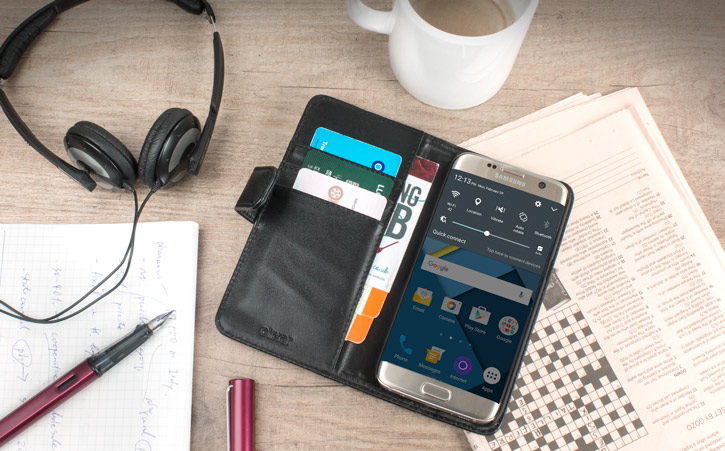 Built-in stand for comfortable media viewing?
The rear cover of the Olixar Wallet Case is designed to allow the Samsung Galaxy S7 Edge to fold onto itself horizontally. This creates the perfect viewing stand for watching movies, listening to music or even web browsing.
Opens and closes with magnetic clasp, for ease of use
The magnetic fastener on the Olixar case will ensure that once closed, your Samsung Galaxy S7 Edge will stay safely protected within the case and will prevent it from coming loose.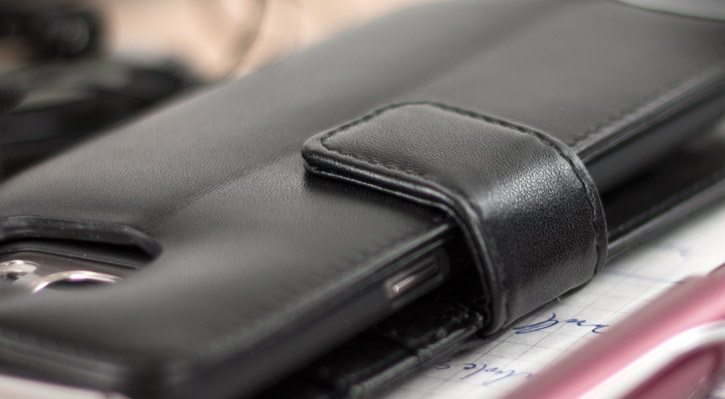 Stitch finishing, making this case look more beautiful
The Olixar leather wallet case features stitching around the exterior contours, which gives a premium executive finish. Added to the beautiful soft touch real leather, you are getting a product of exceptional quality that will last you as long as you will need it to, and draw a great deal of admiration.