Most useful customer reviews
Sheila sandhu
Newcastle
Samsung LED case
22 May 2016
The best
This is the best case, light and very sturdy
Sonia
Oxnard
Samsung Galaxy S7 Edge
20 March 2016
Love it
I bought this case because I love the wallet feature it offers but the added features are a bonus. I love the look it adds to my phone. I love being able to look at the time without flipping the cover over and able to answer calls from the close cover. I love this case ALOT!
thomas healy
west calder
samsung s7edge
17 March 2016
great case
i love the case for the s7 edge ......although some people have said they would not have paid the price asked for it .....mines arrived when mobilefun.co.uk said it would ...even when i went to vodafone in livingston the assistant said they were not on sale yet .....to which i showed him my case and said it looks like they are not on sale and his reply was they would be around £60.00......so im glad i got mine via yourselves ...thank you very much thomas healy
71 Reviews
|
Write a review
---
Additional information
Sleek dot matrix retro notification design
Beautiful and functional, the Official Samsung LED Cover is also brilliant in terms of form. Featuring a stylish dot matrix design that harks to be a simpler time when dot matrix displays appeared on machines, clocks, railway departure indicators etc. This case will fill you with feelings of nostalgia when you view your notifications in this style.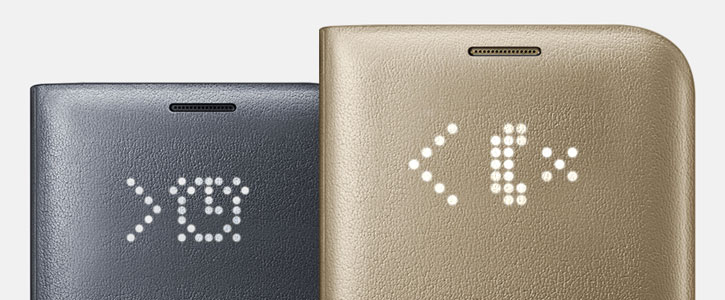 The LED display details information on your phone's status including current time, calls, messages, battery status, volume to name just a few - viewed quickly and easily from the front of the cover without the need to open the case to view the S7 Edge's screen directly.
Official Samsung accessory made for the Galaxy S7 Edge
This is an official Samsung product, so it's made to the highest standards with the best quality materials.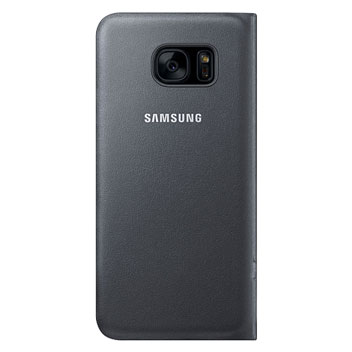 It is designed specifically for use with the Samsung Galaxy S7 Edge, so offers a perfect fit and does not impede the use of any of the functions including the power and volume buttons, headphone and charging ports or front and rear cameras.
Integrated credit card slot
Inside this Galaxy S7 Edge LED cover you'll find an intuitively designed slot for storing a card, your ID or even receipts and train tickets while still maintaining its slim design.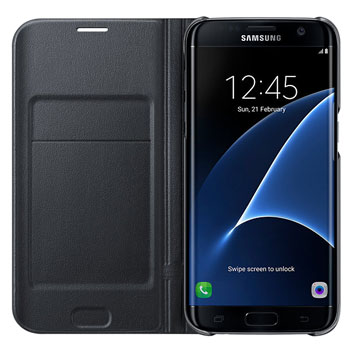 This can also be used to store cards that include contactless features, meaning they will never need to be removed from the LED cover.
Provides comprehensive protection for your phone and the screen
Protect the front of your Samsung Galaxy S7 Edge from scratches, scrapes and front-on impacts with the official flip cover.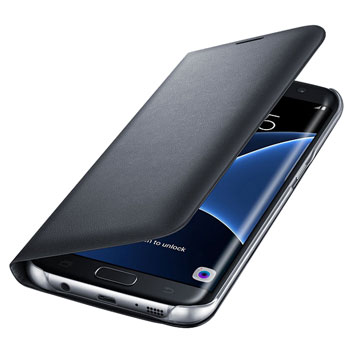 This cover replaces the back of your device without adding any bulk and then folds over the front when not in use. This means that the most important part of the phone, the screen, is protected from harm without the added thickness and weight normally associated with flip cases.
Leather-effect style with premium stitch effect
With a beautiful hand-made look and premium quality feel, the official Samsung Galaxy S7 Edge LED Flip Wallet Cover looks like real leather.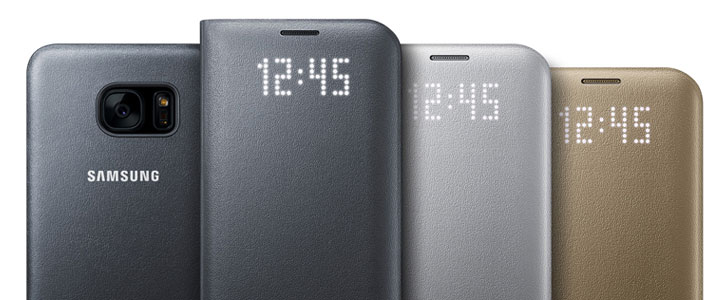 To add the finishing touch, a premium stitch effect has been added providing an even more stunning cover that your family, friends, work colleagues and indeed you yourself will admire.
Edge coating with premium stitch effect
Featuring a special edge coating on the cover provides a premium finish expected with an official Samsung accessory while also benefiting from enhanced grip.
Automatic sleep / wake
Samsung have created a premium cover that will wake up your phone's display when you open the cover and turn it off again when closed. This preserves your phone's battery power, so you can be sure your Galaxy S7 Edge retains its energy when not in use.
Slimline and durable construction
Made from high quality synthetic leather materials, this flip cover will keep your Samsung Galaxy S7 Edge screen looking good as new.
The cover is tough enough to withstand day-to-day punishment without blemishing, so both your phone and cover will remain pristine for longer.