Additional information
Charge up to 4 devices at once
The Belkin Rockstar 4-Port Passenger Car Charger features an impressive 4 USB charging ports. With two located on the cigarette lighter adapter and two on a extendable hub, the Belkin Rockstar lets you and all of your friends/family keep their devices fully charged on any journey.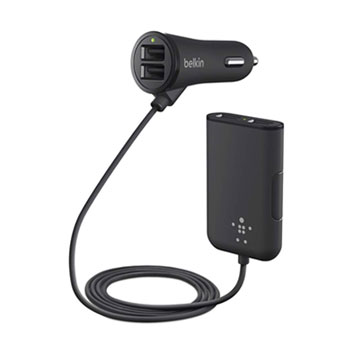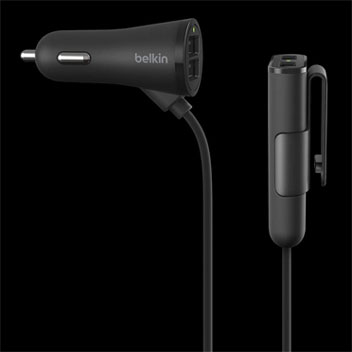 7.2 Amps for super-quick charging
The Belkin Rockstar 4-Port Passenger Car Charger provides a total of 7.2A, with the front two ports equipping your smartphones with 1A of power each. While in the backseats the Rockstar equips your tablets or larger smartphones with 2.4A of power from each port, perfect for keeping the little ones entertained and your battery still topped up.
Ultra compact design
The Belkin Rockstar Car Charger is extremely fast, but it's also extremely small and discrete. Plug it into your cigarette lighter and it seamlessly blends in with your car's interior, while the extendable hub integrates perfectly along your centre console to the back-seats.
Extend USB ports to the back seats and cable management
The 6ft cable that runs from the cigarette lighter adapter to the USB hub allows for super-quick charging anywhere in the car. While this might sound messy, Belkin have included Velcro cable management tools so you can keep the cables safely out of sight and danger, while the USB hub comes with 3M double-sided adhesive tape so that this can be secured conveniently, again keeping your car neat and tidy.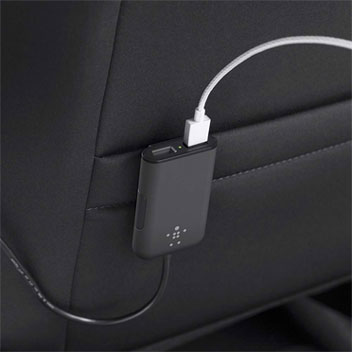 LED indicator keeps you informed while driving
When driving you don't want to be distracted checking that your device is charging, that's why Belkin have included a handy LED charging status indicator that quickly informs you of your device's charging progress.
Charge other devices
Totally universal you are able to use the Belkin Rockstar Car Charger with your own USB cable to charge your smartphone or tablet - or plug in a different cable to charge other portable mobile devices. It's the best charger for when you or your passengers have different devices to charge.
Belkin safety assurance
Every time you plug your smartphone or tablet into a Belkin mobile charger, you never have to worry about things like power spikes or storms damaging your valuable mobile device. Intelligent circuitry with built-in voltage sensing detects and responds to your device's power needs, while safety features ensure that your devices are protected. Our quality teams go above and beyond for consumer and environmental safety, setting standards above the minimum requirements and putting each product through our own set of rigorous quality assurance tests.

Technical specifications:
Output: 36W / 7.2 Amps
Cable length: 6ft