Most useful customer reviews
Steven davies
newcastle
lg g watch
11 November 2014
just what I needed
The lg g watch is a great watch and the price was amazing. Keeps me up to date with my busy lifestyle all I need to do is glance at my watch. Worth the money paid couldn't be happier.
Agatha
Unknown
Samsung Galaxy Note 3
20 November 2014
Impressed!
Frankly it simply does what it says it should. Voice recognition is really good and working quite well. This means that you can issue various voice commands to write an email or text etc. You get notifications of more or less everything that arrives to your phone (email, sms, facebook, weather, bbc news updates, google cards etc). To me it is important as I work in an environment where I can't look at the phone or have it on my person. It stays safely in my bag but I feel I am still connected and aware of things. Set up and configuration was really easy and I found the battery life reasonably good and the Bluetooth range surprisingly good. There are a few things to be aware - if more then one email arrives at the same time in your email client on the phone or more then one text in your sms client, then you won't be able to view them individually just the titles. Also, very important, the reply or delete function will only work with Google email client and Google Hangouts not generic Android sms client. However, the new version of Gmail client allows you to add other email accounts (ie Yahoo, Hotmail bt etc.) so they all appear in your Gmail client view. This means that from the watch point of view, they all come from Gmail box, therefore giving you reply and delete options. This is a major improvement, not only you can manage all your email accounts from one phone email client, but also gives you enhanced functionality on your watch too. Thank you Google! Of course if you are not bothered about reply function, you can still create email or text via voice command to any address in your phone book - works a treat. I haven't tested the navigation facility fully as yet. I would suggest making sure you understand fully what it can and cant do to manage your expectations as it is still early days for this technology. If in doubt, do what I did, ask the guys in MobileFun for advise. The LG is not full of tricks and gizmos and the price reflects it, but it does exactly what I need it to do, it looks great and I love it to bits!
10 Reviews
|
Write a review
---
Why buy
Keep up-to-date without having to touch your phone
Powered by Google's Android Wear
Just say "OK Google" to activate features
Always on, a screen that never sleeps
Downloadable apps to customise your LG G Watch
Pairs to your phone via Bluetooth removing the hassle of tangled cables
Water and dust-resistant
---
Additional information
Keep up-to-date without having to touch your phone
Convenient, good looking and distinctive - the LG G Watch powered by Android Wear allows you to check your Facebook alerts, catch up on your Tweets, texts and e-mails, make calls and also listen to your music while keeping your hands free. The LG G Watch features an easy to use, ultra-responsive touch display - making it simple and easy to navigate your way around with a simple touch, press or swipe.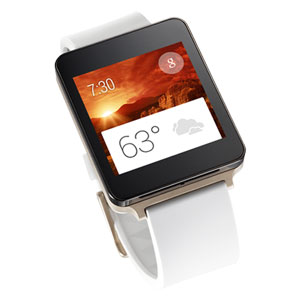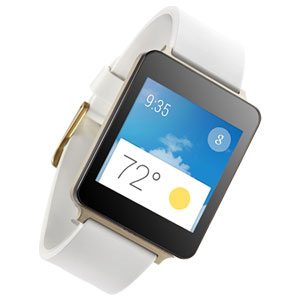 Powered by Google's Android Wear
Software designed specifically for small and powerful devices worn on the body, Google's Android Wear operating system takes advantage of Android's core benefits and brings them to a wearable form factor.
With the power of Google, you can be alerted of important events and notifications all from your smartwatch. Learn about any change to your flight's schedule or whether your journey has any delays along the way - the LG G Watch powered by Android Wear ensures you are never out of the loop.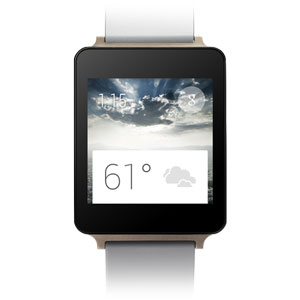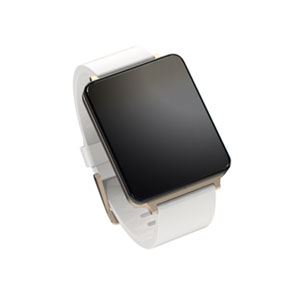 Just say "OK Google" to activate features
No need to press any buttons, simply say "OK Google" and take control of sending text messages, running Google searches, checking driving distances and many more areas besides - all by simply speaking to your smartwatch.
Always on, a screen that never sleeps
Easily check the time and weather conditions by simply looking at your G Watch. No need to press a button to trigger the display to turn on, the G Watch remains on 'all of the time' so you can quickly and conveniently view the information.
Downloadable apps to customize your LG G Watch
The LG G Watch features exciting and powerful apps so you can personalise your G Watch and make it your own.
Pairs to your phone via Bluetooth removing the hassle of tangled cables
Missed an important call or SMS because you couldn't hear or find your phone at the bottom of your handbag or pocket? With the G Watch this is now a thing of the past. Using innovative Bluetooth technology, the watch displays the caller ID and vibrates as your phone is ringing or when you receive an SMS. Reject or mute the call with a button on the watch or use the Bluetooth headset or mobile phone to answer the call and start chatting.
Water and dust-resistant
The G Watch features water and dust resistance, ideal for active users or for those who still want to be notified of contact activity even when in the shower or in rough conditions.