Most useful customer reviews
5 December 2013
excellent
I love it as long as it has a compatible QI cherging pad.
Jeremiah Cunningham
United States
Galaxy Note 3
23 November 2013
Absolutely Perfect
This adapt is perfect. You can wirelessly charge your note 3 WITHOUT having to change the back cover. That also means that your phone case will fit too. Exactly the reason why I bought the product. Works perfectly but ONLY works with a QI charging pad.
Martin Bradford
London
Galaxy Note 3
15 July 2015
Good solution!
I purchased this together with a Qi Wireless Charging Plate to reduce the wear on the connector on my Note 3. Installation is simple and the combination works well. I have the plate on my desk and simply drop the phone on top of it while I'm working. It keeps the battery topped up and I'm not wearing out the delicate micro-USB connector. The phone does warm up a bit, but nowhere near as much as other reviewers have suggested for similar solutions.
15 Reviews
|
Write a review
---
Additional information
Enables wireless charging on your Samsung Galaxy Note 3
The best things come in small packages. This slim wireless charging adapter fits discreetly to the battery of your Samsung Galaxy Note 3 in order to support wireless charging of your device. Wireless charging means you never need to worry about plugging your Note 3 in using the micro USB cable. Simply place your phone on a QI charging pad and the phone will charge wirelessly.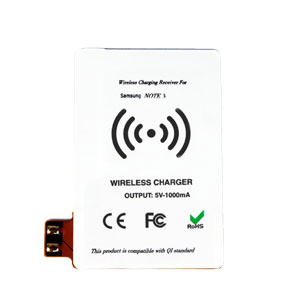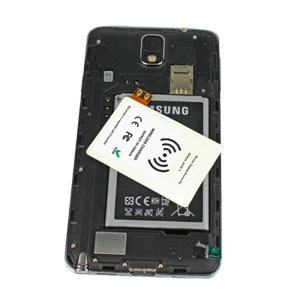 Can be used with your original battery cover
The small and discreet design of the Qi Internal Wireless Charging Adapter allows it to be placed onto the battery of the Galaxy Note 3 and still allows use of the phone's original battery back cover. This means that rather than existing wireless charging back covers the adapter can be used in conjunction with your existing Note 3 phone case. This means that most cases will work still work with your Galaxy Note 3, eliminating the need to buy a new case.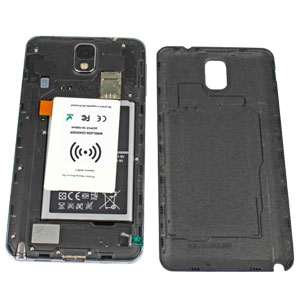 Compatible with the Qi Wireless Charging Plate
Designed for quick and intuitive charging, the wireless charging adapter is compatible with the Qi Wireless Charging Plate. This allows you to charge your Samsung Galaxy Note 3 without the mess of charging cables. The QI induction technology enables you to charge your phone quickly and easily once it is placed onto the plate.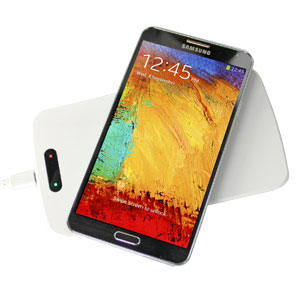 Please Note: The Qi Internal Wireless Charging Adapter will cause disruption to the NFC capabilities of the Samsung Galaxy Note 3.
Technical Specifications:
Charging Voltage: 5V
Charging frequency: 100-200 Hz
Electric current received: 600 mAh
Product dimensions: approx 62*46*1mm
Product weight: approx 10.0g
Transmission distance: 5mm
Charging efficiency:≥72%
Executive Standard:QI wireless charging standard