Spigen SGP Neo Hybrid EX for iPhone 5S / 5 - Champagne Gold
Product part number: SGP10605
Product reference: 41334
Protect your iPhone 5S / 5 with this unique champagne gold bumper from Spigen SGP.
"Just what i needed"
"expensive but worth it"
"Great case!"
Most useful customer reviews
20 June 2014
Just what i needed
At last after so many cases i've bought and all of them mostly are rubbish this is the ONE that im waiting for. It well fits on my phone very good looking and affordable.
Robin Johnson
United Kingdom
iPhone 5s
1 December 2013
expensive but worth it
Rather an expensive case at first sight but silicone shock absorber all around with the gold retaining frame both protects the iPhone really well and looks elegant! The front and rear foil protectors are a bonus.
8 November 2013
Great case!
I Love that this case shows off the new gold iPhone 5s in a way that protects it, but compliments its design. The only negative I have is likely my own fault. I assumed that the back portion of the phone would be covered in thin glass or acrylic. The only protection for the rear side is a stick-on screen protector. This is fine, and works nicely, but I expected it to be different. Again, that may be because I didn't look closely enough at the pictures and is not the fault of the case. I just want to ensure others don't repeat my mistake. Bonus, the case fits beautifully with the Spigen Glas products as additional protection.
35 Reviews
|
Write a review
---
Additional information
Bumper style allows you to see iPhone 5S / 5's good looks
The bumper style of this iPhone 5S / 5 case means that you are still able to see the majority of your gorgeous Apple iPhone at all times.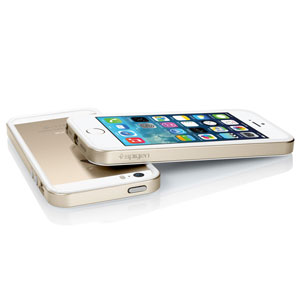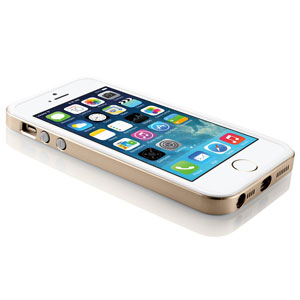 Keeps your phone slim and light
Thanks to the bumper design, your phone won't have added bulk all the way around, helping to keep your iPhone 5S / 5 as slim and light as it was designed to be.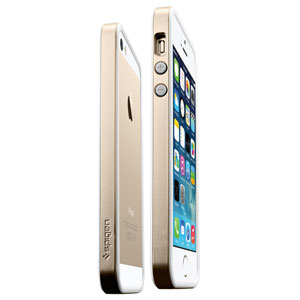 2 part frame set that allows you to customise your iPhone's look
The Spigen Neo Hybrid Ex case is composed of two separate pieces, a hard and soft frame that can be interchanged with different colored frames for a customized and personal look.
Included accessories for maximum protection
Included in the pack is an ultra clear screen protector and a back protective film to allow for full body protection.