Cygnett AeroGrip Feel Ergonomic Case for iPhone 5S / 5 - Black
Product part number: CY0829CPAEG
Product reference: 40758
A high-gloss, slimline case with an ergonomic design that complements the sleek design of your iPhone 5S / 5.
"Top product!"
Most useful customer reviews
Jaka
Unknown
iPhone 5, 5S, SE
19 May 2017
Top product!
Still the best case for iPhone 5/S/SE for those that want a black, slim case with excellent grip. This is my third one since iPhone5 times and it has protected my phones about 5 times (hard falls). Practically immune to wear and tear, this case stays like day 1 for years (last one for over 2 years). Previous phne (5S) did not have a scratch on it after 2,5 years.
1 Reviews
|
Write a review
---
Additional information
The AeroGrip feel Slimline case for the iPhone 5S / 5 is a soft textured, slimline case that complements the sleek design of your iPhone 5S / 5.
Protects the edges and corners of your iPhone 5S / 5
The AeroGrip case is constructed from a smooth, hardwearing polycarbonate which features rounded edges and circular grip along both sides. This is to protect your iPhone 5S / 5 from impact damage as well as dirt and scratches. The grips on the side are designed to give you an increased grip on your iPhone 5S / 5 so you can carry it around with you without fear of dropping it.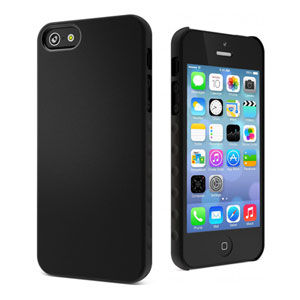 Sharply-styled, slimline protection
The AeroGrip is designed to be as slimline as possible so it doesn't add any bulk to your iPhone 5S / 5. Its constructed from a flexible polycarbonate which is designed to take any damage that would otherwise be felt by your handset. The case is made to be sharply styled so it makes your iPhone 5S / 5 stand out from the crowd.
Protects all of your handset - all of the time
The AeroGrip feel case features cut outs to provide you with easy access to all of the ports, controls and connectors of your iPhone 5S / 5. The case also includes a screen protector so you can provide your iPhone 5S / 5 with all round protection.