Sony SmartWatch 2 Android Watch - Black Silicone
Product part number: 1275-4458
Product reference: 39815
Check out Facebook posts, catch up on tweets, texts and Email as well as play music using the newly designed, waterproof Sony SmartWatch 2.
"As good as promised"
"The Good and The Bad.............."
"All-round good smart watch"
Also available:
Most useful customer reviews
18 October 2013
As good as promised
The product performs exactly as promised. It was very easy to setup initially and it works fairly well with my Samsung Galaxy S III phone. There were more apps than I expected available for the SW2. I wish Sony had made more native watch faces to replace the standard one. It is a nice product overall. It met my expectations.
Mark Hawkins
Reading
Samsung S3
11 October 2013
The Good and The Bad..............
So, second review of the watch, after owning it now for nearly 2 weeks, this is what I like and what I don't like so much. Likes.......... Love the fact you can get nearly all of your information in one place, multiple email accounts, Facebook, Twitter, Texts, RSS feeds, music control,contacts, answer the telephone (very useful if your device is paired with a headset, even the weather! Means your phone can stay safe in your pocket and out of sight as well, no more flashing your £500.00 piece of kit to everyone on the train, tube etc. Not so good........ The watch can be temperamental at times, meaning sometimes it just refuses to connect unless you reset the device, but it then just syncs. I am sure over time this will improve as Sony releases updated firmware. Change the buckle to a deployment clasp (24mm standard width fits), the last thing you want is this coming off of your wrist, it is very light and I am sure it could come off and you just wouldn't notice it until you realised that the thing that was on your wrist had stopped buzzing! So, still enjoying it, in fact was on a flight to South Africa recently and the guy sat next to me couldn't stop looking at my wrist, in the end he had to say "I love your watch, does it connect to your phone?".......... and so the sales pitch began!
Griffiths
United Kingdom
Samsung galaxy S4
7 October 2013
All-round good smart watch
I have had this watch for about a week now and after reading some poor reviews on the watch was a little worried about it. But so far haven't found any problems with mine. I had the second generation watch which I thought was OK but this new one is a massive step up. The product feels much more high end than the last one and you can new see the time in bright sunlight also it does not stick out on your wrist like the previous version. Sony say that the battery will last up to 7 days for low usage and 3-4 days on normal usage personally I am getting 2 days but I do get around 10-20 email alerts every day through the day and multiple texts and various other alerts that I have set up which is the reason I wanted a smart watch (2 alerts every 15 mins or so). I have given the SW2 4 stars because the battery only lasts 2 days for my level of usage (1 day more compared to the last generation). Pros: Can read the time without switching the back-light on even in the sun Battery lasts twice as long as the previous generation IP57 water proof so you don't need to worry about damaging it when washing your hands Bigger screen and 3 touch buttons Sits better on your wrist compared with the last generation One touch NFC link with phone Cons Bluetooth 3.0 when Bluetooth 4.0 is available and would help with battery issues. Limited number of watch faces at the moment.
22 Reviews
|
Write a review
---
Why buy
Keep up to date without having to touch your phone
Downloadable apps allow you to fully customise your SmartWatch 2
Pairs to your device via Bluetooth removing the hassle of tangled cables
Features IP57 dust and water protection rating
Includes NFC and Bluetooth 3.0 technologies
Compatible with any 24mm wrist band so you can change it to suit your mood
---
In the box
1 x Sony SmartWatch 2
1 x Silicone Wrist strap
1 x USB – micro USB charging cable
1 x Documentation
---
Additional information
Keep up to date without having to touch your phone
Convenient, good looking and distinctive, the Sony SmartWatch 2 Android watch allows you to check your Facebook, catch up on your Tweets, texts and emails, make calls and also listen to your music whilst keeping your hands free. The SmartWatch 2 features an easy to use, ultra-responsive touch display making it simple and easy to navigate your way around the SmartWatch 2 with a simple touch, press or swipe.
Downloadable apps to customise your SmartWatch 2
The SmartWatch 2 also features exclusive apps which are available to download from the Android Market so you can personalise your SmartWatch 2 and make it your own.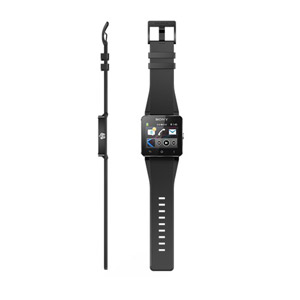 Pairs to your phone via Bluetooth removing the hassle of tangled cables
Missed an important call or SMS because you couldn't hear or find your phone at the bottom of your handbag? With the SmartWatch 2 this is now a thing of the past. Using innovative Bluetooth technology, the watch displays the caller ID and vibrates as your phone is ringing or when you receive an SMS. Reject or mute the call with a button on the watch or use the Bluetooth headset or mobile phone to answer the call and start chatting.
Features IP57 dust and water protection rating
Similar to the Sony Xperia Z handset, the SmartWatch 2 features an IP57 rating that means that it can withstand dust ingression and water immersion up to 1m in depth. Ideal for use active users or for those who still want to be notified of contact activity even when in the shower.
Includes NFC and Bluetooth 3.0 technologies
Ideal for one-touch pairing the Sony SmartWatch 2 includes both NFC and Bluetooth 3.0 technologies for easy compatibility with Android 4.0 devices.
The SmartWatch 2 was designed to impress
The SmartWatch 2 is designed so that it will work with any 24mm wrist band so you can change the colour of your watch to suit your mood. You can even remove the SmartWatch 2 from the wrist band and wear it as a clip on accessory so it is fully portable and you can wear it any way that you want.
Please note : The SmartWatch 2 requires Android version 4.0 or later
There are no reviews for your native language. Please select an alternative filter above.
Average rating 4,4 given by 22 customers | Write a review