Most useful customer reviews
18 June 2014
Fantastic device,sound is great.
26 December 2013
Kt Sound Hive
Wow. Amazing sound quality. Friends have another brand but the hive sound quality and bass is superior. Primarily use it when playing golf. Put it in the cart with iPhone and it just rocks for the entire round plus more. Highly recommend the hive if you are looking for a portable bluetooth speaker. And the place to buy it is Mobilefun.com. Great service and fast shipping
24 December 2013
The best BT speaker in and beyond price range
One of the best performing speakers I have previewed or owned. Sound clarity holds at all volume levels until you hit maximum volume, which can be mitigated using volume controls of both device and speaker. The BT button makes pairing the easiest I have encountered. There are two minor flaws; a short high pitch shriek when the speaker is turned on and connected and the thumping bass can be "too thumping". This is attributed to the placement of the bass (sub-woofer) reflector port facing down on the bottom of the speaker. I have found experimenting with different surfaces of different density can place that thumping back to a more pleasing bass sound. The speaker is solidly built, has a rubberized feel to the touch and is uniquely attractive in design and appearance.
28 Reviews
|
Write a review
---
Why buy
Superior music reproduction and clarity
Integrated passive radiator delivers thumping bass
Allows for conference calling on the go
Rugged and stylish honeycomb design
Universally compatible via Bluetooth and 3.5 connectivity
---
In the box
1 x Kitsound Hive Bluetooth Wireless Portable Stereo Speaker - Black
1 x USB charging cable
1 x 3.5mm audio cable
1 x Cloth carry pouch
---
Additional information
Superior music reproduction and clarity
With amazing looks and design the KitSound Hive makes listening to music easy and enjoyable. Featuring a powerful digital amplifier and two active speaker drivers, the Hive delivers controlled powerful and clear midrange and treble resulting is an outstanding sound quality from such a small speaker.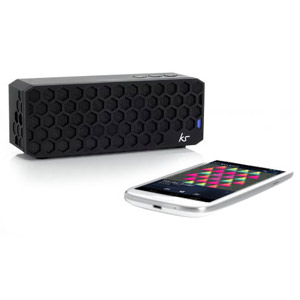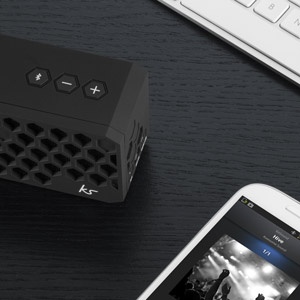 Integrated passive radiator delivers thumping bass
In addition to the digital sound processing, the Kitsound Hive includes a passive radiator on the underside of the speaker. When placed down on a flat surface such as a table this radiator delivers extra bass and clarity through a deep resonance.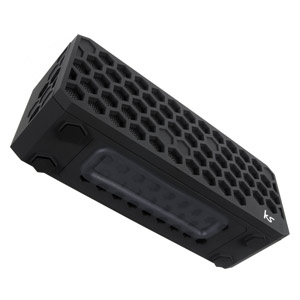 Allows for conference calling on the go
With a powerful, built-in microphone, KitSound Hive frees you to share crisp, clean-sounding conference calls anywhere - in the office, car, at home, alone or with a group. No more garbled, hard-to-hear chatter through your mobile phone or computer, no more being tied down by phone lines. Just crisp, clean wireless conference calls from your phone or computer. It's also perfect for sharing video chats via iChat®, Skype®, Google Talk™ and more.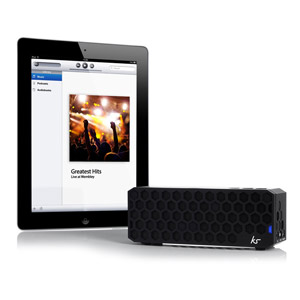 Rugged and stylish honeycomb design
Aptly named, the Kitsound Hive features a unique honeycomb style design which not only looks smart but add's durability to its sturdy design, allowing the Hive will withstand the occasional knock much better than other speakers and, like all KitSound products, it's been built to last.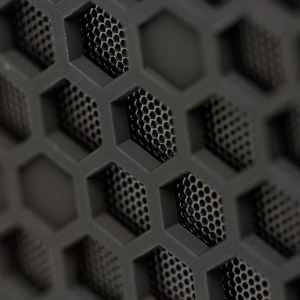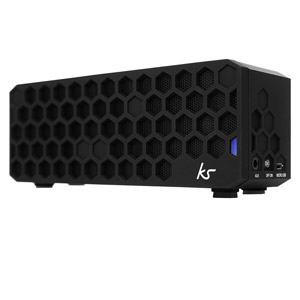 Universally compatible via Bluetooth and 3.5 connectivity
Not only is the Hive compatible with Apple, Android and Windows devices via Bluetooth, it has line-in connectivity too, meaning it will work with most mobile phones, computers, tablets and MP3 players using a standard 3.5mm connection. The included 3.5mm audio cable features a flat cable design to prevent it from tangling. Additionally, included with the Hive is a soft drawstring cloth pouch which can be used to transport your Hive safely.
As featured in...

Technical Specifications:
Bluetooth: v2.1
Range: up to 10 m
Play time: up to 10 hours
Output: 5 W RMS (2.5 W @ 4 ohm x 2)
S/N Ratio: 78 dB
Frequency response: 50 Hz - 20 kHz
Aux in: 3.5 mm
Unit size: D49 x H64 xW165 (mm)
Weight: 400 g
There are no reviews for your native language. Please select an alternative filter above.
Average rating 4,7 given by 28 customers | Write a review