Most useful customer reviews
Robert Anastasiades
Devon
iphone 6
28 March 2016
The sound quality is absolutely brilliant
I Bought this little speaker as a stop gap because I`ve just recently moved and moving again in a months time and it wasn`t worth unpacking my stereo system and then having to box it all up again . It was well packed and arrived superfast , the instructions were easy to follow and it took less time to get it to work than it did to unpack it . The sound quality is absolutely brilliant after adjusting and balancing the volumes between the phone and speaker I was truly amazed at the power and tone of this little speaker . I Highly recommend this product
Robert Anastasiades
Devon
iphone 6
21 March 2016
Kitsound Hive Bluetooth Wireless Portable Stereo Speaker - Black
Brilliant sound to this little speaker solidly built and easy to connect to my IPhone well worth the money and I would highly recommend it
12 March 2016
Best quality for a speaker of this size
What an unbelievable speaker for its size. Everyone that ever hears the speaker is amazed with the quality of sound. I recommend it to everyone that they shouldn't buy anything else. Its amazing on the golf course.
36 Reviews
|
Write a review
---
Additional information
Superior music reproduction and clarity
With amazing looks and design the KitSound Hive makes listening to music easy and enjoyable. Featuring a powerful digital amplifier and two active speaker drivers, the Hive delivers controlled powerful and clear midrange and treble resulting is an outstanding sound quality from such a small speaker.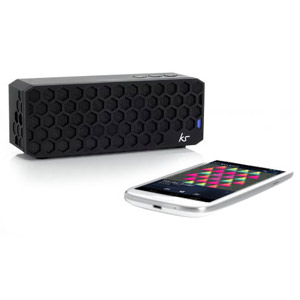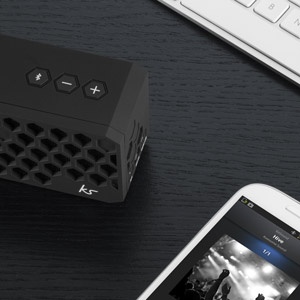 Integrated passive radiator delivers thumping bass
In addition to the digital sound processing, the Kitsound Hive includes a passive radiator on the underside of the speaker. When placed down on a flat surface such as a table this radiator delivers extra bass and clarity through a deep resonance.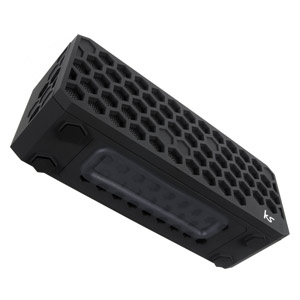 Allows for conference calling on the go
With a powerful, built-in microphone, KitSound Hive frees you to share crisp, clean-sounding conference calls anywhere - in the office, car, at home, alone or with a group. No more garbled, hard-to-hear chatter through your mobile phone or computer, no more being tied down by phone lines. Just crisp, clean wireless conference calls from your phone or computer. It's also perfect for sharing video chats via iChat®, Skype®, Google Talk™ and more.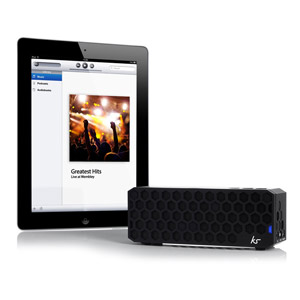 Rugged and stylish honeycomb design
Aptly named, the Kitsound Hive features a unique honeycomb style design which not only looks smart but add's durability to its sturdy design, allowing the Hive will withstand the occasional knock much better than other speakers and, like all KitSound products, it's been built to last.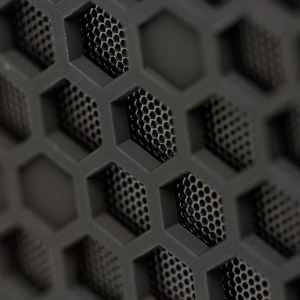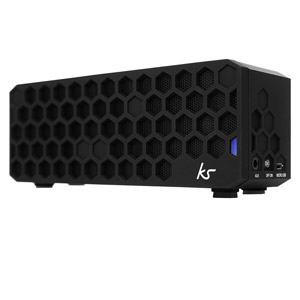 Universally compatible via Bluetooth and 3.5 connectivity
Not only is the Hive compatible with Apple, Android and Windows devices via Bluetooth, it has line-in connectivity too, meaning it will work with most mobile phones, computers, tablets and MP3 players using a standard 3.5mm connection. The included 3.5mm audio cable features a flat cable design to prevent it from tangling. Additionally, included with the Hive is a soft drawstring cloth pouch which can be used to transport your Hive safely.
As featured in...

Technical Specifications:
Bluetooth: v2.1
Range: up to 10 m
Play time: up to 10 hours
Output: 5 W RMS (2.5 W @ 4 ohm x 2)
S/N Ratio: 78 dB
Frequency response: 50 Hz - 20 kHz
Aux in: 3.5 mm
Unit size: D49 x H64 xW165 (mm)
Weight: 400 g