Genuine HTC One Double Dip Flip Case
Product part number: HCV841
Product reference: 38238
The Flip Case offers great protection for your HTC One. It features a perfect fit, stylish design, stand and suede lining.
"Perfect accessory for my smartphone."
"Case for HTC One"
"Phone Case"
Most useful customer reviews
Steven Tinsley
United Kingdom
HTC One
28 January 2014
Perfect accessory for my smartphone.
The flip case is exactly what I was looking for, I had a similar case for a Galaxy S3. It arrived ahead of time and fits the HTC One like a glove. Frequently dragging a modern smartphone in and out of jeans pockets can be quite damaging and a good robust cover is essential. This one is spot on.
valentin
Sofia, Bulgaria
HTC One
19 November 2013
Case for HTC One
When I bought it I got a very good impression of the work itself Covers the materials of which it is made​​. It is very soft on the inside is obvious that they have invested a lot of effort for the details on it. Fits snugly as a unit to the phone. I am very pleased. Thank you. (googal translator)
12 November 2013
Phone Case
To coin a phrase "Does what it says on the tin" I am not a big fan of phone cases a they just seem to get in the way of phone design and use. That said I like to keep my phone clean and scratch free so they are a necessary evil. Dilemma time, flap down, flap up, flap to the side or pouch (Aahh the benefits of choice!!). In this instance I elected for the flap to the side. Item duly arrived and I have to say I am pleasantly surprised, good quality, fits where it is supposed to and does the job.
165 Reviews
|
Write a review
---
Why buy
Flip Case with stand for easy viewing
Soft micro suede lining
Features openings for all ports and buttons
---
Additional information
Flip Case with folio stand for easy viewing
The HTC One Flip Case with stand gives you everything you need when on the move. Open the case, fold it back and you have the perfect stand to watch videos, browse pictures or surf the web.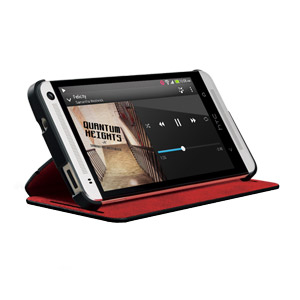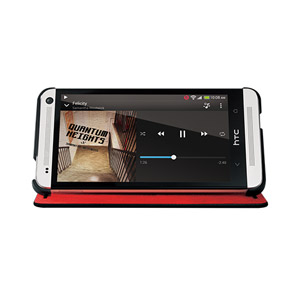 Great design with suede lining finish
The HTC One Flip Case is made from tough polycarbonate to give strength and security to the body structure. The polycarbonate casing has been designed so it fits perfectly to the HTC One. The strong exterior is accompanied by a soft micro suede lining on inside of the case so the screen is cushioned and protected while the flip case is closed.
Features openings for all ports and buttons
Access all the HTC One's features easily and conveniently with the Flip Case.

HC V841
There are no reviews for your native language. Please select an alternative filter above.
Average rating 4,4 given by 165 customers | Write a review
NEW! Add a video - upload your video or send us a web link
Official HTC One Case Review - Double Dip Flip HC V841
olis4