Why buy
1800mA capacity for quick recharging of smartphones
Works with any micro USB supported device
Charge another USB device simultaneously
Official accessory designed for the BlackBerry Z10
---
Additional information
1800mA capacity for quick recharging of smartphones
Designed to replenish smartphone batteries quickly and efficiently, this official BlackBerry Micro USB Car Charger transfers an impressive total of 1800mA which can keep most smartphones topped up with battery power even during short journeys.
Works with any micro USB supported device
The BlackBerry Premium Car Charger will also replenish the battery on any micro USB supported device, so its perfect if you change your phones frequently. Not only that, but if you have other devices in the car, such as a sat nav, car kit or Bluetooth headset, it'll easily charge those as well.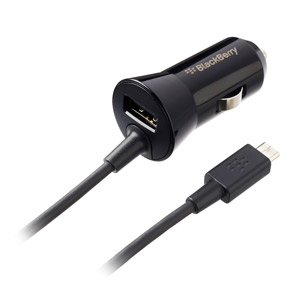 Charge another USB device simultaneously
The small and discreet USB car charging adapter is the perfect accessory for charging your phone in the car. Additionally, it also features a USB port for connection of a second device, allowing for simultaneous charging of two devices.
Official accessory designed for the BlackBerry Z10
The BlackBerry Premium Car Charger is a genuine BlackBerry accessory which has been specially designed and created for the BlackBerry Z10. Therefore, you can be sure that it meets the highest of product quality standards and charges the Z10 efficiently.
Technical Specification:

Output capacity: 1800mA
Input voltage: 12 to 24V DC
Cord Length: 213 cm (extended)
Charge Protection: Yes
There are no reviews for your native language. Please select an alternative filter above.
Average rating 5,0 given by 1 customers | Write a review