Additional information
Small and contemporary design
The Blackberry Mini Bluetooth Speaker boasts a small and discreet design, so it takes up very little space when placed on a desktop surface or when carried in your bag. The powerful in-built speakers allows you to enjoy your music loudly and also allow phone conversations to be clear and distinct to hear.
Wirelessly stream audio using any Bluetooth enabled smartphone
This Blackberry speaker features built-in Bluetooth 2.1 technology with enhanced data rate and active pairing so you can wirelessly pair your Bluetooth enabled device and play your tunes without getting wires tangled. The Bluetooth works within a 10 metre range so you've got the freedom to move around with your phone without having to carry your speaker with you.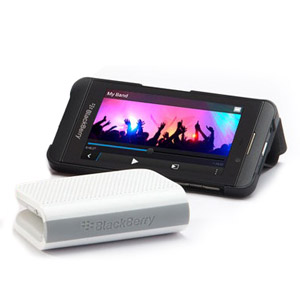 Easily clipped to your belt, seatbelt or bag strap
Featuring a unique 'U' shaped design, this Blackberry Bluetooth speaker can be conveniently clipped to your belt, clothing, bag strap or even your car seatbelt in order to make and receive phone calls from your smartphone completely hands-free.
Built-in microphone allows crisp conference calling
The BlackBerry Mini Bluetooth Stereo Speaker comes with an integrated microphone. This makes it perfect if you're listening to music and you receive an incoming call as it allows you to answer the phone call and speak clearly through the speaker phone at the touch of a button. This makes it particularly great at conference calling or for personal use with video chat programs such as iChat®, Skype®, Google Talk™ and more.