Additional information
The folIO grip is a carbon fiber folio case with hand strap for iPad. This case not only provides folio style screen protection for your device, but doubles as a great way to hold your iPad with only one hand. A secure hand strap on the back of the case helps to attach your device onto your left or right hand.
Ultra-low profile preserves the look and feel of your iPad 4 /3 / 2
The Scosche FolIO Grip is designed to protect your iPad without making it bulky. From the lightweight rugged materials used to the simple folding mechanism of the stand, every aspect of the case has been designed to preserve the look and feel of your iPad.
Stylish carbon fibre texture provides protection against scratches and scrapes
The exterior of this case is an attractive carbon fibre texture which provides premium protection against scrapes and minor impacts, while looking good and also increasing grip.
Folds into a stand with multiple landscape viewing angles
The lid of the Scosche FolIO Grip has a carefully positioned crease that allows the case to be folded into a variety of positions. Whether you're looking for a low angle for comfortable typing, or a near-vertical stand for watching movies, the Scosche FolIO Grip can accommodate your needs.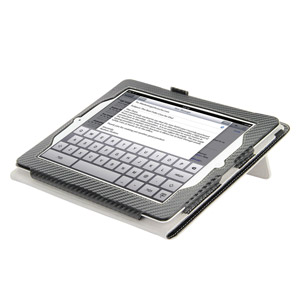 One size fits all straps keeps your iPad 4 /3 / 2 secure against your hand
In order to secure the HandStand there is a heavy duty brushed finish elastic strap that stretches to cover all sizes of hand comfortably. It is stable enough to hold your iPad firmly in place yet designed to easily slip on and off.