Additional information
Connect your Samsung smartphone to any Apple 30 pin dock
The SamDock allows Samsung smartphone users to connect to a greater choice of audio dock systems for listening to music and watching movies. The single cable SamDock is compatible with all Samsung Galaxy devices, including the S3 and Note 2.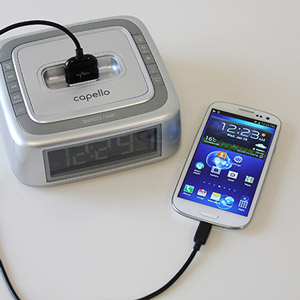 Supports simultaneous charging / syncing as well as music playback
The SamDock delivers a charge and sync connection with high quality sound transfer to any 30-pin iPod or iPhone audio dock you choose. This one cable delivers every bit of functionality when connected to any docking system that was designed to work with Apple devices*
Wire up with greater flexibility and reach
The SamDock has a 61 cm (24") cable which extends the reach of your docking station or cable just a bit to give you flexibility in controlling your audio device.
* Please Note: The samDock is not compatible with systems that require digital audio signals.