Most useful customer reviews
Alex de Wit
Thailand
iPhone 6
12 December 2014
Excellent product. Great value. Highly recommended.
Good solid fit into the lighter socket. The gooseneck and dock rotation is nice and firm meaning that the phone stays still when the car is moving (many/most shake). I have an iPhone 6 so I've purchased a short connection cable to go between the phone and USB port on the side. My biggest fear was that my nice new leather case would be scratched, however not a mark after two weeks of yanking it out single-handed. Reception through the tuner is good though you will occasionally get interference from other stations if you're on the move, a problem easily solved by putting three presets into the stereo and changing as required. Incoming calls automatically stop the music and the call sound quality is good. I was also amazed that the music through this unit/tuner is considerably louder than that from songs played from the car's usb/datacard storage, so much so that I can now drown out my wife complaining about my driving without losing any music clarity. Probably worth buying for that alone. Delivery time to Thailand where I live was acceptable and customer service excellent when responding to my enquiry. Thoroughly satisfied.
16 November 2014
Handsfree and music player all in one
Wasn't to sure when I seen this item but I thought for the money I would give it ago, wow! When I recieved it I went to my car to put it to the test BRILLIANT springs to mind it's a must if you travel and want to be in control of what you listen to with the added bonus of handsfree for your phone making your journey not only enjoyable with your own music but also TOTALY safe you make and recieve calls 10/10
Bernadette
Northamptonshire
Nokia Lumia Windows Phone
16 November 2014
Hands free kit
This is a great product that works great with my handset and I use it daily. Packaging is good and delivery was fantastic. Worth every penny and more.
259 Reviews
|
Write a review
---
Why buy
An all-in-one car kit solution for music / call streaming and charging
Holds devices 58 to 85mm in width safely and securely
Can be positioned at multiple angles for a clearer view
Music and call streaming through your car stereo
Built-in microphone for hands-free calling
Built in 1A USB slot to charge smartphones
Adjustable gooseneck stand design
No technical installation required
---
Additional information
An all-in-one car kit solution for music / call streaming and charging
Designed to make car journeys more enjoyable and hassle-free, the RoadTune Universal Charging Car Holder holds your smartphone safely and securely while charging from your vehicle's 12V or 24V power outlet.
Furthermore, it features a built-in FM transmitter, which connects to your in-car radio to allow streaming of music and calls through your car's speakers.

Holds devices 58mm to 85mm in width safely and securely
Manufactured from a high quality polycarbonate and ABS composite - the RoadTune includes foam lined, spring loaded jaws which can extend to a width of 85mm. This makes it ideal for use with even large handsets, including the Galaxy Note 3 and handsets with even bulky cases such as the Otterbox Defender.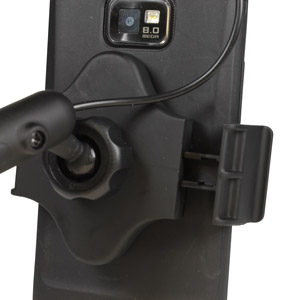 Can be positioned at multiple angles for a clearer view
The ball and socket joint rotates through a complete 360°, making it easy to find a comfortable angle horizontally or vertically while driving. This makes the RoadTune perfect for using your phone to take calls hands-free or as a sat nav (Satellite Navigation) system.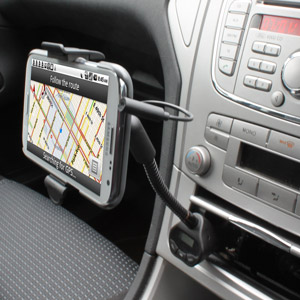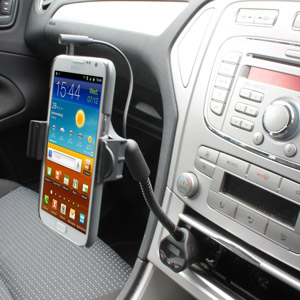 Stream music from your phone through the car stereo
The Universal Charging Car Holder is an FM transmitting car kit, enabling you to transmit music and calls from your mobile phone through your vehicle's speakers without the need for any technical installation.
Simply plug the car holder into your vehicle's electrical outlet and connect your phone to the device using the 3.5 mm audio port. Find an empty FM frequency that isn't being used by another station and tune the holder to the same frequency, then press play to stream music and calls from your mobile device.
Built-in microphone for hands-free calling through your car speakers
The Universal Charging Car Holder includes a built-in microphone, which allows you to make hands-free calls from your handset. Furthermore, it includes noise cancelling technology to ensure that your audio is loud and distinct.
If a call comes through, your music is paused and the call is heard through your car's stereo speakers.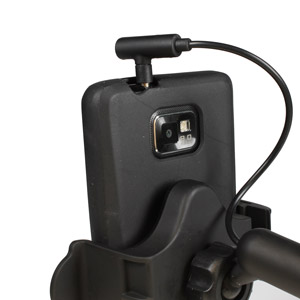 Built in 1A USB slot to charge smartphones
Featured on the side of the FM transmitter unit is a 1 Amp USB charging port, allowing you to use your existing charging cable to charge most mobile devices.
This means that you can keep your phone's battery charged when conducting battery intensive activities - including streaming music through the unit, taking calls and using your device as a sat nav.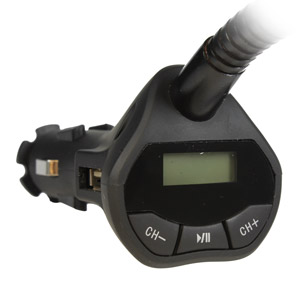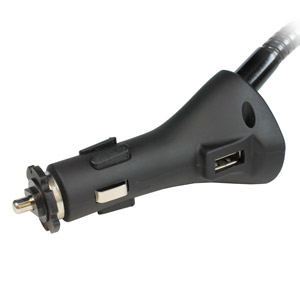 Adjustable gooseneck stand design
Powered by your car's electrical outlet, the car holder features an 80mm adjustable gooseneck stand - allowing you to adjust the unit to the most comfortable and unobtrusive position for your driving.
Technical Specifications:
Adjustable Jaw Width: 58mm - 85mm
FM frequency range: 88.1

Mhz

- 107.9Mhz
Adjustable 360° Rotation
USB output DC 5V/1000mA
There are no reviews for your native language. Please select an alternative filter above.
Average rating 4,2 given by 259 customers | Write a review