Most useful customer reviews
John
Southend on Sea, UK.
Apple Iphone 4, Sony MP3 Walkman
29 January 2015
Great Music player and hands free Kit
This was a replacement unit as the original one must have been faulty. It is pure plug and play, straight out of the box. There is a good range of adjustment by using the gooseneck support. The quality of sound is crystal clear, and I do a lot of driving all over the UK. There are a few areas around the country, where the signal receives interference, but it is simple to retune with a couple of clicks on the device. I have to compliment the customer service in getting the replacement to me promptly. Very satisfied customer.
Jeff Pimental
Coal Valley, IL
24 January 2015
Great Little iPhone 6 Plus Accessory
I purchased this to listen to my music library in my 1998 Pontiac Firebird Formula and it works well. It was a little tight of a fit between the auxiliary outlet and the parking brake handle but after a few twists and turns both the unit and the handle do not obstruct each other. The music comes through the car's speakers clearly as well as speaking on the phone. My iPhone 6 Plus fits snugly in the holder and I'm sure it's not going to fall out. If you're looking for an excellent accessory to play your music library or speak on the phone while driving, then I recommend this unit.
Cassidy Weekes
Jersey
Oliver Roadtune In-Car Kit
7 January 2015
Fantastic Product!
This Roadtune Device is perfect for both playing music and taking calls whilst on the road. The device is easy to set up initially, the music quality is perfect and the device is easy to use. I use the Roadtune with an iPhone 6 and its fits absolutely fine. The microphone that plugs into the headphone jack on the mobile is good quality and makes talking on calls very easy whilst driving. The 360 degree angling is an excellent feature so both driver and passenger can adjust the music playing. Very good product with amazing value!
280 Reviews
|
Write a review
---
Why buy
An all-in-one car kit solution for music / call streaming and charging
Holds devices 58 to 85mm in width safely and securely
Can be positioned at multiple angles for a clearer view
Music and call streaming through your car stereo
Built-in microphone for hands-free calling
Built in 1A USB slot to charge smartphones
Adjustable gooseneck stand design
No technical installation required
---
Additional information
An all-in-one car kit solution for music / call streaming and charging
Designed to make car journeys more enjoyable and hassle-free, the RoadTune Universal Charging Car Holder holds your smartphone safely and securely while charging from your vehicle's 12V or 24V power outlet.
Furthermore, it features a built-in FM transmitter, which connects to your in-car radio to allow streaming of music and calls through your car's speakers.

Holds devices 58mm to 85mm in width safely and securely
Manufactured from a high quality polycarbonate and ABS composite - the RoadTune includes foam lined, spring loaded jaws which can extend to a width of 85mm. This makes it ideal for use with even large handsets, including the Galaxy Note 3 and handsets with even bulky cases such as the Otterbox Defender.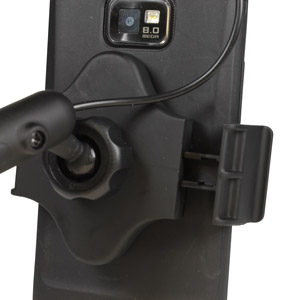 Can be positioned at multiple angles for a clearer view
The ball and socket joint rotates through a complete 360°, making it easy to find a comfortable angle horizontally or vertically while driving. This makes the RoadTune perfect for using your phone to take calls hands-free or as a sat nav (Satellite Navigation) system.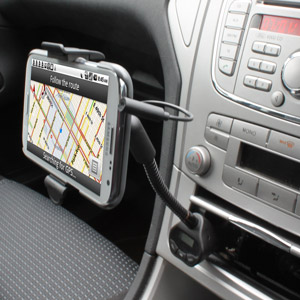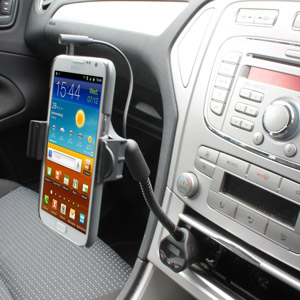 Stream music from your phone through the car stereo
The Universal Charging Car Holder is an FM transmitting car kit, enabling you to transmit music and calls from your mobile phone through your vehicle's speakers without the need for any technical installation.
Simply plug the car holder into your vehicle's electrical outlet and connect your phone to the device using the 3.5 mm audio port. Find an empty FM frequency that isn't being used by another station and tune the holder to the same frequency, then press play to stream music and calls from your mobile device.
Built-in microphone for hands-free calling through your car speakers
The Universal Charging Car Holder includes a built-in microphone, which allows you to make hands-free calls from your handset. Furthermore, it includes noise cancelling technology to ensure that your audio is loud and distinct.
If a call comes through, your music is paused and the call is heard through your car's stereo speakers.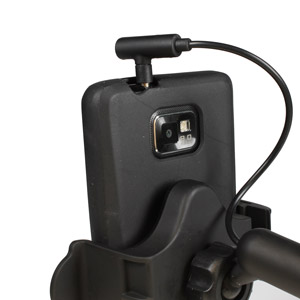 Built in 1A USB slot to charge smartphones
Featured on the side of the FM transmitter unit is a 1 Amp USB charging port, allowing you to use your existing charging cable to charge most mobile devices.
This means that you can keep your phone's battery charged when conducting battery intensive activities - including streaming music through the unit, taking calls and using your device as a sat nav.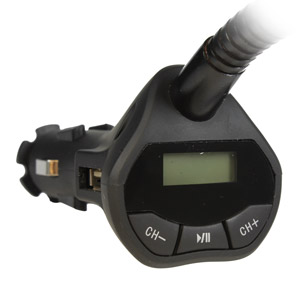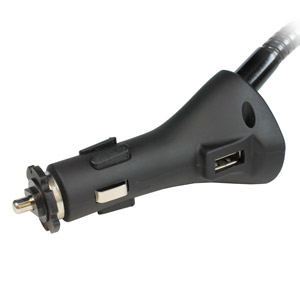 Adjustable gooseneck stand design
Powered by your car's electrical outlet, the car holder features an 80mm adjustable gooseneck stand - allowing you to adjust the unit to the most comfortable and unobtrusive position for your driving.
Technical Specifications:
Adjustable Jaw Width: 58mm - 85mm
FM frequency range: 88.1

Mhz

- 107.9Mhz
Adjustable 360° Rotation
USB output DC 5V/1000mA