Official Samsung Galaxy S3 Extended Battery Kit - 3000mAh - Blue
Product part number: EB-K1G6UBUGSTD
Product reference: 37556
Keep your Samsung Galaxy S3 going for longer with this official kit comprising of a 3000mAh extended battery with NFC and replacement back cover in blue.
"extended battery life!"
"Wow what a good Difference"
"Almost there"
Most useful customer reviews
Peter Arterton
Maidstone
Samsung galaxy s3
4 May 2014
extended battery life!
Does exactly what it says on the box! My phone is now a power house in my pocket. The battery now lasts for ages, games, apps and browsing the net have little effect compared to the original battery. I would highly recommend this product. It'll transform your phone too!
Tom
Unknown
Galaxy s3 Samgsung
29 March 2014
Wow what a good Difference
A truly marked improvement on stock battery. phone feels much more solid and does not have a will to wander out of your hand.yes its slightly more in weight but you gain comfort in the battery truly does last all day reasonable use and mid to heavy usage with plenty to spare if you say go to low power on 20% great feels like a new phone cover fits tight and sits snug in hand.
K
Aberdeenshire
Galaxy S3
1 March 2014
Almost there
The battery pack is perfect, however Samsung need to sell an open backed case the same as they made for the S2, so that normal protections of screen & sides of phone can continue. I need the extra battery life but the ability to protect my phone would be nice as well.
53 Reviews
|
Write a review
---
Additional information

3000mAh replacement battery adds 900 mAh to your battery life
This battery has a capacity of 3000mAh, which is an additional 900mAh compared to the original 2100mAh Samsung battery. This helps to provide more battery power in order for you to have more talk time or power to play games and videos for longer.
Replacement back cover houses the extended battery and protects against damage
As this battery is bigger in capacity than the standard one, it is also bigger in size. To accommodate this, the battery comes with a specially built replacement back cover that houses the battery, while also offering additional protection to the back of your phone from scratches and scrapes.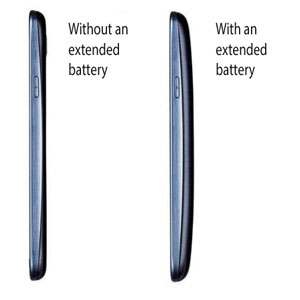 Features a built-in NFC chip for full phone functionality
The Genuine Samsung Extended Battery Kit for Galaxy S3 features a built in NFC (Near Field Communication) chip which allows your S3 full capabilities to use NFC technology on items such as Samsung TecTiles.
Official Samsung product made for the Galaxy S3
As this battery is an official product made specifically for the Samsung Galaxy S3, it fits perfectly within your phone and is compatible with it. In addition, the replacement back cover offers an excellent fit for your device and features a cut-out for the camera, so you don't lose any functionality by using this battery.