Most useful customer reviews
20 March 2013
Perfect solution
This is a perfect solution to all your docking and charging needs if you have an iphone 5. Sturdy construction with regards to the dock and a nice snug fit when you place your handset into it. The cable connects securely and charges and syncs as it should. The dock is deal if you wish to position your iphone for watching moves or even as an alarm clock. I have had docks with previous iphone models and this is the best one I have purchased so far.
2 March 2013
Does the job.
Ideal for charging and docking my iphone5. syncs quickly as well. i always keep my phone in a case so this is ideal to stop it from getting battered and bumped about. teh dock is black so remember this before buying. great surface from mobile fun too as ordered and got it next day.
Jan Plant
Kinnersley
iPhone
20 February 2013
iPhone 5
After reading the previous review I was a little sceptical about buying this dock, however I have been completely satisfied with it since I bought it. Ok so it's not a genuine Apple product, but it looks the same and I imagine function just as well for half the price of an original. Recommended.
55 Reviews
|
Write a review
---
Additional information
Sync and charge your iPhone 5S / 5C / 5
This USB cradle supports simultaneous syncing and charging your iPhone 5S / 5C / 5, so you can easily transfer files from your computer to your phone (and vice versa) whilst your handset is being charged at the same time. Simply connect the cradle to a PC or laptop using the included lightning cable to begin charging and data synchronisation
Additionally, the cradle can be connected to a USB mains charger in order to charge your iPhone 5S / 5C / 5 more rapidly.


Case compatible support
The cradle features a large enough clearance so that you can place your phone in the dock with or without a slim case attached and it'll still provide your iPhone 5S / 5C / 5 with a snug fit. This means that you won't have to sacrifice protection over function when using the cradle.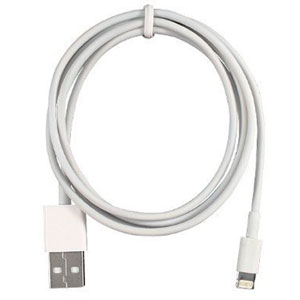 Small and portable design
Measuring a slim 82 x 58 x 14 mm, this desktop cradle is small and compact enough for travel use, making it great to keep your iPhone docked and charged from travel USB chargers.
Please note - We have tested our accessories with iOS 7, you may see a warning but the accessory will work as intended. Click here to see more information