Why buy
Listen to your music while keeping your ears warm
Playful knitted design is extremely comfortable in cold weather
Advanced driver technology for high quality audio output
Compatible with any phone, music player or other device with a 3.5 mm audio connector
---
Additional information
Listen to your music while keeping your ears warm
Combining fashion with practicality, the Kitsound Audio Beanie combines a playful and warm winter hat with speakers that can be connected to any 3.5mm supported portable music player for rich audio sound.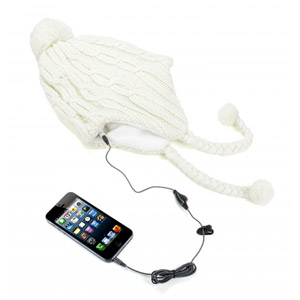 Playful knitted design is extremely comfortable in cold weather
The Kitsound Audio Beanie feature a unique Peruvian embroidered detailing which covers integrated speakers in an traditional knitted design. Additionally it features a super-soft fur lining which not only makes them incredibly comfortable to wear but also keeps your ears warm when used in cold weather.
Advanced driver technology for high quality audio output
Featuring technologies typically found in high-end stereo headphones, the Kitsound Audio Beanie includes precisely-tuned 40mm drivers which are engineering to reproduce distortion-free bass, clear mids and super-crisp highs for a high quality audio experience.
Includes an integrated audio cable with volume control
In order to connect the Audio Beanie to your music device it comes with a 3.5 mm audio lead with an integrated volume control. This allows you to control the volume of your music without having to take your music player or smartphone out of your pocket.
Compatible with any phone, music player or other device with a 3.5 mm audio connector
Fully compatible with audio device with a standard 3.5mm stereo jack, the Kitsound Audio Beanie is perfect for listening to music from virtually any portable music device.