Samsung Galaxy S3 Qi Wireless Charging Plate Kit - White
Product part number: S3BCK
Product reference: 37396
The sleek, ultra slim design with fully integrated wireless charging kit contains both the charging plate and the QI Wireless Charging Cover for Samsung Galaxy S3.
"super"
"Superb"
"When it works its good ...."
Most useful customer reviews
Grigore
Denmark
samsung galaxy s3
7 May 2013
super
Works great ! I am very pleased with this device ! Worth every penny
Robert Farmer
Coventry
Samsung Galaxy S3
7 February 2013
Superb
What can I say, this charging unit is so easy an convenient to use. There's no fiddling about trying slot it on to a connection, just lay down onto the pad and pick it up when ever you need it and lay back down again to recharge. It is as simple as that. Great product, Oh and by the way service from MobileFun.co.uk was brilliant, Placed the order and was delivered the very next day. Superb.
Steve
United Kingdom
Nexus 5, Galaxy S3
30 December 2013
When it works its good ....
I was a little disappointed when this was first received, despite the replacement back fitting nicely to the S3 it didnt want to charge wirelessly. Two things have helped, 1st the two metal contacts in the back cover needed pulling out slightly to make a better contact, and 2nd the placement of the phone on the pad is quite sensitive, if its not in the right place it doesnt charge. This is the same for the Nexus 5 so seems to be related to the pad rather than the phone itself. Overall quite impressed especially for the price.
11 Reviews
|
Write a review
---
Additional information
Sleek, ultra slim design for an easy charging solution
With a sleek, ultra slim design the Qi Wireless Charging Plate is a beautiful space saving way to charge your phone at your desk, office or at home. Designed for quick and intuitive charging, the Qi Wireless Charging Plate allows you to charge your Samsung Galaxy S3 without the mess of charging cables. Used in conjunction with the Qi Wireless Charging Shell, the Qi induction technology enables you to charge your phone quickly and easily once it is placed onto the plate.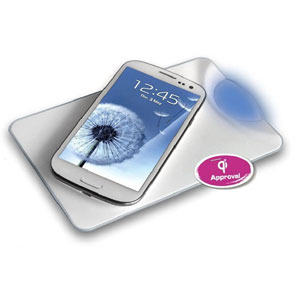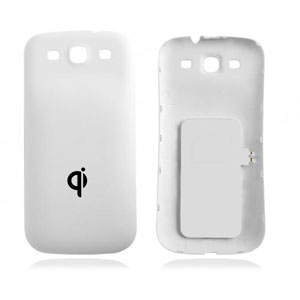 Includes Qi Wireless Charging Back Cover
Qi compliant, this wireless charging back cover has been specially designed for use with the Samsung Galaxy S3, but it is also compatible with any Qi-enabled charger or charging pad. A perfect form-fitting back cover, simply remove the original S3 back cover and replace it with the Qi Wireless Back Cover, enabling wireless charging at any time. The case has a built in magnetic alignment between the wireless charging pad and back cover making sure the phone is always correctly placed on the mat for optimum charging.
Features an LED indicator and over-charging prevention for smarter charging
The charing plate features a beautiful clear LED indicator which shows when your device is fully charged so you can see at a glance whether your handset is finished charging. Furthermore, an automatic shut off feature prevents your devices from continuing to charge once the battery is full this doesn't just help to save energy but alos to protect the plate itslef from overheating. All of this allows for smarter charging of your handset.
Specifically designed for the Samsung Galaxy S3
Designed to perfectly complement your Samsung Galaxy S3 the Qi Wireless Charging Plate is designed to reflect the contemporary and sleek styling of your handset. Whether it is for use in the home or office, the charging plate will look fantastic and measuring only 180 x 110 x 20mm you can be sure it will be discreet too. The Qi doesn't have to be just for your Samsung Galaxy S3 but with the Qi Micro USB Charging Clip you can also charge your Galaxy S3, S2, Note and Note 2.
Technical Specifications:
Net Weight: 150g±5g
Dimension: 180 x 110 x 20 mm
Input:DC 19V/Max 0.4A
Output:MAX 5W
Power Adaptor
Net Weight : 85g
Cable Length: 150CM
Input: AC 100-240V/50-60HZ Max350mA
Output: DC 19V/500mA
Cover
Dimension :137 x 67 x 4 mm
Net weight:19±5g
Input Current:DC 5V/500mAh
Output: 650mA