Why buy
Provides a stylish and unique look as well as excellent protection
Manufactured from high quality organic materials
Features an external storage pocket
Velcro fastener holds your iPad Mini 2 / iPad Mini securely
Made specifically for the iPad Mini 2 / iPad Mini
---
Additional information
Provides a stylish and unique look as well as excellent protection
Perfect for anyone looking to keep their iPad in a case different from the rest, Colcasac sleeves bring a classic style together with minimalistic design and smarter materials to create the finest protection for your devices. Using materials that are both incredibly durable and easy on the Earth you can be sure that your iPad Mini 2 / iPad Mini will be protected from knocks and drops without worrying about the impact on the environment.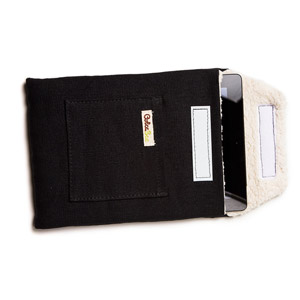 Manufactured from high quality organic materials
The Zagora is made with black, heavy duty organic hemp that is grown and harvested in rural China - it grows quickly and plentifully meaning it is a reusable source that won't harm the environment. It is grown without using any pesticides, is easy on the soil and is nature's strongest natural fibre. To complement this hard wearing weave is a super soft 100% recycled polyester fleece lining which keeps your iPad Mini 2 / iPad Mini snugly protected from scratches and scrapes.
Features an external storage pocket
On the outside of the case is a stitched external pocket which is perfect for keeping documents, rail cards or even your power and data cables, ensuring that you have all of your essentials in one easy to reach place.
Made specifically for the iPad Mini 2 / iPad Mini
The thick inner-lining and velcro fastening of the Colcasac Zagora case will ensure that your iPad Mini 2 / iPad Mini is securely held within the sleeve to prevent internal movement and accidental dropping of your iPad Mini 2 / iPad Mini out of the case.