Additional information
Worlds first micro robotic car that you can control with you Smartphone
CarBot is the world's first micro robotic race car that you can control with your Smartphone. Through a free downloadable app and a SmartPhone adapter (included), which plugs into your iPhone, iPad, iPod touch or Android Device, you can choose from three different play modes. With a built-in battery and USB flip down charger, battery costs are minimised giving you and CarBot hours of inexpensive playtime and fun!
Much more then just a robotic car but as the name suggests is a DeskPet
The CarBot form DeskPet is so much more then your ordinary robotic car. Once put into demo mode the CarBot will independently move around using its built-in sensors, making cute noises and flashing its LED lights as it excitedly chares across the floor. However don't leave CarBot waiting too long otherwise CarBot will express its boredom by begin snoring.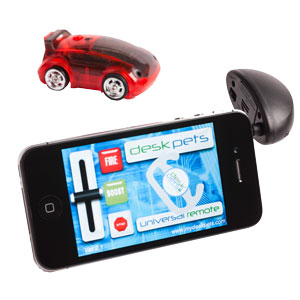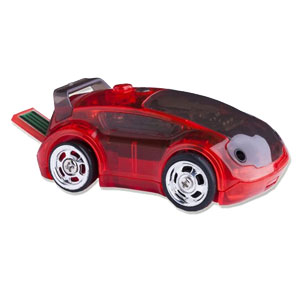 Four amazing ways to play with the CarBot
CarBot offers hours of fun and enjoyment with four amazing ways to play with the CarBot:
Battle mode: allows multiple players to battle via infrared and disable opponents car with fire and boost button
Personality: mode entertains crowds and the CarBot autonomously goes crazy drifting, speeding and spinning with lights and sounds
Maze mode: allows players to set up obstacles, while CarBot uses IR sensors to detect mazes and navigate around them with precision
Drift 'n' Race: mode allows player to race car at full speed with or without added sound effects
Extremely easy set-up for instant fun
Once you have already downloaded the free app the set-up couldn't be simpler. Step 1, take the CarBot out of the box. Step 2, press the button on top of the car in accordance to which mode you wish to set it to and CarBot is ready to go. After about 20 minutes of play time you will need to recharge the CarBot by simply plugging him into a USB port for about 40 minutes for a full charge.
Simple flip out USB stick for easy charge
Simply flip the USB stick out from the back of the CarBot and you have instant easy charging. Charging will last around 40 minutes and give a play-time for about 20 minutes.