Most useful customer reviews
Pete O'Donnell
Blackpool
Samsung galaxy note 2
29 May 2013
Protection when required
from the placing of the order, right thru to delivery the communications with mobile fun where outstanding, once the product had arrived, and on opening the package, the quality of the Ultra-Thin Leather Book Case and Stand for Samsung Galaxy Note 2 was as described well made, and fits perfect, quality, style, protection, all at an affordable price what more can you ask for.
Anonymous
Dublin
Galaxy Note 2
1 February 2013
Fits Perfect/Looks great
Ordered From Mobile Fun and was dispatched same day..V.happy with Purchase...Fits Note 2 Perfectly. Opening the case you can use it as a stand to watch Videos at different angles.... Well made ..Recommend to any Note 2 User
David
Ascot
Samsung Galaxy Note2
30 December 2013
Exactly what I was after
Thin and light weight as described. Stylish and well made. The tab for securing the case does get in the way in video watching mode but you can tuck it behind the phone. Once you've answered a call you can close the case and continue with your conversation.
9 Reviews
|
Write a review
---
Additional information
Made from high quality leather
Manufactured from the softest leather, this Ultra-Thin Leather Book Case also features hand stitching which adds a touch of real quality to your already stylish Samsung Galaxy Note 2. The case features a polycarbonate shell insert which holds your Note 2 securely and features cut outs for easy access to the buttons and ports of the smartphone.
Ultra-thin design complements the aesthetic of the Galaxy Note 2
Reducing the bulk of previous PDair cases, this ultra-thin case design not only looks more sleek and stylish but it reduces bulk and weight, making the phone easier to carry around.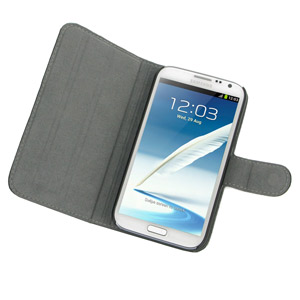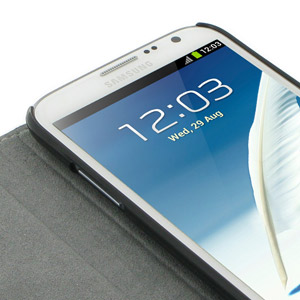 Magnetic clasp to seamlessly hold your Samsung Galaxy Note 2
The magnetic stud fastener on the case will ensure that once closed your phone will stay safely protected within the case and will prevent it from coming loose.
Includes a built-in stand feature for comfortable viewing of media
The folding back of this PDair case allows you to position the Note 2 at two different angles on the inside of the front cover, effectively transforming it into a comfortable viewing stand for photos and videos on your Note 2.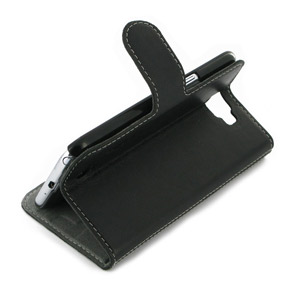 Hand stitched for supreme quality
Every PDair case is hand stitched together, then sealed with a long lasting bonding agent to ensure to help prevent tearing at the seams, ensuring they last the distance.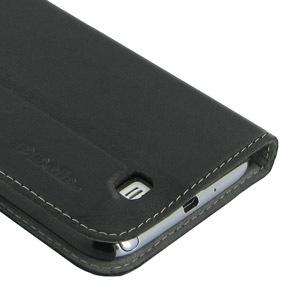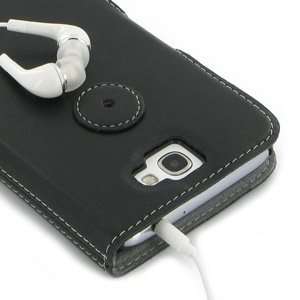 Protects your phone from bumps and scratches
Hand stitched cases, selected from premium leather cuts, specially selected for its durability and fade resistance. PDair cases use soft supple natural leather, unlike other cheaper leather imitation vinyl cases. In doing so the cases are not only soft to touch but incredibly resistant to scratches and scuffs.