Otterbox Defender Series for Samsung Galaxy Note 2 - Glacier
Product part number: 77-23998_A
Product reference: 36961
Protect your Samsung Galaxy Note 2 with the toughest and most protective case on the market - the Glacier Otterbox Defender Series.
"OTTERBOX DEFENDER"
"By far the best case on the market"
"Wish I'd bought this one first"
Most useful customer reviews
Barry
United Kingdom
SAMSUNG GALAXY NOTE 2
2 October 2013
OTTERBOX DEFENDER
A VERY STRONG CASE FOR AN EXPENSIVE PHONE. PERFECT FIT, PERFECT FOR THE PROTECTION OF THE PHONE
wayne hemmings
United Kingdom
Samsung Galaxy Note 2
20 January 2013
By far the best case on the market
Got the Note 2 and could not find a case in town that would protect it. Due the size of the screen, the Otterbox is a must. Most cases out there are not worth purchasing, so I decided to invest in an Otterbox. These are not cheap, but if you want your note in one peace then this is the case for you. If you check out drop tests on the Note 2 on YouTube you will see why you need to invest. The Otterbox comes in four parts, rigid back cover, rigid front cover then has a built in screen protector (no need to buy your own and no more bubbles or the corner pealing!!), hard rubber outer-case and a phone holder that clips to you belt (or anything else - very strong, it also can double as a stand(from the photo looks like it always on the phone its not - the case and the holder are two different items). I have had the case for a couple of weeks and the phone is still in new condition and I have a 7 & 11 year old. So, in short - If you want you Note 2 to last invest in the Otterbox
Peter
Walton-on-Thames
Samsung Galaxy Note 2
14 February 2014
Wish I'd bought this one first
This Otterbox looks like I won't have to buy another expensive new screen if I drop my Note 2 again. I'm sure it will take some serious knocks without damage to to the Note 2. Good as the case is it does have some problems. The case is very difficult to remove and needs a slot or similar to help spring the shell apart. Also great would be a front cover without a belt hook. It does what your ads say it will do. Yhank you
25 Reviews
|
Write a review
---
Why buy
Designed specifically for the Galaxy Note 2
Boasts 3 layers of comprehensive protection
Use your Galaxy Note 2 whilst its in the case
Access to all ports and features
Includes a belt holster for easy access and transportation
---
Additional information
The Otterbox for Galaxy Note 2 Defender Series will offer your device peerless protection with a slim and sophisticated look.
Boasts 3 layers of comprehensive protection
The Otterbox Defender Series wraps your device in 3 layers of protection. The first layer is a strong polycarbonate shell which carresses your Galaxy Note 2, which provides added protection against drops and bumps. The shell features cut outs which are designed to give you access to all of your devices ports and features.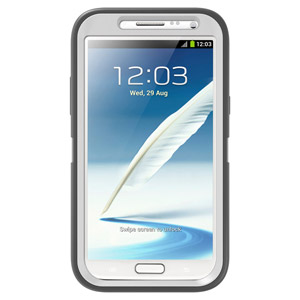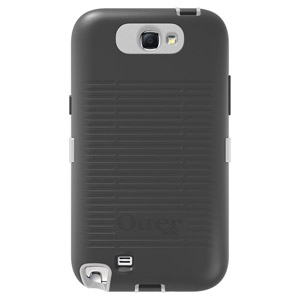 Silicone skin to protect all of your device
The second layer is a silicone skin which wraps around the polycarbonate shell and absorbs any shocks which would be otherwise felt by your device. The silicone skin also features cut outs to give you access to all ports and features, but it is design with silicone covers so you can ensure that, when not in use, all ports and features remain protected at all times.
Screen protection builtiin the protect your devices screen
The final layer of protection is a thermal-formed sheet which covers the screen and keys of your Galaxy Note 2 to give your device 360° protection at all times.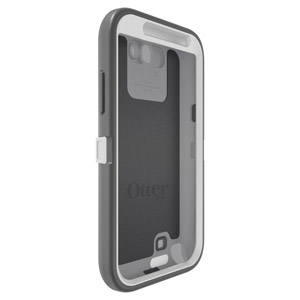 Includes a belt holster for easy access and transportation
Included with the Otterbox Defender case is a belt holder which features a swiveling belt-clip that will hold the device with the screen facing in or out, allowing for easy access or extra protection when carrying your Note 2 on the move.