Most useful customer reviews
Paul
Essex
Samsung galaxy
22 February 2013
Brilliant .... So Easy to use
I AM NOW A VERY HAPPY CHAPPY. JUST BUY ONE...Fantastic piece of equipment, so easy to connect and use, you will never want a different one. Clear conversations, easy access to numbers,always keeps in touch with the phone. No need to keep pairing devices like some others i've had. Look at the price, soon everyone will want one of these, and it saves the ears.
Anonymous
Unknown
Samsung Galaxy S3
21 February 2013
Fantastic Item
Brilliant bluetooth car kit!! The sound quality is second to none. The large make call/end call button is so easy to find, you don't have to take your eyes off the road. The battery life is fantastic, even with frequent use, it hardly needs charging, and when it does have a top-up, it's done in minutes. Probably the best thing is that it works perfectly with the features on the phone. When you press the call button, it automatically activates the voice controlled system on the phone, yet supplies the voice commands through the car kits speaker. Extremely happy and would recommend to anyone after one of these kits!!
John
Yorkshire
Samsung Galaxy S3 Mini
17 February 2013
Excellent product
Extremely good product. Easy to set up and operate. Downloaded contact numbers quickly and easily and it remembers your favourite numbers as called so they come at the start of the listing - useful when driving. Notv tried voice calling yet as I'm not sure if my phone supports it (that's new as well!) Really like the fact that you can leave the unit switched on and it goes into "sleep" mode when you leave the car and doesn't "wake" until you open the car door!! Battery level is announced every time it wakes and it also tells you when there's no phone signal! Sound level is good and I am told that callers have good quality sound as well. Surprised to find that it connected with the phone whilst phone was inside the house and the car was on the drive - useful to save running back indoors if your phone rings. I use this with a Samsung Galaxy S3 mini and as such the voice becomes a poet, announcing on wake-up: "Battery level is high, connected to Galaxy sigh"! Galaxy S3 on the phone is written Galaxy SIII :-) Makes me smile every time!! I would recommend this product.
90 Reviews
|
Write a review
---
Additional information
Simple voice prompts let you know essential information
Allowing you to keep your eyes on the road, the car kit has simple voice prompts to let you know essential information such as if you are connected, the battery level of the device and whether you are on mute.
Automatic shutdown feature for lasting battery efficiency and ease of use
When your paired phone is more than 6 meters away from the speakerphone it will automatically turn off, saving battery life. When the phone is then within distance again it will activate the speakerphone and automatically pair again.
Provides 18 days standby time and up to 17 hours of talk time
The Motorola T325 is a feature rich Bluetooth Car Kit which has an an impressive 18 days standby time and up to 17 hours of talk time. When the battery does eventually become depleted, simply charge it up using the including the Micro USB car charger.
Two 2 watt speakers with echo and noise reduction makes phone calls easy
Built into the speaker are two powerful two watt speakers, this will be loud enough to hear over motorway traffic with ease. Additionally, advanced DSP noise reduction, full duplex and echo cancellation technology allows you to be heard in noisy car environments so your conversation doesn't have to be interrupted.
Comes with a 950 mAh micro USB in car charger
Included with the Motorola T325 is a 950 mHa Micro USB in car charger which can be used to charge your visor mount as well as charge any other Micro USB supported devices such as phones, tablets and kindles.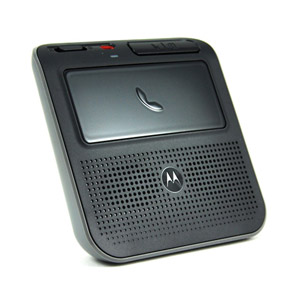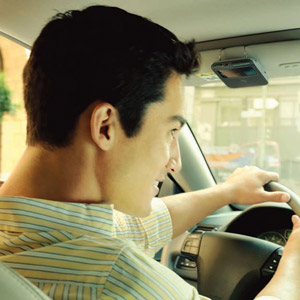 Advanced multipoint technology lets you pair with two devices simultaneously
Another great feature of this car kit is that it features advanced multipoint technology which will let you pair with two devices simultaneously. This is especially useful for anyone with home and work mobiles as well as for family use.
Incoming call voice prompts let you know who is calling
With the Motorola T325 you no longer need to fumble around for your phone to see who is calling you, it will automatically announce the name of the caller so you can handle your incoming calls quicker and more effectively.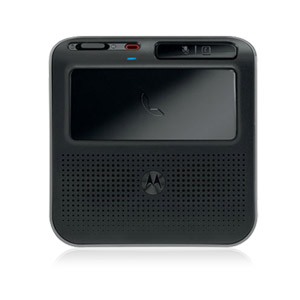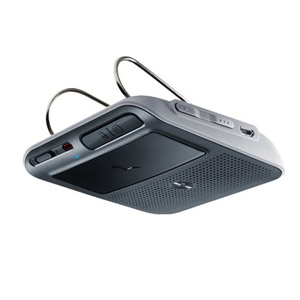 Keep your attention on the road with hands-free whilst driving
The Motorola T325 Bluetooth Car Kit is the perfect solution to taking calls safely and legally when driving. Active pairing means that once you've set up your phone to use with the T325 once all you need to do is turn it on and it'll instantly connect to your device, no hassle required.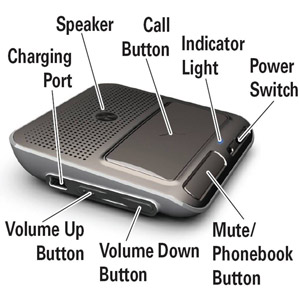 Technical Specifications:
Size: 8.3 x 1.4 x 2.4 cm
Weight: 96g
Talk Time: Up to 17 hours
Standby Time: Up to 18 days
Bluetooth profiles: HFP 1.5, Headset (HSP), Hands Free (HFP)
Bluetooth version: 2.0 + EDR (Enhanced Data Rate)
Bluetooth range: Up to 33ft (Class 2)