Genuine Samsung Galaxy Note 2 Extra Battery Kit - EB-H1J9VNEGSTD
Product part number: EB-H1J9VNEGSTD
Product reference: 36364
Official Samsung Galaxy Note 2 Battery and Battery Charger - Make sure your spare battery for the Note 2 is always fully charged.
"Battery on the Go for the Note 2"
"Excellent Product"
"worth ever penny"
Most useful customer reviews
24 June 2014
Battery on the Go for the Note 2
I have to say that I am extremely pleased with this purchase. I bought 2 charges and I cannot imagine how I lived without these handy tools. As you know, the Samsung Note 2 consumes battery tremendously and I was always stressed out looking for a plug, usb port or one of those promised external batteries that one can buy to charge. This phone went through those like nothing. Now, I carry one, have a charged battery in my phone in my purse. When it gets to 10% battery, I simply switch batteries and have 100% power within a minute. The other battery charger I can plug in any USB port and let it charge, it is an invaluable device. They delivered as promised and MobileFun had it to me in days. Very happy with both the product and the company.
Pamela Campbell
Northern Ireland
For a Spare Battery and Charging up exisiting batteries
24 January 2014
Excellent Product
I am really impressed with this Product. The spare Battery is very useful and the Charger means I always have a fully charged spare battery to take out with me.
yvonne patchett
Herefordshire
galaxy note 2
30 August 2013
worth ever penny
The product is a really life saver, as I use my mobile a lot the battery kept running out quickly, but the help of this item I could just simply swap batteries and carry on the my day. Only criticism I have would to be able to charge phone as well. I have this and my phone charging at same time so I have lots of leads beside my bed.
24 Reviews
|
Write a review
---
Additional information
Never run out of power again
Make sure your Samsung Galaxy Note 2 never runs out of power. This combination of stand and holder lets you place your Samsung Galaxy Note 2 at a convenient angle for viewing texts, emails and videos while simultaneously charging your spare battery.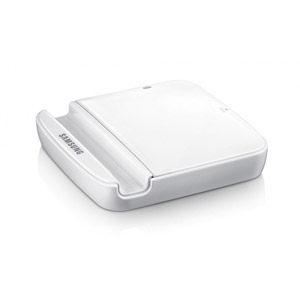 Handy indicators built into the holder
The charger features a standard Micro USB port on the back and an LED status indicator so you know when your battery is being charged and also when it is fully charged.
Incorporates a handy desk stand
The battery charger also incorporates a desk stand which allows you to keep your Samsung Galaxy Note 2 in an easy to view position so you can still answer your texts, emails and phone calls.
Comes with a spare battery
The holder and battery charger comes complete with a spare battery so you can ensure that you've always got power for when you need it.
Please note: The holder and battery charger doesn't come with a USB cable, in order to use the charging capabilities you would need to use the USB cable which comes with the phone.