Genuine Samsung Galaxy Note 2 Extra Battery Kit - EB-H1J9VNEGSTD
Product part number: EB-H1J9VNEGSTD
Product reference: 36364
Official Samsung Galaxy Note 2 Battery and Battery Charger - Make sure your spare battery for the Samsung Galaxy S3 is always fully charged.
"Perfect Match"
"Excellent"
Most useful customer reviews
Peter Hughes
Earby
Samsung Galaxy Note 2
6 February 2013
Perfect Match
This is the perfect companion for the Samsung Galaxy Note 2 smartphone. The Note 2 has a superb battery as we already know but have you ever had to hold back slightly because you just might not have enough charge to last you till you get back home? With this kit you'll never ever have to worry about it. Just simply replace the battery with a ready charged one. The kit comes, as listed, comes with a genuine Samsung battery and a very stylish battery charger/stand. It looks superb on your bedside table at night. It holds your phone, either in portrait or landscape, whilst it charges the spare battery. You simply plug in your original charger into the back of the unit to charge it. A very highly recommended piece of kit. You will not regret spending money on this item.
Anonymous
London
Samsung note 2
12 January 2013
Excellent
This is a most useful gatget always have a soare battery. Also you always now where your phone is on the stand.
13 Reviews
|
Write a review
---
Why buy
Genuine Samsung accessory
Charge a battery separately to your Galaxy Note 2
Works as a desk stand for the Galaxy Note 2
Comes with a spare battery
---
Additional information
Never run out of power again

Make sure your Samsung Galaxy Note 2 never runs out of power. This combination of stand and holder lets you place your Samsung Galaxy Note 2 at a convenient angle for viewing texts, emails and videos while simultaneously charging your spare battery.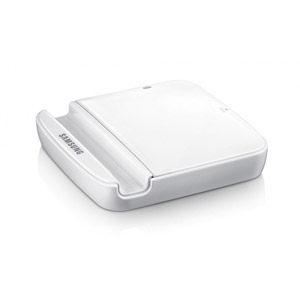 Handy indicators built into the holder
The charger features a standard Micro USB port on the back and an LED status indicator so you know when your battery is being charged and also when it is fully charged.
Incorporates a handy desk stand
The battery charger also incorporates a desk stand which allows you to keep your Samsung Galaxy Note 2 in an easy to view position so you can still answer your texts, emails and phone calls.
Comes with a spare battery
The holder and battery charger comes complete with a spare battery so you can ensure that you've always got power for when you need it.
Please note: The holder and battery charger doesn't come with a USB cable, in order to use the charging capabilities you would need to use the USB cable which comes with the phone.
There are no reviews for your native language. Please select an alternative filter above.
Average rating 4,8 given by 13 customers | Write a review