Genuine Apple Lightning to 30 Pin Converter
Product reference: 36240
Use your new iPhone 5 with existing cradles and chargers with the genuine Apple Lightning Connector.
"Lightning adapter"
"Brilliant Piece of kit "
"Great money saver!"
Most useful customer reviews
31 May 2014
Lightning adapter
Well, apart from waring you that your wallet will be a lot lighter for a tiny piece of hardware, this does pretty much what you'd expect - ie. it works when you plug it in, unlike the chinese copies. Buy one if you need one, just take a deep breath first...
Ajit
Birmingham
Iphone 5s
4 May 2014
Brilliant Piece of kit
I brought this item as i have the old style connection for the 4s and have just upgraded. this item is brilliant its compact and really does the job on the tin, i now its expensive but really works on people who have a traditional old style connection but have a iphone 5 and want to connect it to there docking system.
Mary P Robson
United Kingdom
Apple products
18 January 2014
Great money saver!
I have recently upgraded to the lightening cables for my Iphone 5 and Apad Air, so this little beauty saves me having to replace my docking station/loudspeakers, which has the older type connection. A bit expensive, but it is the real Apple adapter not a cheap imitation so worth the outlay.
13 Reviews
|
Write a review
---
Additional information
Use your iPhone 5 with any existing docks, speakers and chargers
The Apple Lightning Connector allows you to use your iPhone 5 with any existing docks, speakers or chargers which you have. This simple connector simply plugs into the charging socket of your iPhone 5 and it allows you to plug the connector into any existing devices you have with Apples 30 pin dock connector.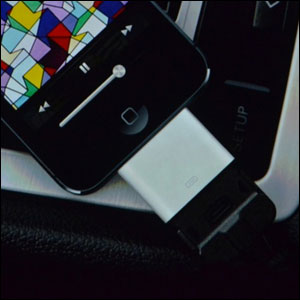 Small and discreet accessory can be carried around with you
The Apple Lightning Connector is a small and discreet accessory which allows you to carry it around with you at all times. Due its small size it can be easily carried around with you in your pocket and bag so you can use it with your Apple accessories at home, in the car or in the office.
Genuine Apple product
As this is a genuine Apple product you can be sure its made with quality which you've come to expect from any Apple product. The Lightning Connector is designed to work with all iPhone accessories so you can still use them with the new iPhone 5.