Marware Axis Kindle Fire HD Case - Black
Product part number: KHAX11
Product reference: 36218
Designed for ultimate functionality, this genuine leather folio case for your Kindle Fire HD features a 90 degree adjustable viewing stand and sleep function compatibility.
"Quality"
"Excellent Product - Would Recommend"
"The Best Kindle Fire HD Case On The Market"
Most useful customer reviews
4 October 2013
Quality
Excellant quality and well designed. Is perfect with the kindle Fire HD
Joanne
East Yorkshire
Kindle Fire HD
30 December 2012
Excellent Product - Would Recommend
We were after 2 cases for Kindle Fire HD's - Christmas Presents for our Son and Daughter. I was quite fussy in what I wanted - wanted a clip in frame that didnt cover any of the front of the Kindle, charging ports, buttons etc and also that would rotate between landscape and portrait and to be able to use the case as a stand in both orientations. After searching the MobileFun website I came across the Marware cases. My own Kindle Touch case is this make and is good quality so I knew these would be as good. Not the cheapest on the website but you definately get what you pay for. Cant fault these in anyway. I got the black and the pink. Would definately recommend. Does everything we wanted it to and made with good quality materials. My only gripe is - and its a minor trivial personal preference gripe is the elastic closure band on the pink case is black - this would have looked better in pink to match the case (it stands out like a sore thumb!) whereas the black case elastic is black and blends in with the case which looks better. All in all a good quality case which I would recommend to anyone who is after a good quality case for the Kindle Fire HD.
Lisa
Nottingham
Kindle Fire HD
15 December 2012
The Best Kindle Fire HD Case On The Market
I have done some serious searching for a case fit for purpose and this one is The Dogs! Having initially been swayed by the one that Amazon are plugging I was glad I came across it in John Lewis. Being nearly £40 it was a tad dissapointing that a.it didn't stand up, b.it didn't stay closed, c.it didn't look or feel like leather [although it was!]. Then I found the Marware Axis on their website with a 6-8 week wait! So I shopped around and found it here on MobileFun- significantly cheaper and in stock. This case is not cheap but it has a whole heap of features that knock spots off the other one. It has proper grooves for the so the stand is secure in landscape or portrait mode, it snaps into it's case and can be swivelled round to suit your viewing needs. You can charge it whilst the case is closed, it has a band to secure it shut when not in use, it has a really useful elasticated handle to help when reading [the kindle fire can get a little heavy after a while]. All of the ports and speakers are accessible and not covered up. I love this case and have been using it for about a fortnight now. i have yet to come across any problems with it. It is well made, well designed and, I think, a perfect companion for your Kindle Fire HD. Buy it, you won't be disappointed.
14 Reviews
|
Write a review
---
Additional information
Genuine leather construction provides great protection for your Kindle Fire HD 2012

The Marware Axis case is manufactured from quality materials including a polycarbonate shell enclosure and genuine leather which gives you the very best protection for your Kindle Fire HD 2012.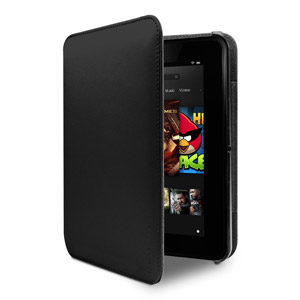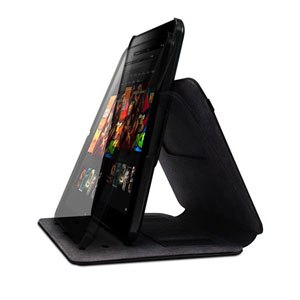 Slim fitting and lightweight, the Kindle Fire HD 2012 Axis case provides superb scratch and abrasion protection as well keeping your tablet protected from light impact damage. Wherever you decide to take your Kindle Fire HD 2012, you can rely on the Marware Axis to keep it in perfect condition.
Converts into a portrait or landscape orientated rotating desk stand
The front cover of the case uniquely folds to allow you to stand your case for comfortable viewing of media. Furthermore, the case allows you to rotate it on its axis between portrait and landscape orientations with ease so you can adjust for easier typing, reading and watching movies.

Built-in hand strap for comfortable use
On the rear of the case is a recessed elasticated band which makes it comfortable and easy to hold at all times. This band also stretches over the front cover of the case whilst it is not in use to ensure that the front cover stays shut, keeping your tablet screen free from the rigours of daily wear and tear.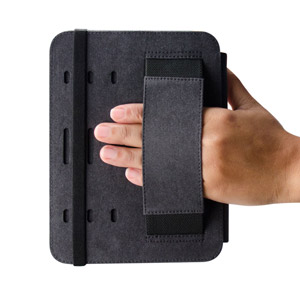 Includes sleep function compatability
Designed to save power when your tablet is not in use, the Marware Axis case features an automatic wake/sleep lid which when closed over the Kindle Fire HD 2012 screen will put the tablet to sleep and once opened again the tablet will automatically wake to the lock screen. This helps to maintain the battery life of your Kindle Fire whilst allowing you to quickly and effectively temporarily put away your tablet if necessary.
Specifically designed for the Kindle Fire HD 2012
As this has been specifically designed for the Kindle Fire HD 2012, a perfect fit can be guaranteed. There are also cut-outs for all of the ports and features on your device, meaning you never need to remove the case.