Google Nexus 7 Case-Compatible Desktop Sync and Charge Cradle
Product part number: LCC-GNE7
Product reference: 35866
Keep your Google Nexus 7 secure on a desk at an ideal viewing angle with this case compatible USB desktop cradle.
"Okay-ish"
"Great dock, but beware if you own a case."
"Just what I needed"
Most useful customer reviews
8 December 2012
Okay-ish
The cradle itself seems to work fine - it charges my Nexus 7 and keeps it upright whilst doing so... the basic requirements of a cradle, really. Some bits I'm not so pleased with, however: 1) The pictures on MobileFun.co.uk for this product suggests that there's no branding on it. This is what a I wanted - a cradle without some name I've never heard of plastered over it. What I received looks physically identical to the item in the pictures, except it's got Kidigi written right across the front of it. I'd already seen the Kidigi cradle elsewhere but I chose to buy from MobileFun because I specifically didn't want some unheard of brand name splashed across the item - sadly, that's what I got anyway. 2) The detachable collar (that you remove and is meant to allow you to dock the Nexus 7 with a case on it) doesn't really function too well. With the collar out, my Nexus in it's Poetic Slimline case doesn't fit in the cradle. I can't complain too much - nobody said it'd fit with this particular case, but it isn't as if it's a massive case so it seems it'd really only work with a very, very thin case. So I've had to remove the Poetic case and put the collar back in the cradle, which takes me to the next problem. 3) With the collar in, it's a snug fit to slip the Nexus in and out of the cradle. Not a problem if you don't have a screen protector, but I've got a Zagg InvisibleShield and after only docking/undocking a couple of times, it started to wrinkle the screen protector because the fit is so tight. Luckily, I'm quite handy with a dremel, so I cut the offending sections out of the collar without affecting the functionality, and now it's much better. Given it doesn't affect the functionality at all, it just seems like poorly thought-out design - if I can do it, the manufacturer should certainly be able to. 4) The cradle isn't weighted at all so you have to hold it down with one hand and lift the tablet out of the cradle with the other. Again, poorly thought-out design - how difficult would it have been to have put weights in it? I've got around it by using double-sided sticky foam pads to hold it onto my desk so I can dock/undock single handed now. In summary (and to date, Dec 2012) I've not seen any other dock for a Nexus 7 that I'd prefer more than this one, but you should be aware of the niggles I've highlighted above before making your decision.
Darren
United Kingdom
Nexus 7
26 January 2013
Great dock, but beware if you own a case.
This is an excellent dock for the Nexus 7. The device fits nice and snug and offers excellent support without adding too much strain to the USB port. One thing you need to be aware of is if you own a case. I do, an official rubber type case from ASUS. The dock provides a section that you can remove which allows the case to be used while in the dock. However, there is a problem. The case I have includes a front cover and the hinge on this cover makes it impossible to get the device into the dock. I solved this by carefully removing about an inch of the hinge with a sharp knife. Now it fits really well and I am very happy with my purchase.
Ian
Unknown
Nexus 7" tablet
8 September 2013
Just what I needed
Great little charger and stand. Just right for sitting on my desk next to my PC! Although had to wait a week or so for stock to arrive, Mobile Fun were very good at keeping in touch about delivery.
18 Reviews
|
Write a review
---
Why buy
Syncs and charges your Google Nexus 7
Stands your Nexus 7 stylishly on any flat surface
'Case-compatible' design even works with your Nexus 7 in a case
---
Additional information
Syncs and charges your Google Nexus 7

As well as charging your Google Nexus 7 from any USB port, you are able to sync it with the computer to easily transfer files in between your two devices.
Stands your Nexus 7 stylishly on any flat surface

Complementing your Google Nexus 7, this stylish dock will look great in all environments.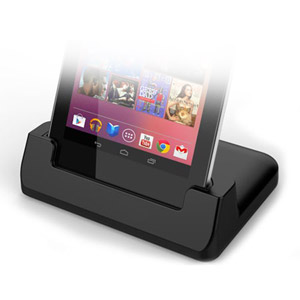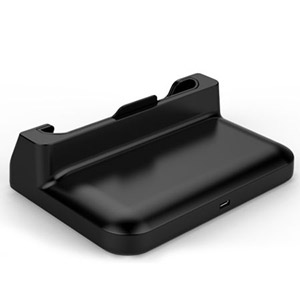 'Case-compatible' design even works with your Nexus 7 in a case

This well designed dock even works when you have a case on your Nexus 7, just remove the small insert from the dock and you will be able to charge and sync it as normal!
There are no reviews for your native language. Please select an alternative filter above.
Average rating 4,7 given by 18 customers | Write a review