X-Power 3 in 1 Speaker, Emergency Battery and Stand - Silver
Product reference: 35786
The X-Power is a portable speaker as well as a battery charger for your electronic devices such as your mobile phone, iPad or MP3 player.
"The sound is good, looks good. Not so stable"
"Nifty and aesthetically pleasing phone speaker/charger"
"Love this little speaker!"
Most useful customer reviews
Maryline
Northolt
Sony Experia
1 January 2013
The sound is good, looks good. Not so stable
Great sound. Great looks. Almost got my phone to hit the ground as it is not very stable. Display with plenty of flat space around.
Liz
London
3 in one phone speaker,charger
19 April 2013
Nifty and aesthetically pleasing phone speaker/charger
Well its early days but initial opinion is "wow" what a brilliant bit of kit, adequate sound, good looking, compact and just right for my hols. My partner suitably impressed begged me to order one, so naturally I did. fingers crossed it meets his needs too
6 April 2013
Love this little speaker!
This is a great little gadget! Not only is it a wonderful speaker for my mp3 player, it's compact, sleek, well-built, good-looking, unique, and multi-functional. I prefer a separate speaker to the tangling cords of a headphone set. My old speaker required a cable to connect to the mp3, which was quite unwieldy. I love how the Xdream X-power connects directly to my mp3 player. It has good sound quality and runs quite a while on a charge, also. I'm very happy with this speaker/stand/charger unit. The one thing that would make it better is if I could listen to the mp3 and charge it at the same time.
46 Reviews
|
Write a review
---
Why buy
Portable speaker, desk stand and emergency charger all in 1 product
Built-in 2200 mAh universal emergency battery
Powerful speaker to enjoy music at high volumes
Compatible with any device with a 3.5mm audio socket
---
In the box
X-Power 3-in-1 battery, speaker and stand
Charging cable for the X-Power
---
Additional information
Portable speaker, desk stand and emergency charger all in 1
The X-Power is a 3-in-1 portable speaker, charger and desk stand for your mobile phone, tablet computer or MP3 player. It allows you to play music through the speaker, whilst docking your device at a convenient and easy-to-view angle so you can still access the internet, emails and text messages without having to hold your phone or removing it from the speaker. It cleverly detects any device's audio signal and turns itself on or off accordingly, saving battery power.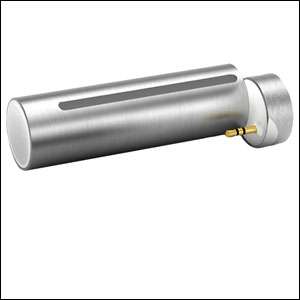 Built in USB port to charge your device
The X-Power also has a built in USB port which allows you to connect any USB cable to your device and it'll keep your device charged up whilst you're listening to your tunes. The X-Power features a 2200mAh lithium battery which has enough power to give a typical smartphone one full charge from empty. The X-Power itself can be re-charged with the included lead.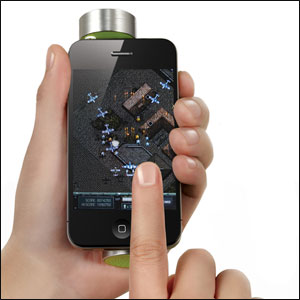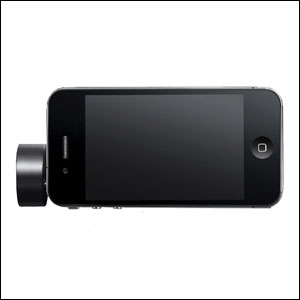 Enjoy your music at high volumes with the high quality speaker
The high quality speaker allows you to enjoy your music at high volumes so you can enjoy your music the way that it's meant to be heard - loud and clear! The end of the X-Power rotates and automatically details any audio signal which turns the speaker on. If the X-Power detects no audio signal, it will automatically turn the speaker off saving the battery.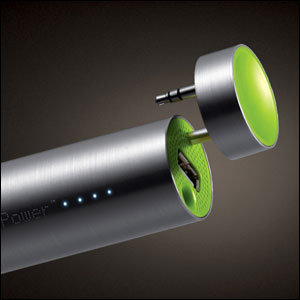 Universal compatibility
The speaker is designed to work with any device which features a 3.5mm audio socket, meaning not only will it work with most handsets, but will work with tablets and MP3 players too. Being 3.5mm, the X-Power has universal compatiblity, meaning if you change your device. you won't have to change the X-Power.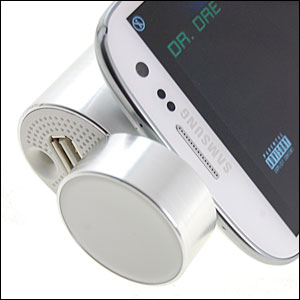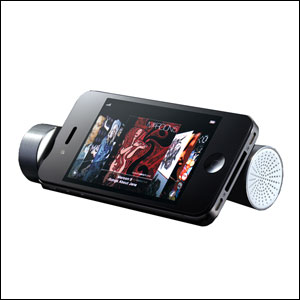 There are no reviews for your native language. Please select an alternative filter above.
Average rating 4,0 given by 46 customers | Write a review
NEW! Add a video - upload your video or send us a web link
X-Power 3 in 1 Speaker, Emergency Battery and Stand
MobileFunTV