Case-Mate Phantom Case for Samsung Galaxy S3 - Black
Product part number: CM021184
Product reference: 35768
Built to withstand sudden drops and accidental falls, the Case-Mate Phantom Case for Samsung Galaxy S3 is the epitome of protection.
"Excellent product"
"Case-Mate Phantom Case"
" BULKY - BUT VERY PROTECTIVE"
Most useful customer reviews
Anonymous
Manchester
Galaxy s3
9 October 2012
Excellent product
A really well made case makes the phone rather bulky tho, but first class protection, and of course first class service from mobile fun :-)
Dave
Unknown
Samsung Galaxy S2
3 September 2012
Case-Mate Phantom Case
Until I received it I hadn't appreciated just how big and heavy this case is. It's also very strong and protects the phone extremely well. It's just the thing for those contemplating mountain biking or shooting the rapids in a canoe. Unfortunately, in my instance, it's far too big and heavy for everyday use so I've stopped using it and purchased a lighter case that actually fits in my shirt pocket. I've given it 3 stars because it really is a good case for those with an active lifestyle.
Keith
Hastings
Samsung Galaxy S3
4 September 2012
BULKY - BUT VERY PROTECTIVE
PROS - Phone is protected really well from high or low drops, case is very strong yet flexible. - Thick front lip gives extra protection from screen drops, also lifts screen away from scratches when faced down on a desk. - Built in screen protector included, Easy install just pop front piece on. Good quality, finger slides smoothly and still very responsive. - Rubber texture over all gives good grip, patterns on side for extra grip. Does not atract dust like silicon. Phone does not slide about on wood, plastic, glass & metal. - Port cover for 3.5 jack and micro usb protects it from dust. - Cut-out for all sensor, camera, led, speaker & mic are well placed and still operational. CONS - Bulky, makes the phone harder to operate with one hand as its wider and thicker, a bit heavier *of course. - Screen protector is not *glued to screen, it leaves a very very small space where moisture *sometimes gets in, this creates a rainbow effect which when viewed from side is unpleasant. - deep charging port, can't use most charging docks. Same for 3.5 jack might be a problem for some 90 degree earphone jack, its ok with straight end. - Volume and power button needs quite a push. - Front plactic lining near sensor - distracts from operation or pull down menu/navigation bar, can still pull down but makes it harder. Conclusion - If you want supreme protection then buy this case, But you will have to compensate functionality e.g. (slim so easier to hold, open ports for quick access and the CONS mentioned above)
30 Reviews
|
Write a review
---
Why buy
For active lifestyles - hiking, jogging or even playing sports
Military-grade protection: Mil Spec Passed (Mil-STD-810F)
Tough protective case formed from DuoFlex and PolyCore materials
Stylish textured finish looks good and adds grip
Enhanced dust-proof protection to controls
Complete access to all ports and buttons
---
Additional information
Express your toughest style with the Phantom Case from Case-Mate
The Phantom case sports a sleek design fit for any lifestyle. The case features a two-piece design which impresses with its clean, aesthetic lines and fresh, on-trend colours which provide good looks and superb functionality.
Tough protective case formed from DuoFlex and PolyCore materials
The snap-on frame supports the front and sides of the Samsung Galaxy S3, protecting the phones screen when it's placed face down. The multi-layer outer piece is constructed from a revolutionary mixture of DuoFlex and PolyCore materials.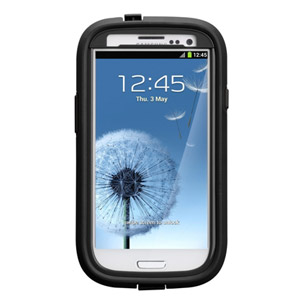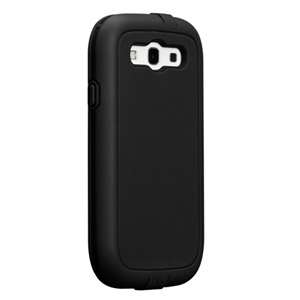 Provides in-built screen protection
Composed of two protective halves, the front frame insert includes a protective screen which covers your S3's touch screen without impeding the use of the device. This means that once encased within the Case Mate Phantom, your S3 is completely protected against scratches, knocks and drops without the additional need for a screen protector.
Soft and easy to grip hardshell protection
The DuoFlex provides a soft finish which creates a natural cushion and an easy-to-hold grip, whilst also covering each of the Samsung Galaxy S3's ports. The sold PolyCore material covers the interior for snug, hardshell protection.
There are no reviews for your native language. Please select an alternative filter above.
Average rating 4,5 given by 30 customers | Write a review