Power Bank Case for Samsung Galaxy S3
Product part number: SEMCG009600
Product reference: 35711
Never run out of battery when you really need it with the Power Bank Case for Samsung Galaxy S3. Giving you an extra 2200mAh.
"External battery"
"It's like having 2 batteries, awesome."
"a must have "
Most useful customer reviews
William Raymond Clarke
Wrexham North Wales
Samsung Galaxy S3
22 December 2013
External battery
An useful piece of kit. Neat, simple to fit and use.
steve
Folkestone
Samsung Galaxy S3
4 October 2013
It's like having 2 batteries, awesome.
I love my smartphone but like most people am frustrated by the short battery life. This case solves that problem, battery life lasts nearly 2 days for me. Also it gives the phone a more solid and safer feel. Highly recommended!
8 September 2013
a must have
great piece of kit money well spent
40 Reviews
|
Write a review
---
Why buy
Built-in Battery Backup gives you an extra 2200mAh
Protective case protects your phone from unwanted damage
A pop out kickstand allows you to stand your phone in landscape position
Specifically Designed for Samsung Galaxy S3
---
Additional information
Built-in Battery Backup
The Powerbank case enables you to double the battery capacity with an extra 2200mAh. This means you can have peace of mind that you will have battery when you need it most. Just charge the Powerbank case and once the battery of your phone is in the red, press the power button and the reserve charge in the Powerbank will start to transfer to you phone. Ideal for those times when you just can't get to plug socket.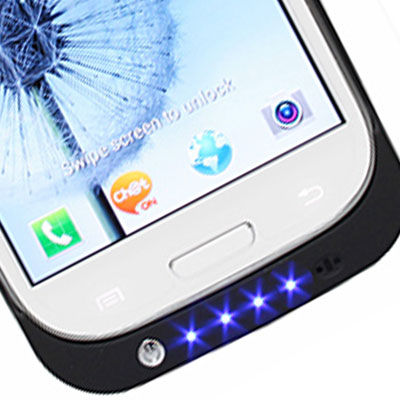 Protective Case
The Powerbank battery is built in to sleek and compact cover. The case comes in two parts, just slide your handset into the first half of the case and on to the micro USB attached at the bottom of the case. The second part then clips in and secures the phone in the case. The case is made from a durable plastic and has a soft to touch feel. So not only does it give you the extra power capacity but also protects the back of your handset from scratches and accidental dropping.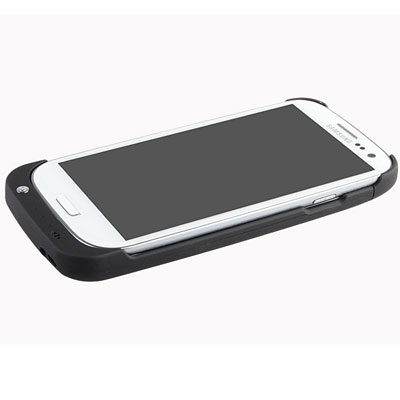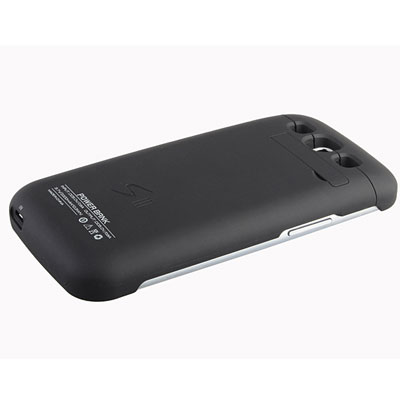 Pop-Out Kickstand
The case comes complete with a fold away kickstand allowing the phone, once in the case, to be placed in a landscape position. Ideal for watching a movie on a plane or catching up with the latest news sitting on a train. When finished just fold away the kickstand into the specially design case.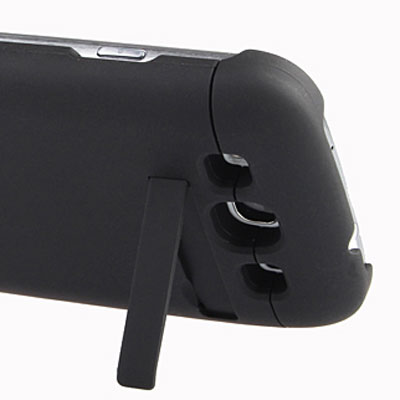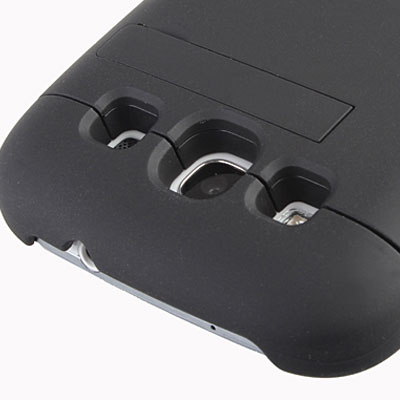 Specifically Designed for Samsung Galaxy S3
The case is designed around the Samsung Galaxy S3 which ensures a quality fit. The case also comes complete with cutouts for the camera lens, LED flash and speaker, as well as a cut around for the headphone socket and side buttons.
* Please Charge the Battery Case and Samsung Galaxy S3 I9300 Separately. (Do Not Charge the Battery Case and Samsung Galaxy S 3 I9300 At the Same Time)
Technical Specifications
Capacity: 2200mAh
Input Voltage: 5V
Input Current: 500mAh
Output: 5V
Output Current: 500mAh
Charging Time: 5 hours
Weight: 83g
Size: 147mm(L) x 73mm(W)x 15.5mm(T)
There are no reviews for your native language. Please select an alternative filter above.
Average rating 4,4 given by 40 customers | Write a review