Most useful customer reviews
G.Walkden
United Kingdom
Samsung Galaxy S3
8 November 2012
Dual desk dock
It's great to have a phone with all the features the GS3 has, but (there has to be a but)they put a heavy load on the battery. Using GPS tracking, bright screen, Bluetooth etc. the battery doesn't last a full day. So, when I am at my desk it sits in the dock and charges through the USB connection as well as being available for immediate file accesses. When I need to be away from my desk all day I simply take the fully charged spare battery with me to quickly swap over to give me more than a days usage. I have come to rely on the dual dock to give me continuous phone availability.
5 July 2012
What they dont tell you
i bought a dual charger for my Nexus, the spare battery would not charge. i wrote to the company and they told me to connect to the mini USB port......it works. The regular USB is for media transfer.
9 Reviews
|
Write a review
---
Additional information
Stylish matte black finish
The Dual Desk Dock is small enough to fit on even the messiest desk. It has an elegant matte black covering the whole dock, which will complement almost any design aesthetic. There are a pair of LED status indicators on the top of the dock, to show when there is power to it and when it is charging a phone.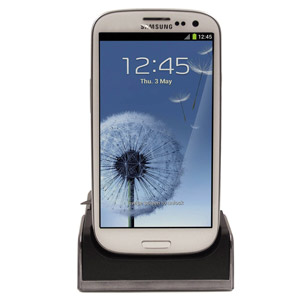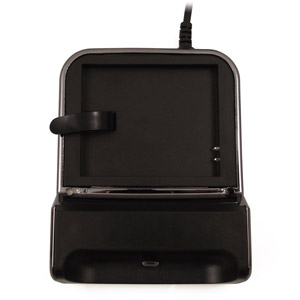 Custom made for Galaxy S3
This dock is made specifically for the Samsung Galaxy S3, so you don't have to worry about ill-fitting connections or over-charging of your device. The Dual Desk Dock has a built-in power protection circuit, which prevents any damage to your device from power surges or cuts.
Has slot for charging spare battery
Behind the cradle area is a slot for charging a spare battery, so you never need to be without power. You can charge either the phone on it's own, just the battery, or both at the same time.