Most useful customer reviews
21 November 2013
Samsung Charging Dock
At first I thought the charging point for the spare battery did not work until I read a previous review and realised that you have to buy a mini usb cord which plugs into the front of the dock and also connects to your computer etc. Would have helped to have had instructions included.
11 October 2012
Faulty
Product was faulty on arrival. Charged phone OK but one of the charging pins needed to charge the spare battery had broken off, I could hear it rattling inside. Mobile Fun and their superb returns system replaced it with no fuss. Replacement is working fine. Will be interesting to see for how long.
Steve Handley
Worcester
samsung galaxy S3
1 July 2012
Secondary charger
The desk charger works, holds the phone well but was a little cheap to the touch
9 Reviews
|
Write a review
---
Why buy
Stylish matte black finish
Custom made for Samsung Galaxy S3
Has slot for charging spare battery
---
Additional information
Stylish matte black finish
The Dual Desk Dock is small enough to fit on even the messiest desk. It has an elegant matte black covering the whole dock, which will complement almost any design aesthetic. There are a pair of LED status indicators on the top of the dock, to show when there is power to it and when it is charging a phone.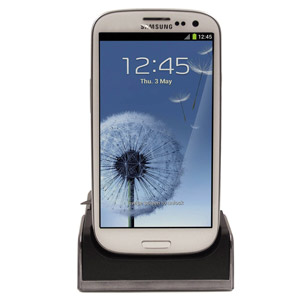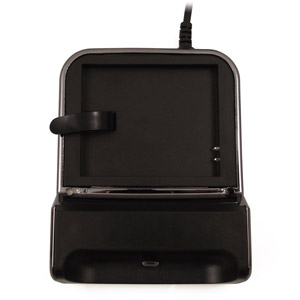 Custom made for Galaxy S3
This dock is made specifically for the Samsung Galaxy S3, so you don't have to worry about ill-fitting connections or over-charging of your device. The Dual Desk Dock has a built-in power protection circuit, which prevents any damage to your device from power surges or cuts.
Has slot for charging spare battery
Behind the cradle area is a slot for charging a spare battery, so you never need to be without power. You can charge either the phone on it's own, just the battery, or both at the same time.
There are no reviews for your native language. Please select an alternative filter above.
Average rating 3,3 given by 9 customers | Write a review
NEW! Add a video - upload your video or send us a web link
Samsung Galaxy S3 Dual Desk Dock Charger Review
UsednReviewed