Samsung Galaxy S3 / Note 2 MHL HDTV Adapter - EPL-3FHUBEGSTD
Product part number: EPL-3FHUBEGSTD
Product reference: 35119
Connect your S3 or Note 2 to any HDMI MHL TV or Monitor.
"Great accessory"
"Works!"
"Does what it says on the box"
Most useful customer reviews
Howard Gannaway
Doncaster
Samsung Galaxy S3
12 February 2013
Great accessory
It works just fine. iplayer output is excellent (as good as our 2mb connection will allow!) Definition on apps such as Chronica is awesome. Now my wife wants to use it but she is angry because she has an S2 and has to buy one of her own. "Why is that", she says,"why won't the same cable work with both phones?" I tell he it's progress and stuff changes. It's like inventing the petrol-motor-driven stagecoach and then wondering where the horses are going to go. (What is the answer?!!) PS It wont work with my surround sound.
Ben
Staffordshire
Samsung galaxy S3
11 October 2012
Works!
I used this on my lg50pk350 tv and it works as expected. There is a little lag on the menu but videos plays fine, audio is in sync and subtitles work fine too. I've tried a few games and they seem to work okay aswel although with a wire attached I didn't feel like it was comfortable to play games on the telly for an extended period, I suppose this is where the all share cast dongle would be better or perhaps rooting the phone and using a ps3 pad. The lead and my standard charger that came with the phone in combination tend to keep the phone level charge at a steady percentage, I don't know what effect this would have on the battery health again perhaps the the dongle would be better, allowing the battery to run out. my telly is 1080p 50inch plasma and it worked as expected, I did try it on an old Sony bravia 720p 42inch led (I think) and it surprisingly worked, the only issue I had was the aspect ratio. All in all a good product but I think I would prefer the dongle because the wires are a bit to much clutter to be anything other than an occasional use item.
Derek
Fife, Scotland
Samsung S3
16 September 2012
Does what it says on the box
No other adapter works with the S3, this product does exactly as described, only issue is a slight drop in picture quality when watching video,other than that excellent product at a great price.
66 Reviews
|
Write a review
---
Why buy
Mirror your S3 / Note 2 through the standard HDMI output on a compatible TV
Simple and easy to use
Genuine Samsung product made for the Galaxy S3
---
Additional information
Mirror your S3 / Note 2 through the standard HDMI output on a compatible TV
The Samsung Galaxy S3 and Note 2 are one of the most powerful smartphones available, capable of recording and playing back video in full 1080p HD. With the HDTV adaptor, you can playback your videos on your HD-ready TV. You'll be amazed at what your phone can do with the Samsung S3 / Note 2 and HDTV adaptor!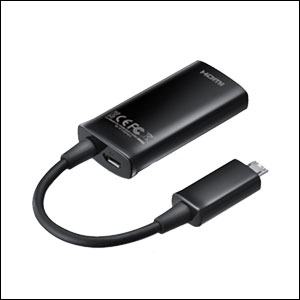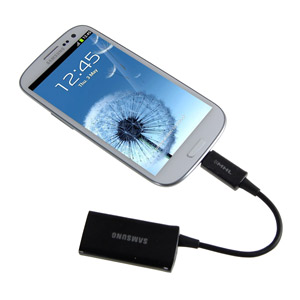 Simple and easy to use
Simple and intuitive, the Samsung Galaxy S3 / Note 2 MHL HDTV Adapter is easy to set up and connect to your Galaxy S3 or Note 2. Simply connect the adapter to your smartphone via the Micro USB and use a regular HDMI cable to connect the adapter to your HDTV. Finally, to ensure that the connection can be established the adapter need to be powered using a mains Micro USB charger.

Genuine Samsung product made for the Galaxy S3
This is a genuine Samsung part, and has been made for and fully tested with the Galaxy S3 & Note 2 so you can be confident of perfect compatibility with your phone.
There are no reviews for your native language. Please select an alternative filter above.
Average rating 4,8 given by 66 customers | Write a review
NEW! Add a video - upload your video or send us a web link
Galaxy Note II, Galaxy S III Official Samsung MHL Adaptor HDMI out [Full Review]
DroidModderX ROOTAllTheThings