Genuine Samsung Galaxy S3 Extra Battery Kit - EB-H1G6LLEGSTD
Product part number: EB-H1G6LLEGSTD
Product reference: 35104
Official Samsung Galaxy S3 Battery and Battery Charger - Make sure your spare battery for the Samsung Galaxy S3 is always fully charged.
"Great battery solution"
"Genuine Samsung Galaxy S3 Extra Battery Kit"
"Excellent product"
Most useful customer reviews
Donna
Oxford
Samsung Galaxy S3
9 May 2015
Great battery solution
Works exactly as described. Great idea, to be able to charge a spare battery, independent of the phone. I love being able to use my phone on one battery, whilst the other is charging. The charging unit is a fab design, not only to use as a phone stand but also folds down to be an excellent carrying case, for the spare battery, without being bulky. Love it!
mick berry
lancashire
samsung galaxy s3
9 April 2015
Genuine Samsung Galaxy S3 Extra Battery Kit
this doesn't come with a usb lead so you need to use the phone one! other than that this is a great piece of kit. i needed a spare battery as i use the phone as a gps when walking, being able to charge a battery without having to take the phone apart makes things much easier. it's well made and genuine. looks like it's built to last.
Graham Welby
Leicestershire
Samsung Galaxy S3 Extra battery kit.
12 January 2015
Excellent product
A quality product, promptly delivered. Pleasantly sleek, slim design with LED charging indicator and it serves as a handy stand for the phone too. Not much else can be said other than it's a good kit!
61 Reviews
|
Write a review
---
Additional information
Make sure your Samsung Galaxy S3 never runs out of power. This combination of stand, battery and battery charger lets you place your Samsung Galaxy S3 at a convenient angle for viewing texts, emails and videos while simultaneously charging the included battery. The charger features a standard microUSB port on the back and an LED status indicator so you know when your battery is being charged and also when it is fully charged.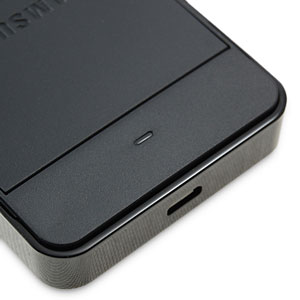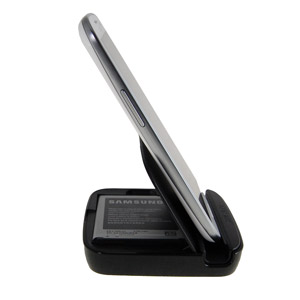 The battery charger also incorporates a desk stand which allows you to keep your Samsung Galaxy S3 in an easy to view position so you can still answer your texts, emails and phone calls. The pack does includes a spare battery.