Most useful customer reviews
Ivan
Belgium
Samsung Micro USB Charging Desktop Dock
22 January 2016
Fine device and works well for my use
Fine device and works well for my use. I only use this for charging my smartphone from the same brand and it even works with a smartphone from another brand. The device is from a shining black materiaal and it looks well. It's only a dock, so You need a separate charger and a USB-cabel but normaly this items are deliverd white a smartphone.
John Grice
Burnley
Samsung Galaxy Charging dock
10 October 2015
Good device
Excellent service good device
alison veitch
South West Scotland
samsung micro desktop dock
13 July 2015
Great product, fits phone with protective cover on
I was apprehensive about this product as I didn't want to have to remove my protected cover every time I charged it, who would..& as everyone knows smartphones need a lot of charging, but I need not have worried, the item arrived promptly, I took it out of the box, plugged my wall charger into the back, inserted my phone and presto, no more farting about finding the adapter to fit in the phone, it looks smart and tidy on the kitchen shelf, may get another for the bedroom. Would encourage anyone with the Samsung 3 to purchase.
86 Reviews
|
Write a review
---
Additional information
Maximise your desk space with style
The Samsung Desktop Charging Dock is a stylish solution to maximise your space at home and at work. This Official Samsung Dock allows you to get rid of all the tangled cables and keep your Samsung device within an arm's reach at the same time. Featuring a chic folding backrest and a rubberised base, this stand will securely hold your Note 4, Galaxy S6, S5 and many more Micro USB handsets on your desk or bedside table.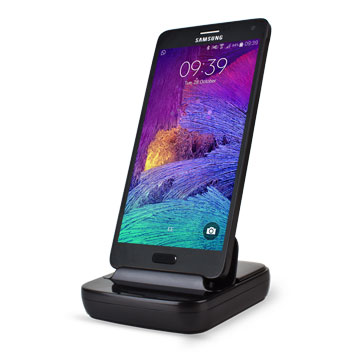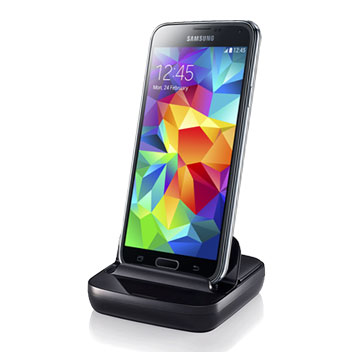 Play audio from your smartphone using the audio line out connection
Ideal for parties or simply in the living room while you relax, the Samsung Desktop Dock for Galaxy smartphones features a 3.5mm audio line out connection which allows you to connect the dock to external speakers for high-quality audio reproduction. This effectively transforms your device into an entertainment centre whilst charging the phone at the same time.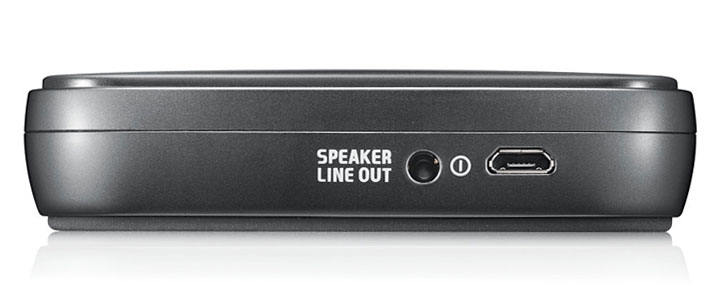 Note: Not all Samsung Galaxy phones support audio out via Micro USB
Charge and use your device
Fitted with a Micro USB connector, this elegant dock enables you to keep your device fully charged, while your screen stays visible, ideal for viewing media and checking notifications. Finished in high-grade aluminium, the dock is designed to hold your smart device and to allow for total control of it while docked.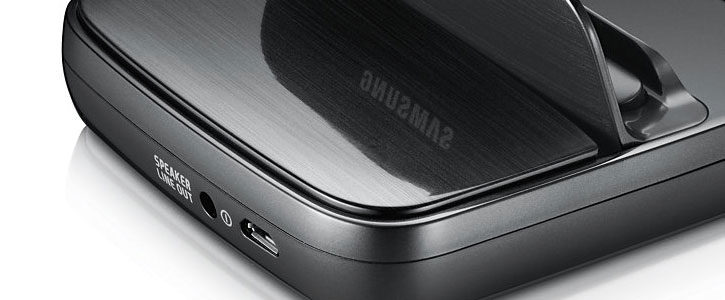 Holds phone at optimum angle for viewing websites, videos and emails
This desktop dock is made to hold your Samsung Galaxy phone at the perfect viewing angle for use no matter what you're doing. Whether you want to surf the web or catch up on last night's TV, the desktop dock holds your phone in the perfect position.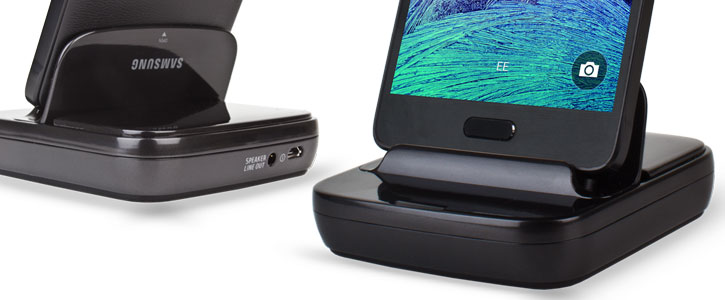 Small and portable design
The small and portable design of this charging dock makes it compact enough for travel use, helping you to keep your Samsung smartphone fully charged and ready to go wherever you are.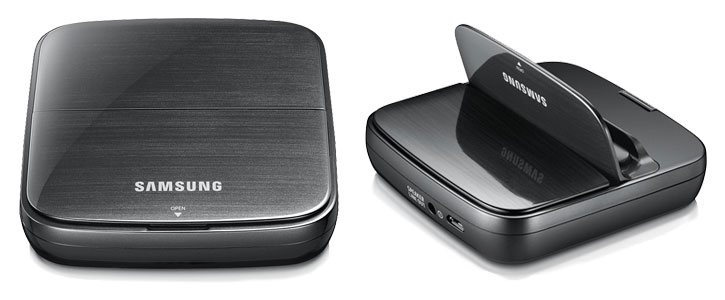 Genuine Samsung accessory
This is a genuine Samsung product, so you can be sure it is made to the same high quality standards as their other products.
Please Note: Newer Samsung Galaxy phones including the S5, S6, S6 Edge and others may not support the cradle's line-out feature, however will still charge. This cradle does not come with any cables. Please use your existing charger/USB cable. If you require an audio line out cable, please see our 3.5mm to 3.5mm Audio Cable.