Most useful customer reviews
16 April 2015
dock charger
I love it! Perfect size! Would definitely recomnend it!!!
14 April 2015
phone dock
I love this phone dock that i ordered!! Love the size and quality of it! It is perfectand holds my ssamsng galaxy s4mini very nicely! Would definitely recommend it yo others looking for a phone dock! Is compatible with alot of different samsung phones.
26 December 2014
Exactly what I wanted and expected
This is a great quality item that will do exactly what you want. I have no hesitation in recommending it and hey, it looks cool too which is always a bonus.
60 Reviews
|
Write a review
---
Additional information
Maximise your desk space with style
The Samsung Desktop Charging Dock is a stylish solution to maximise your space at home and at work. This Official Samsung Dock allows you to get rid of all the tangled cables and keep your Samsung device within an arm's reach at the same time. Featuring a chic folding backrest and a rubberised base, this stand will securely hold your Note 4, Galaxy S6, S5 and many more Micro USB handsets on your desk or bedside table.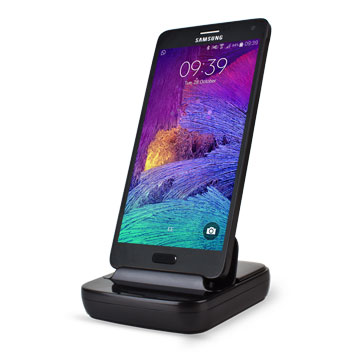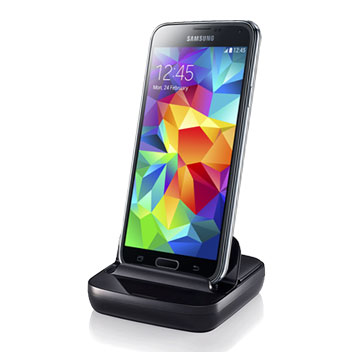 Play audio from your smartphone using the audio line out connection
Ideal for parties or simply in the living room while you relax, the Samsung Desktop Dock for Galaxy smartphones features a 3.5mm audio line out connection which allows you to connect the dock to external speakers for high-quality audio reproduction. This effectively transforms your device into an entertainment centre whilst charging the phone at the same time.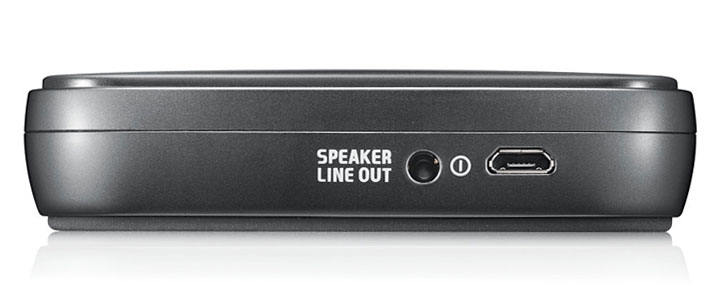 Charge and use your device
Fitted with a Micro USB connector, this elegant dock enables you to keep your device fully charged, while your screen stays visible, ideal for viewing media and checking notifications. Finished in high-grade aluminium, the dock is designed to hold your smart device and to allow for total control of it while docked.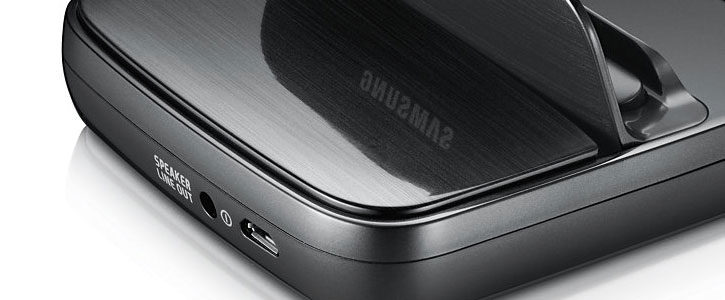 Holds phone at optimum angle for viewing websites, videos and emails
This desktop dock is made to hold your Samsung Galaxy phone at the perfect viewing angle for use no matter what you're doing. Whether you want to surf the web or catch up on last night's TV, the desktop dock holds your phone in the perfect position.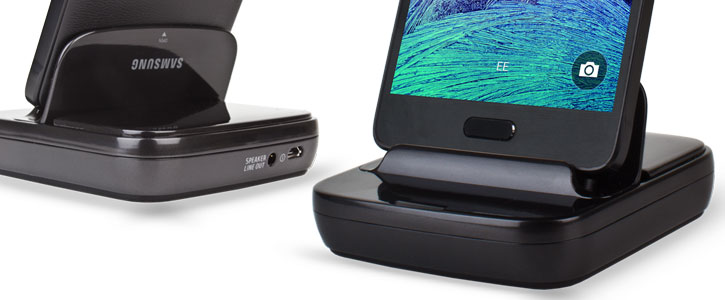 Small and portable design
The small and portable design of this charging dock makes it compact enough for travel use, helping you to keep your Samsung smartphone fully charged and ready to go wherever you are.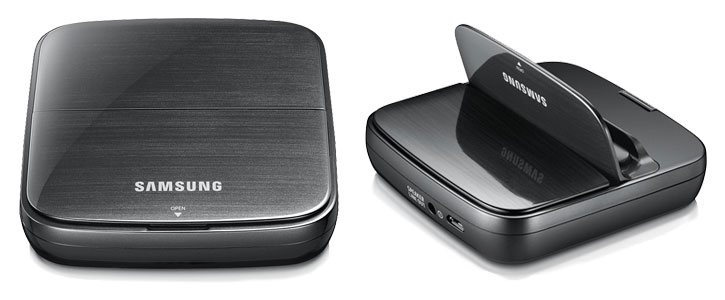 Genuine Samsung accessory
This is a genuine Samsung product, so you can be sure it is made to the same high quality standards as their other products.
Please Note: This cradle does not come with any cables. Please use your existing charger/USB cable. If you require an audio line out cable, please see our 3.5mm to 3.5mm Audio Cable.