Samsung Desktop Dock for Galaxy Phones - Black
Product part number: EDD-D200BEGSTD
Product reference: 35103
Give your Samsung Galaxy phone a home on your desk with this official desktop dock.
"Samsung Desktop Dock for Galaxy Phones"
"Just the job"
"A Very Fine Product"
Also available:
Most useful customer reviews
Geoffrey Farrugia
Malta
Samsung Galaxy SIII mini
3 March 2014
Samsung Desktop Dock for Galaxy Phones
A useful gadget for those who seek in hooking up there Samsung to an amplifier and turning their mobile into a sound system. (especially if you have a rather large SD card) Customer support was very quick and precise in response to my questions. I'll recommend this product. 10/10
12 January 2014
Just the job
Just what you would expect from a Samsung product, easy to get the phone in and out,holds the phone at just the right angle, folds down so it can easily be popped in a bag for travelling.
Ray C
East Sussex
Samsung Galaxy S4 Mini
11 October 2013
A Very Fine Product
I've had this dock for a few weeks now and am very impressed with it. It's well thought out, smart and unobtrusive. I particularly like the fold down device tray as it prevents dust and such like entering the connector. It's primary function is to allow me to use the phone to try out new music via Spotify before committing to a purchase and also listen to internet radio while I have a well earned lie on weekends off. I don't know whether the dock influences the quality of the music but there's is no doubt that listening via the phones micro USB connection has moved the enjoyment factor up by a good few notches. The dock connected to my TEAC AURB Mini which is itself a good audio reproducer but since using the dock it all sounds so much better than it did via the Headphone out connection. The phone fits well on the dock and is stable. It's rubberised base prevents slipping and the view angle of the phone is good. Not that there's much to see or needs to be seen for my purposes. I am now considering purchasing a second one for the lounge so I don't have to move the dock from room to room All in all, an excellent product and a happy owner.
35 Reviews
|
Write a review
---
Why buy
Play audio from your smartphone using the audio line out connection
Holds phone at optimum angle for viewing websites, videos and emails
Genuine Samsung accessory
---
Additional information
Play audio from your smartphone using the audio line out connection
Ideal for parties or simply in the living room, the Samsung Desktop Dock for Galaxy Phones features a 3.5mm audio line out connection which allows you to connect the dock to external speakers for high-quality audio reproduction. This effectively transforms your S3 into an entertainment centre whilst charging the phone at the same time.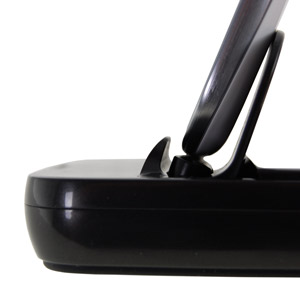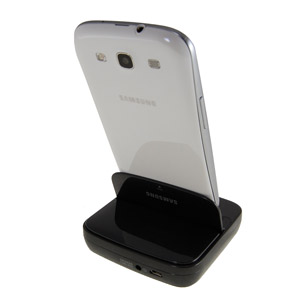 Holds phone at optimum angle for viewing websites, videos and emails
This desktop dock is made to hold your Samsung Galaxy phone at the best angle for use no matter what you're doing. Whether you want to surf the web or catch up on last night's TV, the desktop dock holds your phone in the perfect position.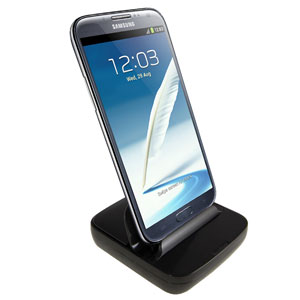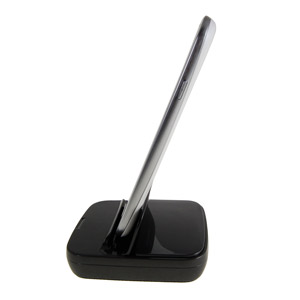 Genuine Samsung accessory
This is a genuine Samsung product, so you can be sure it is made to the same high quality standards as their other products. It is also designed to fit all the Samsung Galaxy range including the Galaxy S2, S3, S3 mini, Note and Note 2. So you can be sure of complete compatibility with your phone.
Please Note: This cradle does not come with any cables. Please use your existing charger/USB cable. If you require an audio line out cable, please see our 3.5mm to 3.5mm Audio Cable.
There are no reviews for your native language. Please select an alternative filter above.
Average rating 4,2 given by 35 customers | Write a review
NEW! Add a video - upload your video or send us a web link
Genuine Samsung Galaxy Note 2 Desktop Dock
Milkerz5