Most useful customer reviews
Richard Windsor
Coseley
Ipad 2, iPhone 4s with lifeproof case.
10 January 2013
Great iPhone/iPad alarm clock that's compatible with lifeproof case.
I have an iPad 2 and iPhone 4s that I charge every night on a dock, but after my old alarm clock recently kicked the bucket, I thought I'd go for a more modern alarm clock offering the option of charging both the iPhone and iPad and using my music library as the alarm tone. This sounds a reasonable request but many models do not offer the option to charge both devices, the Luna Voyager 2 does! Also, another difficulty I have was that I have my iPhone in the excellent Lifeproof case, and removing it is quite a chore so I needed the dock to work without removing the case, again...the Luna Voyager 2 fits this bill with a separate dock extender I purchased, and the dock is adjustable to allow for most cases without a dock extender. There aren't a lot of buttons on the device but they are easily accessible, while at the same time being very discrete. More complex functions can be accessed using the free downloadable app for both iPhone and iPad that allows syncing of the time, syncing two individually adjustable alarms , the dimming level of the front display, snooze duration, radio station preset, etc. Everything on this app is well laid out, simple, and very easy to operate. The alarm dock itself is smaller than I anticipated, and very sleek, but quite weighty for it's size. It has stereo speakers (again something hard to come by on other devices) and the sound is surprisingly good, it's powerful and doesn't distort. The display is very easy to read and can be dimmed down to a level most will find suitable. It also has a battery backup so the alarm will still operate at the correct time if there should be a power outage while you are asleep. I was extremely pleased with this purchase and would definitely recommend it for other iPad/iPhone users looking to upgrade their old alarm clocks while also conveniently charging their devices.
1 Reviews
|
Write a review
---
Additional information
Designed by renowned accessories manufacturer XtremeMac, the Luna Voyager 2 is a low profile, FM dual alarm clock and personal audio system for iPod, iPhone or iPad.
Designed to work with devices inside a case
This cleverly designed dock from XtremeMac holds your iPad (any model), iPhone or iPod securely in place at all times - and can even accodomate the majority of cases, meaning you won't need to risk damaging your device by taking it out of its case to put into the Luna Voyager 2.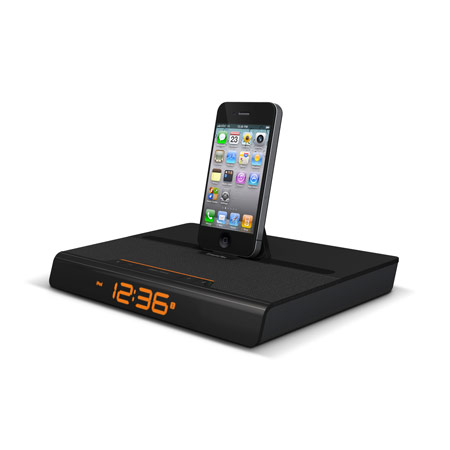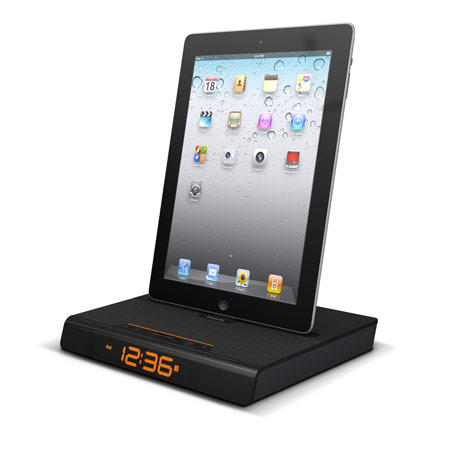 AC powered with alarm battery backup
Running from a UK mains power adapter, the device also has a battery backup (batteries not included) so that even if you had a power cut, your alarm would still go off - so you never have an excuse to be late.
Dual-alarms can be set through device or through the unit
Dual independent alarm settings allow two users to wake to iPod, FM radio or chime. Additionally, the Luna Voyager 2 features a battery backup to ensure users will never miss an alarm.
Customise with included Luna Voyager application
Additionally, the dock is enhanced by the free Luna Voyager app available for download from the App Store allowing users to set dual independent alarms and wake to iPod, iPhone, iPad, FM radio or buzzer. The app also offers FM radio tuner control and multiple channel preset.
Easy to read display with brightness control
With crisp and clear orange lighting on a jet black background, the clean intuitive user interface with an easy to read display. Additionally, you can adjust the brightness settings to suit your requirements.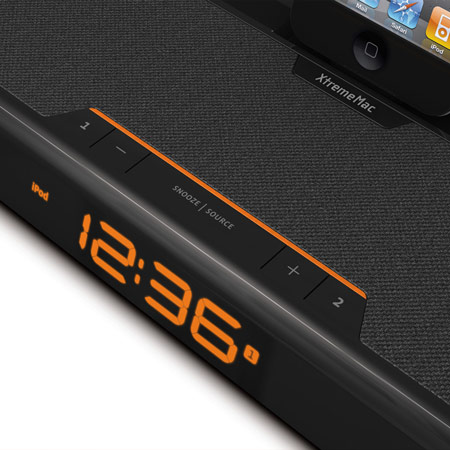 FM radio and 3.5mm audio connection
Enjoy sounds of the radio or even songs from other devices with a universal 3.5mm audio jack connection.