Most useful customer reviews
Calum wood
Glasgow
Samsung Galaxy
14 April 2016
great handy item
I love this little pen it makes texting and using small icons so easy with the stylus . Stylish light and so versatile !!
Date Tovey
Coventry
Samsung galaxy tablet s2
13 February 2016
Great stylus at reasonable price
Ordered 2 as girlfriend wanted one as well. Delivery was really quick. The stylus is good quality and does a great job for galaxy s2 tablet. Looks stylish for price paid.
Alan Fagg
Ashbourne
Samsung Galaxy Tab 2S 8inch
11 October 2015
Turn your Tab into a Note!
I wanted to replace my old 8" Galaxy Note 1 with an up to date version. Imagine my horror when I found that Samsung do not have one yet - I did not want a 10 or 12 inch tablet - the 8 " is ideal for me. So I bought a Tab 2s - brilliant except no pen! No longer a problem for me - the iDuo stylus pen does everything I need - take notes, draw etc. Its actually easier to use them the S pen with my old Note. It's longer, no button to bother about. I just click on my note App (there are plenty to chose from, up pops a page and off I go, great! Ok it may not be pressure sensitive etc. but all I want is to take the odd note to myself, the odd sketch or to notate a photo - I am not doing any artwork so pressure sensitivity is not ban issue. I also have case for my Tab that has a pen holder at the side - so works a treat!
149 Reviews
|
Write a review
---
Additional information
Omnidirectional tip for accurate on-screen interaction

The iDuo stylus has an omnidirectional tip which you are able to use on-screen in any direction you wish. This allows for accurate on-screen movements, drawings and precision touches.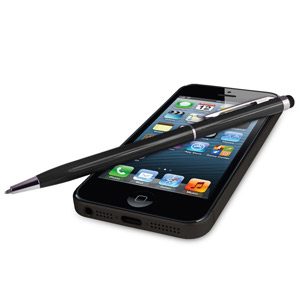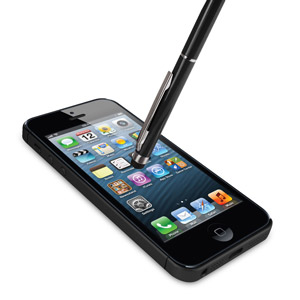 Reduces on-screen fingerprints

With the use of a stylus, on-screen fingerprints and smudges will be significantly reduced which improves screen clarity enabling you to use your tablet for a much longer time without getting frustrated and having to clean it.
Works with all capacitive screens

This stylus will work with all capacitive touch screen tablets and phones, which is 99% of the latest devices.
High quality ballpoint pen at the other end

If the great stylus wasn't enough for you, there is a built-in ballpoint pen at the other end which is revealed by twisting off the cap. This means you can take the stylus everywhere with you - and always have somewhere to use it.