Additional information
Stylish, unique and convenient
Styled by the renowned Nokia design team, this Nokia Luna Headset is the perfect combination of playful form and function. The slim and simple looking design of the headset's body is further emphasised by the curved contours of the headset base to produce a contemporary and aesthetically pleasing product.
This headset features intuitive automatic volume adjustment controls as well as touch activated NFC pairing capabilities to ensure that using it is both easy and efficient. A moulded earpad insert allows comfortable use for prolonged periods while weighing a mere 5g the headset is so lightweight and discreet that you will not even notice that you are wearing it.

Features Multipoint connectivity to connect two phones simultaneously
Multipoint allows your Bluetooth Headset to be connected to two Bluetooth devices at the same time. When a call comes in, the headset knows which handset is ringing and will connect to the phone automatically.
Multipoint can benefit most Bluetooth Headset users. It is ideal if you have to carry around a work phone and a personal phone but don't want the hassle of having two separate headsets or re-connecting and pairing you headset with each phone.
If you use Skype or VOIP telephony at home, but don't want to be tied down to sitting in front of your PC, Multipoint means you can pair your compatible Bluetooth Headset to your PC and your mobile and no matter which phone rings, the call will come through to your headset. Read our guide on using a Bluetooth Headset with your computer.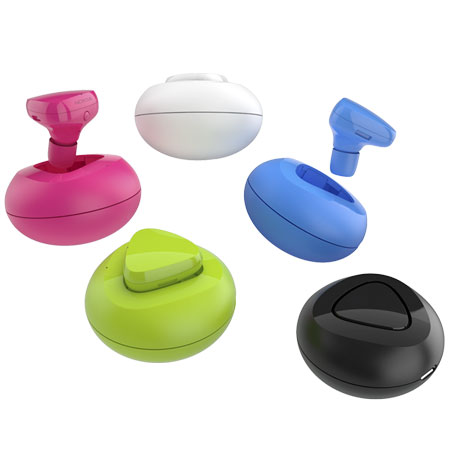 Convenient base stores and charges your headset at the same time
Comprised of two parts, this tiny in-ear headset includes an equally small and stylish base which houses the the headset when not in use. Fitting flush to the base once inserted, the headset is protected from damage or loss and is charged via a micro USB charging interface on the charging holder.
Voice Prompts for connection and battery information
Allowing up to 8 hours talk time* and standby time of up to 60 days (in the charging holder) this impressive little headset also notifies you via voice prompts about the status of your battery life and pairing information so that you will never be without power or appropriate connections.
Includes Bluetooth 2.1 and NFC for rapid device pairing and connection
In addition to the advanced multipoint technology, this headset uses both headset and handset Bluetooth profiles, can automatically connect to your phone when activated and also features NPC technology in order to connect to supported wireless devices by simply tapping them against the back of the charger base.
*2 hours with the headset, 6 hours in the charging holder