Cellular Line GRIP Anti-Slip Pad
Product part number: GRIP
Product reference: 32621
The Cellular Line Grip attaches to the dashboard of your car and firmly holds your phone, keys and more without any adhesives or residue.
"This fits the bill"
"Fabulous"
"Great Product"
Most useful customer reviews
Stephen Pepper
Musselburgh
iPhone 6
10 August 2015
This fits the bill
I've been trying to figure out what to do with my new iPhone 6 in its very sleek but slippy new case when I'm driving. I hate these holders that stick to the air vent and I didn't want one which sticks to the window. This fits the bill Job done guys top product very sleek and the phone sticks a treat!! Full marks 5 star
Jane
South Yorkshire
Sony Xperia e3
14 June 2015
Fabulous
Does a fantastic job,did not know what to expect from such a unusual piece of equipment. Absolutely amazing .would recommend.
E Horne
London
Samsung Galaxy 5
30 May 2015
Great Product
Really pleased with this. Had seen it in a friends car - and noted down the make as I had previously purchased a similar but cheaper model from the internet which failed to work at all and lost its stick after three days. This one works brilliantly well. I have had it about a month - still sticks perfectly, I can see and place it on my car in just the right place. Very happy. Use it every time I drive.
163 Reviews
|
Write a review
---
Additional information
Adhesive-free silicone holds mobiles, keys, and more at up to 90° angles
Made from a special silicone material, the Cellular Line GRIP can hold any mobile phone, keys, sunglasses, and more with ease. Simply place your items on the pad, and they'll stick like glue for the duration of your journey. You can position the pad wherever you like as the adhesive properties work from flat up to 90°, which is fully vertical. As the GRIP contains no glue, it is not harmful to the environment and will not damage your device.
Flexible design contours to any dashboard
The silicone material of the GRIP is completely flexible, so will wrap around your dashboard no matter what the shape or texture. This means it will work in any vehicle, so when you change your car you don't need to change your GRIP. The GRIP measures 143 x 80mm, so is big enough to hold any mobile phone, but small enough to store in your glove box when not in use.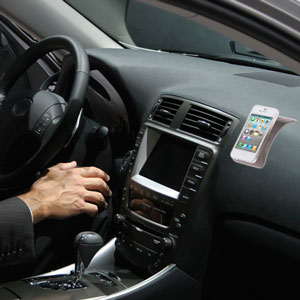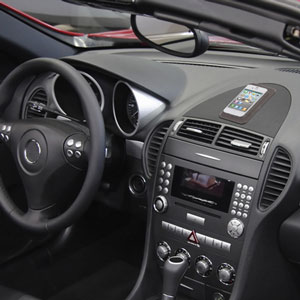 Leaves no residue on your device or car
Thanks to the lack of adhesives in the GRIP, it leaves no residue on your phone when removed. It also will not mark or stain your dashboard no matter how long you leave the GRIP in your car.
Fully washable so you can return it to as-new condition when dirty
Over time, the GRIP will attract dust and dirt which will lower the adhesive properties. To return it to as-new condition, simply wash the GRIP and once dry it will be as sticky as the day you bought it.
Specifiations:
Material: Silicone
Dimensions: 143 x 80mm