Cellular Line GRIP Anti-Slip Pad
Product part number: GRIP
Product reference: 32621
The Cellular Line Grip attaches to the dashboard of your car and firmly holds your phone, keys and more without any adhesives or residue.
"Anti-Slip Pad"
"Super product"
"really useful"
Most useful customer reviews
Andrew Lupton
Epsom
iPhone 5S
20 June 2014
Anti-Slip Pad
Works perfect even on the bumpiest roads
Ruth Mcneil
Edinburgh
I phone 5s
16 June 2014
Super product
Bought this for my phone in car it really works saves all the hassle of fixing your phone in a holder -mount quick & easy
28 May 2014
really useful
my partner uses it when a passenger in my car couldn't believe it would work but it did!
154 Reviews
|
Write a review
---
Additional information
Adhesive-free silicone holds mobiles, keys, and more at up to 90° angles
Made from a special silicone material, the Cellular Line GRIP can hold any mobile phone, keys, sunglasses, and more with ease. Simply place your items on the pad, and they'll stick like glue for the duration of your journey. You can position the pad wherever you like as the adhesive properties work from flat up to 90°, which is fully vertical. As the GRIP contains no glue, it is not harmful to the environment and will not damage your device.
Flexible design contours to any dashboard
The silicone material of the GRIP is completely flexible, so will wrap around your dashboard no matter what the shape or texture. This means it will work in any vehicle, so when you change your car you don't need to change your GRIP. The GRIP measures 143 x 80mm, so is big enough to hold any mobile phone, but small enough to store in your glove box when not in use.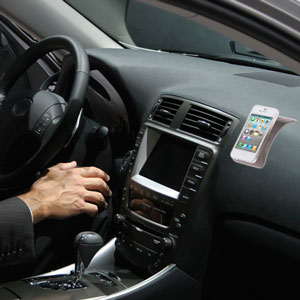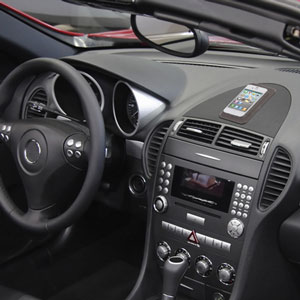 Leaves no residue on your device or car
Thanks to the lack of adhesives in the GRIP, it leaves no residue on your phone when removed. It also will not mark or stain your dashboard no matter how long you leave the GRIP in your car.
Fully washable so you can return it to as-new condition when dirty
Over time, the GRIP will attract dust and dirt which will lower the adhesive properties. To return it to as-new condition, simply wash the GRIP and once dry it will be as sticky as the day you bought it.
Specifiations:
Material: Silicone
Dimensions: 143 x 80mm