Most useful customer reviews
william reader.
preston lancs..
3 January 2016
to good for the money...
An absolutey briliant device,clear,mike clear no distorsion..would recomend to anyone..
mrs l moloney
hertfordshire
parrott minikit bluetooth hands free
10 November 2015
very good hands free parrott
For a technophobe like me this was perfect. So simple to set up. Just charge and then sync with your phone. It works perfectly with my BlackBerry Passport phone. I've only lost signal in a poor signal area (a forest) otherwise perfect signal and clear reception
Les Burns
Belfast
parrot minikit
18 April 2015
Brilliant
The kit connection was so simple it comes on and off automatically with the ignition and pairs on and off with the phone automatically as well. Crystal clear both ways and zero Road noise.Great product and great service.
37 Reviews
|
Write a review
---
Additional information
Multipoint technology for connecting to two phones at the same time
If you like many others have a work and personal phone but cant decide which one to pair with your car kit, this Parrot MINIKIT+ is perfect for you. This features multipoint technology which will pair with two phones at the same time and will automatically connect to which phone is ringing. Making the decision for you whether to pick up your work or personal call.
Automatic phonebook syncronisation
Synchronisation with your telephone directory will start automatically the first time you use the Parrot MINIKIT+. You will then find all your contacts in the hands-free kit's memory.
Advance voice control dials and answers calls
To place a call, start the voice recognition function by pressing the green button and then say the name of the contact; the Parrot MINIKIT+ recognises all voices! If you wish to find a last name, a first name or a nickname, browse through your directory and listen to your kit read the names of all your contacts, then validate with a single click to place the call. Receiving calls is also very simple; during an incoming call, the Parrot MINIKIT+ says the name of the calling party; you may then say "accept" or "refuse" when prompted by the Parrot MINIKIT+.
Listen to your music or navigation commands through bluetooth
Thanks to the Bluetooth A2DP audio profile, you can listen to navigation instructions from your smartphone or to your music directly from the Parrot MINIKIT+. When you receive a call, the navigation instructions are interrupted automatically and then resumed when you end your call.
Space for 20000 contacts
If you have many contacts, this MINIKIT+ is perfect for you as it has the storage space for 20,000 contacts! A quite simply amazing number of contacts for the size of this unit.
Up to 6 months standby time
Another great feature of this kit is that on a full charge, can last for up to 6 months on standby! Making this not only a feature packed hands-free but also an eco-friendly one too.
Simple to install and use
The Parrot MINIKIT+'s vibration sensor will switch it into On mode and automatically connect it to your mobile phone as soon as you enter your vehicle. You can browse through the menus using the knob, validate with the green button or cancel the action by simply pressing the red button. It also comes with an elastic strap which is easily reversible whether you have your sun visor down or up. Ingenious and practical!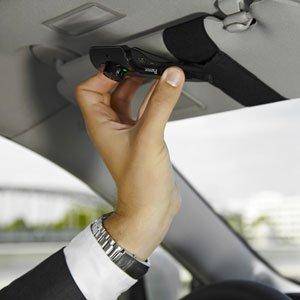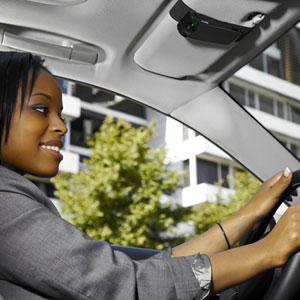 Dimensions
Length: 110 mm
Width: 60 mm
Thickness: 29 mm
Weight: 83 g
General
Dual Mode (Multipoint): simultaneous connection of two Bluetooth telephones
Number of contacts: 2 000 per phone total of 20 000
Pairing: up to ten devices
Battery: lithium-ion, maximum charging time of 3.5 hours
Battery life: over 12 hours' talk time over 15 days on standby
Automatic connection by pairing order