Most useful customer reviews
20 October 2012
a-Jays Ear Buds DO NOT Control Volume For Google Nexus -7
I purchased the a-Jays One Ear Buds to work specifically with my new Nexus -7 Asus tablet. It is awkward at best to have to return to the Nexus-7 screen to adjust the volume and tract controls when listening to music. The a-Jays Ones DO NOT give you this option. They sound fine, and otherwise seem of good quality and style. However, the packaging is difficult to open.
Alan
Edinburgh
Samsung Galaxy S3
3 April 2013
God product, over-designed useless packaging
Great product, I especially like that the back of the ear buds are flat making them easier to insert into my ears. The flat cord is "different" and seems to do the job, in terms of not getting tangled up. That was the positive aspect of my review, now to the negative aspect; the packaging. The packaging is horrendous; completely over-designed, too large and unnecessary. It looks cool but once you've mastered how to open the box (which is a real pain to do) and retrieved the headphones you'll either put the box away in a drawer to be forgotten about or will through it away. It being all plastic it does nothing for the greener environment that we need. It also means I now have new headphones with nothing to carry them in so I'll need to separately buy a carrying pouch.
Iain
United Kingdom
HTC sensation
5 September 2012
Great functionality, sound is average.
In short, it's the only product available that you can control music and calls from a remote button (thats not bluetooth). It works fine however the sound quality isnt the best. I used to use bose in ear headphones which were far better. However the jays headset has better functionality.
20 Reviews
|
Write a review
---
Why buy
Built in microphone to handle your calls
Remote control to give you full control over your music
Works with most BlackBerry, Samsung, HTC, Motorola and Apple devices
Comes with different ear buds for maximum comfort
Rated Number 1 by TECHRADAR!
Rated 2nd "Best In-Ear Headphones in 2013" by T3
---
In the box
a-Jays One+ earphones
5 x different sized ear buds
---
Additional information
a-JAYS One+ comes loaded with a 8.6mm dynamic speaker engineered by JAYS. It is the perfect partner for on-the-go music enjoyment as it efficiently blocks out ambient noise. a-JAYS One+ is perfect for use when out and about with your MP3 player or phone. The remote and microphone keep you available and in constant control with only a few finger clicks.
Built in microphone
The remote with built in microphone enables you to pick up calls / hang up calls and play / pause your music. The remote works with your local music library as well as with streamed music / video content via your smartphone applications such as Spotify and YouTube. You can also control your calls when using applications such as Skype and iChat.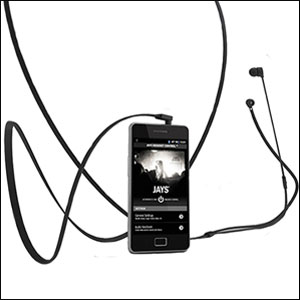 Handsfree function compatible with Android phones*
If you are using an Android smartphone you are now also able to add even more features to your a-JAYS One+ headset by downloading our android application JAYS Headset Control. You can read more about the app and download for free at jays.se/android.
The JAYS headset control app for Android will let you transform your a-JAYS One+ into a fully customised multi feature control. Play/pause, change the volume, skip songs, manage calls and much more in one app. All with the simple touch of the headset button. It is possible to set up the app to perform different tasks depending on how many times the headset button is pressed. The app will run in the background so you can install, personalise and never think about it again.
*PLEASE NOTE: This app currently offers support for Android 2.2 to 4.0.3. For more information on compatibility please see the manufacturer support page at http://www.jays.se/help/customer-service

Universal compatibility
The remote and mic of a-JAYS One+ work with most HTC, Samsung, BlackBerry, LG, Motorola and Apple devices. Functions may vary between models. The remote and mic are also compatible with most applications such as VOIP, Skype, iChat and other recording applications such as voice memo.
Different ear bud sizes to provide ultimate comfort
a-JAYS One+ comes with up to 5 pairs of silicone sleeves ranging in size from XXS to L. This choice means all a-JAYS users can achieve a natural, comfortable fit, and maximum external sound insulation. Use the gift box included to store your silicone sleeves when not in use or to protect them when you're on the go.
Rated Number 1 by TECHRADAR!
TECHRADAR, the sixth-largest technology publisher in the UK, have reviewed the top 10 in-ear headphones for smartphones, and they rated the a-JAYS One+ as number one!
Rated 2nd "Best In-Ear Headphones in 2013" by T3
T3 advertised these headphones to be the 2nd best buy in 2013! (T3 Newsletter)
Technical Specifications:
Driver
Type: 8.6 Dynamic Speaker
Sensitivity: 95dB @ 1kHz
Impendance: 16 Ohm @ 1kHz
Frequency Response: 20 Hz - 18,000 Hz
Earphones
Colour: Black
Isolation: -40dB @ 2kHz
Size: 18.3 x 11.8 x 13.8mm
Weight: 14g
Cord
Type: TPE coated flat tangle free cable
Length: 115cm
Size: Width 5mm / Thickness 1.2mm
Plug: L-shaped, Silver-plated stereo plug 3.5mm
Remote
Controls: 1 button remote
Mic: Yes
There are no reviews for your native language. Please select an alternative filter above.
Average rating 4,0 given by 20 customers | Write a review